Who's Hotter: Ashley Force, or Danica Patrick?
I've been working on this little project for AOL Sports where I handicap some of the matchups in their hottest female athlete tournament. It's pretty cool, though probably not the first time you've seen something like that. Well, we're down to the semi finals, and one of the Final Four matchups is between two starlets of the racing world — Ashley Force, and Danica Patrick. While Patrick carries the name recognition, I'm not so sure she's the hottest. Let's go to the tale of the tape.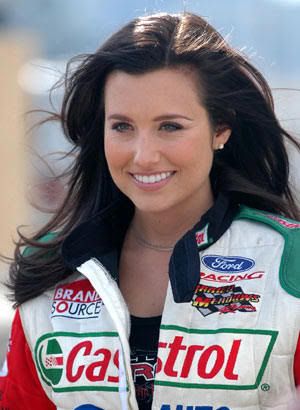 According to her wiki, Force is a 24-year-old funny car drag racer. She's a So. Cal girl, having gone to Esperanza High School in Anaheim where she was a cheerleader. From high school, Ashley went onto Cal St. Fullerton where she graduated with a communications degree. Ashley comes from a family of race car drivers, with her father, John Force, being a funny car division champion and head of John Force Racing. Ashley is not the lone female racer in the family. She also has two younger sisters who are racers, and quite attractive at that. More pics after the jump.
On the left is 19-year-old Brittany who's a second year college student. Courtney is on the right. She's 17 and just graduated high school. More info on them is available at the John Force Racing site. Now, onto Patrick.
Danica's a 25-year-old Irish-American born in Wisconsin, who grew up in Illinois, according to her wiki. She's been racing since she was like, 10, and has plenty of experience. Some complain that she gets a lot of attention despite not having won anything. I still say you should give her some time. After all, the chick's on the IndyCar circuit, and doing pretty well. I'll give her a pass.
As far as looks go, she's a little firecracker, definitely has the spunk. If pressed between Force and Patrick though, I'd have to go with Ashley. Now, if the younger Forces start bursting onto the scene, then we might have to completely revisit the subject matter.
Other Hot Female Athletes on LBS:
Is Milka Duno the new Danica Patrick?
Ana Ivanovic vs. Maria Sharapova