10 potential trade-up targets in the 2019 NFL Draft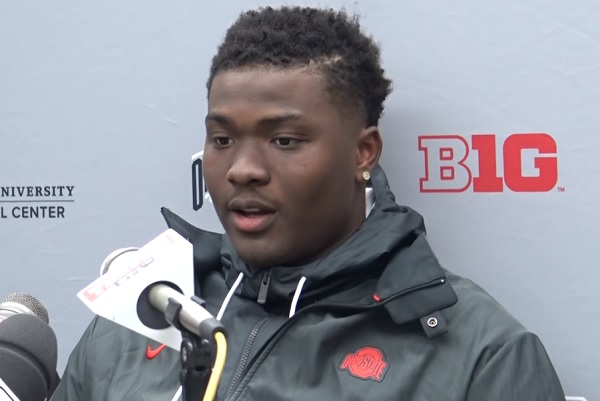 The 2019 NFL Draft is approaching, which means all of the speculation, rumors and insider reports will come to an end and we'll finally see exactly what each of the 32 general managers are thinking.
As part of that, we'll likely see a flurry of trades, with many of those coming at the top of Round 1. But the jockeying won't end there as teams contentiously wheel-and-deal in an effort to fortify their rosters. What players will they be trying to trade up for? We have an idea.
Here's a look at 10 prospects who are most likely to be targeted in trade-up scenarios.
10. D.K. Metcalf, WR, Ole Miss
The overall feeling on Metcalf is mixed at best. Some have him projected to go in the top 10, others in the top 20, and more yet in the second round. It's anyone's guess where he eventually goes, but in the event Metcalf falls into the No. 20 range, someone is going to take a flier and not risk waiting for him to fall further. The Baltimore Ravens, New England Patriots, Arizona Cardinals and Green Bay Packers are all potential buyers in such a scenario, so keep an eye out for some late-Round 1 shakeups if Metcalf remains available at that point.
9. Jonah Williams, OL, Alabama
Jawaan Taylor is likely to be the first offensive lineman chosen in the draft, but Williams will be a close second. However, with a plethora of quarterbacks, edge rushers and even a top tier tight end, it's possible Williams slips a bit and opens up opportunities for mid-round teams to move up into the top 15 for a shot at him. The further he falls, the more likely it is that a multitude of teams get involved, possibly even pushing Williams back closer to the No. 10 range. Either way, the Alabama product is a prime candidate to emerge as a trade-up option.
8. Clelin Ferrell, LB, Clemson
Ferrell may be just outside of the top group of edge rushers, who will all likely come off the board over the first 5-8 picks. That leaves him in the company of Florida State linebacker Brian Burns as potential mid-round options, where teams like the New York Giants, New York Jets, Indianapolis Colts, Atlanta Falcons and Green Bay Packers may be hunting. And the closer he falls to the No. 15 – No. 17 picks, the more likely general managers are to stir knowing teams in that range may also be looking to land a quality edge rusher.
7. Quinnen Williams, DT, Alabama
Alongside Nick Bosa and Josh Allen, whom we'll touch on later, Williams may become one of the most-targeted trade-up options in the 2019 NFL Draft. In any other draft, he very well could make the argument for No. 1 overall, but with some top-end quarterbacks and elite edge rushers, he may fall outside of the top 5. Of course, any needy team that sees him slipping to even the slightest degree could immediately pounce and take him around No. 5 or so, but in the off chance he falls even beyond that, trade talks will heat up substantially. Either way, expect a few teams to set their sights in Williams and attempt to move up for him.
6. Daniel Jones, QB, Duke
Jones is an interesting name because he was initially projected as QB4 in the draft, but as the three-day event approaches, some have boosted the quarterback's stock and have him as high as QB2. One team may even have him as their top QB. How that shakes out remains to be seen, but it's more likely the Duke gunslinger is QB3 in this draft and depending on what happens to Dwayne Haskins ahead of him, Jones could be left battling it out with Missouri's Drew Lock later on in Round 1. If both Lock and Jones somehow slip by the Giants at No. 17, it will result in a feeding frenzy. Several of the NFL's quarterback-needy teams could be looking to trade up from late Round 1 or early Round 2 for a shot at Jones or Lock.
5. Dwayne Haskins, QB, Ohio State
Kyler Murray is considered by most to be QB1 in the 2019 NFL Draft, but even with his stock reportedly falling over the last several weeks, Haskins is still viewed as QB2 by the majority. And given the amount of quarterback-needy teams across the NFL, there's little doubt the Ohio State gunslinger will become a draft-day trade target. Which team makes the most aggressive push remains to be seen, but if Haskins falls — especially if he slides by the Giants at No. 6 — you can guarantee phones will begin ringing off the hook. Even with other talent like Drew Lock and Daniel Jones available, Haskins likely settles into the 7-15 range, allowing teams lower in the draft order to take a shot at moving up.
4. T.J. Hockenson, TE, Iowa
When thinking about the 2019 NFL Draft, it's hard not to focus on the quarterback class and the massive group of talented edge rushers. However, Hockenson is arguably among the very best players in this draft and could pique the interest of several teams up and down Round 1. Some of those teams include the New England Patriots, who lost Rob Gronkowski to retirement, the Detroit Lions, and possibly even the Denver Broncos or Jacksonville Jaguars. A mass interest come draft day could secure Hockenson as a top 10 pick, but that would absolutely require a trade up scenario. If the Jaguars and Lions aren't confident in him falling, they could look to move up a spot or two. Meanwhile, other teams potentially interested in Hockenson may look to trade up ahead of Jacksonville and Detroit.
3. Josh Allen, LB, Kentucky
Allen is expected to be one of the first players off the board, which will potentially create a frenzy in the top 5 or possibly even in the top 3. And while such a universal talent would be appealing to all 32 NFL teams, some organizations like the New York Giants, Buffalo Bills and Atlanta Falcons are in dire need of just such a player. The Oakland Raiders, who sit at No. 4 overall, are also in the market for a quality pass rusher, so they could look to move up to secure Allen. However, other teams likely recognize that and could be inclined to move up ahead of Oakland if they view that as their only remaining shot to land one of the handful of elite edge rushers.
2. Nick Bosa, DE, Ohio State
Similar to Josh Allen, Bosa is expected to go off the board early — even potentially at No. 1 to the Arizona Cardinals in the event they pass on Kyler Murray. However, if they don't, it could create a wild trade scenario at No. 2 or No. 3, where teams further down in the draft order pay a hefty premium to trade up. Bosa is a player many believe to be the premier edge rusher available in the draft. Teams as close as the Raiders at No. 4 could look to move up, while the aforementioned Falcons, Bills and Giants could also seek to make a move. The Patriots could also explore a trade up, but Bill Belichick tends to be more prone to trade down. Plus, the draft capital required to move up that far is probably more than New England would be willing to part with.
1. Kyler Murray, QB, Oklahoma
If the Arizona Cardinals opt to stick with quarterback Josh Rosen and subsequently pass on Murray, he immediately becomes the most sought-after player in the NFL Draft. Teams could look to trade up to No. 1 for him or they could take a stab at the No. 2, No. 3 or No. 4 overall pick, where the San Francisco 49ers, New York Jets and Oakland Raiders reside. None of the teams from that trio are expected to target a quarterback, so all four of the top spots become prime targets. Even in the event the Cardinals do decide to take Murray, you can guarantee at least one team will still attempt to pry the No. 1 pick away from them.