Giants and Jets Should Have Opened Up New Stadium Against Each Other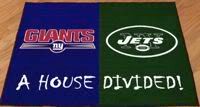 The New York Jets and the New York Giants both wanted to be the first to play in their new home, Meadowlands Stadium. Unfortunately, their fate was decided for them by NFL commissioner Roger Goodell via a coin flip. The almighty coin decided that the Giants would play the first game in the new stadium on Sunday Sept. 12, and the Jets would play the next night for Monday Night Football. Naturally, this led to some pretty ticked off Jets.
Neither of the team's owners were present for the "coin flip," leading Jets owner Woody Johnson to release the following angry statement:
"An NFL coin toss has a few fundamental elements that are missing here, most notably the presence of the teams involved," Johnson said. "That's how it's always done in the league, whether it's determining the order of the draft or deciding who's going to kick off the game."
Call me crazy, but couldn't this have been worked out in way that would make both teams happy? How about doing a little inter-conference play? It's not unheard of to make the first game of the season an inter-conference match-up. The Chicago Bears and the Indianapolis Colts played against each other for the first game of the 2008 season. The Cowboys and Patriots did it too in 1971. (I know that is an old reference but I have a point…)
Guess what else? The Bears vs. Colts and the Cowboys vs. Patriots were both played as the first regular season game in a NEW stadium.  It's just boggles my mind as to why the NFL didn't even seem to consider that as an option.
Sources:
Giants, Jets both christen Meadowlands [ESPN]