Kerry Rhodes Leaks Brandon Marshall Trade to Jets on Twitter?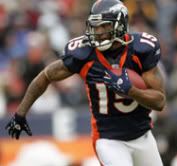 Chad Ochocinco was establishing himself as a fine NFL reporter recently, using Twitter as his outlet. Maybe something caught up to him because he's taken a hiatus from tweeting lately. Perhaps the same fate awaits Jets safety, Kerry Rhodes, who used his twitter account to tease his followers about some news. Here's what he had to say: "jet fans expect a big announcement coming soon lol!" Then some fan wrote to him suggesting the Jets were working on a trade with Denver (involving Kellen Clemens) and that's why they acquired Kevin O'Connell. Rhodes' response back certainly was telling: "u may be right!!! (hint hint)." Even Rhodes' Jets teammate, Nick Mangold, was hanging on every tweet, asking Rhodes what the big news was.
The Jets have said they're prepared to keep four quarterbacks but that doesn't make much sense. They've also been rumored to have interest in trading for Brandon Marshall for almost a week, so it wouldn't be a big surprise if this went down. The addition of Marshall sure would give the Jets a nice weapon on offense but the question is at what cost on the defensive side of the ball? Plus, Mark Sanchez has looked good in the preseason but there's hardly been a rookie quarterback who's been successful in the league, up until last year. I don't think just adding Marshall would be enough this year. As for Denver, if this were to go down, they will have successfully gotten rid of their top two offensive players in one offseason. Not bad.
(via Ballhype)