Tiger Woods' Favorite Mistress? Porn Star Joslyn James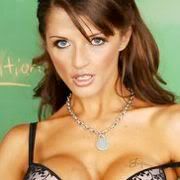 Considering a new mistress seems to emerge on a daily basis for Tiger Woods — and that's not even an exaggeration — it's surprising that none of this information came out before. If Tiger was out carousing at clubs constantly, banging chicks left and right, then why didn't any of this information ever emerge? Where were all the Vegas spies to say Tiger was "spotted" at the club. Was everyone on the take? It really makes you wonder how the media dropped the ball on this one until the National Enquirer stepped up Thanksgiving week. Anyway, Deadspin did some investigation and provides incredible insight into the world of cheating and corruption for VIPs like Tiger. For instance, they say Rachel Uchitel was really more of a party liaison for Tiger than a mistress. They also say porn star Veronica Siwik-Daniels aka Joslyn James is/was his favorite girl.
Last week, James supposedly left a status update on her facebook account suggesting all the chicks proclaiming they had relationships with Tiger only wanted to be like her: ""I find it comical when certain individuals have no life of their own and want to be ME…so terribly bad. LMAO!" Deadspin's source also says "Joslyn used love to talk about "all the freaky shit Tiger dug in bed," and that every time he'd come to town he'd pay for a visit. You know, with cash." The news keeps getting worse for Tiger on a daily basis. At this point, I don't even feel badly about his character getting crushed; he did it to himself. The only shame was the sham the sponsors and media had us believing this whole time.
Read more of Deadspin's reporting
PICS: TIGER'S ALLEGED MISTRESSES

Rachel Uchitel, Jaimee Grubbs, Cori Rist, Holly Sampson