Mark Teixeira Just Another A-Rod Clone?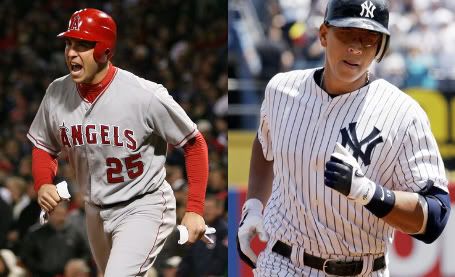 One of the big stories that will loom over the baseball offseason is where Mark Teixeira will sign. He's arguably the biggest free agent position player on the market, so his departure from the Angels to another team will certainly swing a balance of power — literally and figuratively. While there's no denying that Tex is one of the premier first baseman in the majors, he's not as good over the course of a season as he was in the half-seasons once he was traded to the Angels and Braves in the last two years. For that matter, only Albert Pujols is capable of producing at that rate over the course of 162 games — Teixeira is one of the few players capable of producing that well over a 50-game span. Numbers aside, the Angels figure to make a big push to retain Teixeira, and the Yankees, Red Sox and Orioles all figure to get into the bidding (the Yankees being the most prominent suitor). Though Teixeira appears to be an ideal replacement for Jason Giambi in the Bronx, his signing would be met with mixed reviews according to some. Apparently Teixeira really resembles Alex Rodriguez in many undesirable ways:
Teixeira has a mixed reputation. He has much in common with A-Rod. He is diligent about staying in shape year-round, is durable and works hard on all facets of his game. But his detractors – and there are more than a few – say that, like A-Rod, Teixeira is an accumulator who feasts on bad pitching, does his best work when his team is way ahead or behind, and is a corporation unto himself who does not mesh seamlessly with the clubhouse culture. Essentially the overall numbers are better than the total package.

"The statistics will be there, but this is not a player who will make anyone else on the team better," said a former teammate of Teixeira's. "The numbers indicate an elite player, but if you watch him every day you will realize he is a very good player, not elite."
That's not the first time I heard talks that Teixeira's concerns were primarily himself, his money, and his stats. Then again, you figure as long as he produces, it's helping the team win, right? Even if Teixeira is money-hungry and the perfect Boras client, he still is a valuable commodity because there aren't many players who can produce at his level. Even with a drop off in production, I'd still take him on my squad. Seven or eight years for $140-160 million is a lot, but I'm OK with Artie springing for it. At least we know Teixeira will give you a good at-bat in the post-season and you know at least his glove will always be there if something happens to his power, unlike a Giambi.
(story via Sir Foul Balls)