Paul Pierce for NBA MVP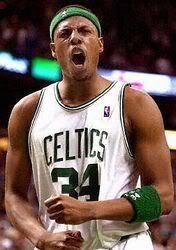 As I teased it with a few co-workers over the weekend, coming soon to larrybrownsports.com, "Paul Pierce for NBA MVP." Well, hold on to the seat of your pants because I'm about to take you on the ride of your life.
Forget Kobe, dispell Dirk, lose LeBron, heck, even nix Nash. Here's what I'm talking about. Paul Pierce for NBA MVP, Paul Pierce! How do I have the gall to make such a ludicrous suggestion you ask? Check this out:
It wasn't long ago that the '06-'07 Boston Celtics were being talked about as one of the worst teams in NBA history They had lost what, 18 games in a row?!?!. They straight up sucked. The Royals thought the Celtics were bad. People were saying they should tank the season to get Oden (or Durant) and maybe they still should.
But those days seem like decades ago.
Behind stud Paul Pierce who's averaging 25 ppg, just over 6 rebounds, and 4 assists per game, the Celtics have climbed back to respectability. Consider
Without Paul Pierce the Celtics are a putrid 2-22, which is a .083 winning pct.
With Paul Pierce, the Celtics are 15-21, a decent .417 winning pct.
To be fair, we must eliminate the games in which Paul Pierce got injured and returned from injury, because he didn't play enough to make an impact. That would yield a .441% (15-19) with Paul Pierce. Expanding that logic over an 82 game season makes the Celtics
Without Paul Pierce 7-75, which according to ESPN.com is the 4th worst team EVER
With Paul Pierce 36-46. In the hunt for the 8th seed.
If that doesn't prove Pierce is a difference maker, then I don't know what does. Isn't that what a superstar and MVP is supposed to be? Someone without whom the player's team would be atrocious and unable to reach the levels that they do with the player?
That's what I thought! Say it with me now, Paul Pierce for MVP.