Get Ready for Joey Logano Overload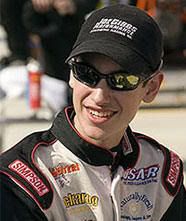 In case you haven't heard of him until now, let me bring you up to speed. Joey Logano is an 18-year-old race car driver for Joe Gibbs Racing. He's currently competing in the Nationwide Series and won his first race on the series Saturday night. It's pretty impressive when you consider it was only his third time racing in the series and that he became the youngest person to win a race on the series at 18-years-old and 21 days. The achievement becomes slightly less impressive when you realize that JGR has won 10 times on the series this year, and seven times with the No. 20 car (with four different drivers). Translation: stick any driver in the No. 20 car for JGR, and he's winning the race. Any coincidence Logano has taken two poles in the last two weeks? I think not.
Anyway, getting back to it, the kid seems like a prodigy. A young, stud racer, who's won at every level he's competed. Now it appears as if we're going to be dealing with a guy who will be overhyped like a Danica Patrick. He hadn't even yet competed on the Nationwide Series when I first saw him making the rounds, getting pimped for no appropriate reason on ESPNEWS. It's pretty clear the JGR is trying to develop a product here and market this guy as one of their racing faces. So while Logano seems to have earned some attention because he's young and already has won, I'm advising you to be leery and to brace yourself for the overload. It's going to come fast and furious and just keep in mind when you're sifting through all the hype and attention that Joe Gibbs Racing is setting this guy up for success. After all, if three other drivers can win in the same exact car in the same exact series, how special can he be?
Oh yeah, and is this kid even old enough to have a driver's license???