Florida vs. Ohio St in the Title Game?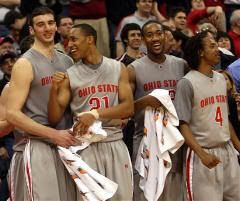 With everyone's focus being on the Sweet 16 and Elite 8 Games coming up, everyone may have lost site of the tournament that really matters. That's right, well before the Final Four matchups take place, the real title game will have already been played — that of the ever-important NIT. Coming up on Tuesday, both Florida and Ohio St. will be hosting semifinal games of the NIT. These squads have been running through their respective competition throughout the tournament and seem destined to meet for the right to be crowned the 66th best team in the country. No, this isn't a slight at either program, it's just a fascinating nugget shared on-air by Todd Wright Wednesday evening.
How crazy would it be for both Florida and Ohio St. to meet in three straight national title games? Just because it's the NIT doesn't mean it doesn't count. They met in both the basketball and football title games recently with Florida winning both games. Could this be the year Ohio State bucks the trend? Could be. I think this also means a few other things. One, it shows how difficult it is for elite programs to rebuild after losing lots of talent. Secondly, it shows that both schools have strong programs with good coaching; even if they couldn't make the cut for the NCAA tournament, they're still proving they can win in tournament play. Now all that's left to be seen is which one doesn't live up to their end of the bargain. I'm guessing they both make it.