Was Nice Knowing You, Love & Collison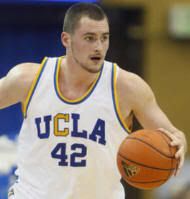 The LA Times reports that both Kevin Love and Darren Collison plan to enter the NBA draft, an announcement I expect to come officially from Ben Howland sometime today. I can't say I'm too surprised that Love is going. It was said that Love would have gone pro after high school if it weren't for the rule change. There was that small chance he could have elected to return to school, but alas, greener pastures await. If I were him, I probably would be eager to go make that money as well, though another year in school probably couldn't hurt his game.
Now if Darren Collison really is planning to declare for the draft, I can't say I agree with the decision. True, Collison is still a talented point guard with deathly quickness, but he got abused in two of the last three UCLA games by opposing guards. I just think it's poor timing on his part. Now if Russell Westbrook were to declare, I would understand that; he's fast, athletic, and well-suited for the NBA game. I could see him succeeding as early as next season in The Association. It's possible that Collison won't hire an agent and that he returns to school next season. I hope so. Either way, I don't think I'm speaking out of turn when I say the Pac-10 already looks wide open for the taking. Then again, Stanford is losing the Lopez's, Arizona is losing Bayless and Budinger, and USC will lose Mayo. Maybe there's still room for the Bruins at the top.