Why UCLA Will Beat Florida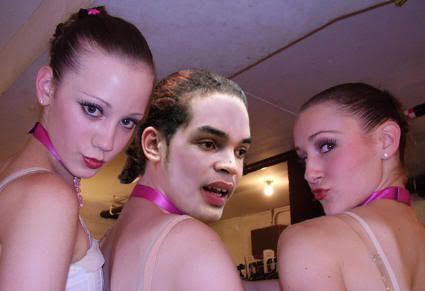 Feel free to come back and ridicule me later after the Bruins get their rumps handed to them. But until that point, here are five reasons why UCLA will beat Florida in the Final Four.
5. Florida is just way too cocky. They haven't played with determination, grit, and intensity all year long. Anyone else notice that they had a supremely easy draw? What team truly tested them? Why didn't they win more games in SEC play when they were far superior to anyone else in the conference? They've lacked the focus all year long, and the distraction hovering around Billy Donovan does not help them at all.
4. UCLA is much tougher inside. So Ryan Hollins may have turned things on a bit in the tournament last year, but for his entire career until that point, he was softer than Cinemax at 11pm. Lorenzo Mata might not be able to hit a J from farther than three feet out, but at least he's gutsy and aggressive inside. Couple that with an older and tougher Luc Richard Mbah A Moute, an Alfred Aboya who isn't nearly as lost on the floor now as he was a year ago, and the five fouls Ryan Wright can give away, and it spells much more tenacity inside for the Bruins. (of course, should Mbah A Moute and Mata incur three fouls prior to halftime, it's over)
3. Arron Afflalo can hit the big shot. We already know that Florida has go-to-guys inside. We also know that Florida has shooters who can hit big shots on the outside (trust me, I have nightmares of Lee Humphrey three's haunting me in my sleep). But this year as opposed to last year, the Bruins have a player who can hit the game-winner, the buzzer-beater. They have an option when it comes down to the last-second shot. Afflalo sunk one to beat USC, and he hit several buzzer-beaters against Kansas last week in his best game ever. Whether or not Afflalo hits the big shot against Florida is uncertain — what is certain is that he has proven he CAN do it, which is enormous for the mental confidence of a player when that moment arises.
2. Darren Collison is better than Jordan Farmar. Sure, Farmar may have been the only player to show up for UCLA in the championship game last year (sort of), and yeah, he's diming to Kobe on a nightly basis in the association, but the honest truth is that Darren Collison is a much better fit for UCLA's system. Collison is much quicker, just as good of a shooter, and he's a more relentless defender. He'll give the Florida shooters more hell on the perimeter than Farmar did.
1. Ben Howland has had a whole year to figure out how to win this game. If I know Ben Howland at all, I know this: as soon as UCLA got blown the **** out by Florida, he went straight to the film room to begin studying the game tape and understand what the team needs to do to beat Florida. I guarantee Ben's been preparing a game plan for this exact situation for the past 300 days. He knew UCLA would be back in the Final Four, and he knew Florida would be standing in their way of national title No. 12. And he thought long and hard, about the proper strategy: pressure defense up front, heavily defending the entry passes down low, and hope the team hits their jumpers and free throws. Besides, of all the teams in the Final Four, UCLA has looked the most impressive on their way to Atlanta. The Bruins never struggled with Pitt, and they dismantled Kansas. If you noticed a trend, Howland made excellent in-game adjustments. His brilliant mind will lead UCLA to the win over Florida and vault the Bruins into their second title game in a row.