Chris Henry: Model Citizen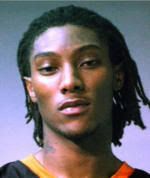 It's been like five months since Bengals WR Chris Henry made his way into news headlines for a transgression. If this were a proposition bet in Vegas, it would have long gone over the rainbow. His last incident was for a tussle with a parking attendant over a $5 bill, as you might remember. That means it was only a matter of time before Henry had another incident with a minor, and boy, did he come through in the clutch:
Bengals wide receiver Chris Henry has been accused of punching an 18-year-old man in the face and breaking his car window with a beer bottle, according to court documents filed Wednesday.

Henry, 24, was charged with misdemeanor assault and criminal damaging in the Monday incident in Cincinnati. A warrant for his arrest was issued in Hamilton County Municipal Court.
Atta boy, Chris! We knew you had it in you. And for those of you keeping score at home, half the Top 10 Bengals arrests belong to Chris. Now some people may call that a record based on longevity. I beg to differ; it takes some serious skill to set a record like that. Most people don't even have enough free time to accumulate a rap sheet like his.