Super Bowl Reset II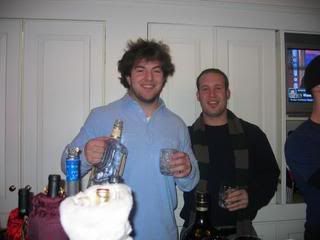 Considering the Bears lost the Super Bowl 29-17 and the Sex Cannon threw 2 interceptions including one returned for a touchdown, I thought it would be cool to reset what I wrote about him recently.
On January 17th, prior to the conference championship games, I asked the question: what would winning the Super Bowl mean for each of the remaining quarterbacks? Here's what I had to say about Rex Grossman:
photo courtesy The Big Lead
Absolutely nothing. In time, his winning a ring will be forgotten. The backup will still be the favorite quarterback in what ever city he plays for the rest of his career. He is far too inconsistent to ever be free of criticism, regardless of having a Super Bowl notch on his belt. It probably will give him 3 more years before the Bears consider drafting another quarterback. Still, he could get a ring and still hear cries that Griese should be starting in mini-camp.
Clearly the Bears lost the game – largely in part to the poor play of the Sex Cannon – and it didn't take long for the bench Grossman chants to start up. Every TV show I've watched today and every radio show I've listened to has questioned whether or not Rex Grossman is good enough to be the Bears quarterback of the future. Many pundits have already began to say that the Bears should bring in Jeff Garcia. Additionally, the ESPN SportsNation poll today asked the question: Who should be the starting quarterback for the Bears next year?
My personal favorite was John Mullin of the Chicago Tribune who graded the quarterback performance as a D-
Rex Grossman completed 6 of 8 passes in the first half, one for a touchdown. But his stumble and mishandled snap in the third quarter were disasters, and an ill-advised heave toward Muhsin Muhammad early in the fourth quarter was intercepted by Kelvin Hayden and returned for a touchdown to end any real chance of a comeback. His poor throw to Bernard Berrian was picked off one possession later. Two interceptions and two dropped snaps.
He may not have won the Super Bowl, but I knew a long time ago that there would be a controversy in Chicago over the off-season.