Chris Henry's Former House Vandalized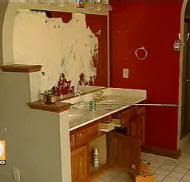 Typically I would have given the LBS Chris Henry update when the dude lost his home to foreclosure, but I figured I'd give him a break. Besides, I was kind of burnt out on foreclosures after Holyfield and Canseco struggled with their pads, not to mention the fact that Henry's already been so generous as to provide nearly half of the site's content. But this was so unfortunate — what did Chris Henry ever do to have his old place vandalized?
Cleanup crews have a lot of work on their hands after vandals set their sights on Chris Henry's former house.

The bank bought the Florence home after the former Bengal lost it in foreclosure.

Crews came to the house Monday to find trash and paint all over the home and the glass and staircase destroyed.

Ian's Property Cleanup and Lawn Service said the vandals struck between Sunday evening and Monday morning.
Well, he's no longer the Bengals' problem, and the house is no longer his problem, so who did this really impact? Nobody I guess. But it just seems like a big kick in the balls if you ask me. I'm guessing the people who did it were trying to make things tougher for Henry. Little did they know their efforts went to waste. And on top of everything, he's out of the NFL. That's just not good.