Saban Comments were Off the Record
After a little digging around, I've come to find that Saban's comment (that you can hear in the post below) in which he uses the term "coonass" was made off the record.  From the Miami Herald: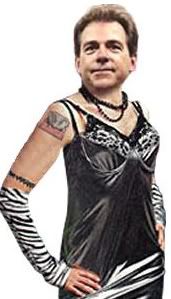 "The coach's slur was not initially published by The Herald because of the coach's request for that portion of the interview to remain private.  Two weeks later, [Miami Herald reporter Jeff] Darlington e-mailed an audio file of the conversation that included the slur to 560-WQAM radio host Orlando Alzugaray, who aired the comments on his morning radio show in both South Florida and Mobile."
Yet another reminder why you can never put something in print that is potentially incriminating or offensive, and how things can spread so quickly on this lovely internet (may larrybrownsports.com be so blessed). 
As for more details on the circumstances of the story – Saban says he was
"first told that story by LSU Board of Supervisors member Charlie Weems of Alexandria on Jan. 3. That was the day Saban took the job at Alabama and the night LSU beat Notre Dame in the Sugar Bowl.  Saban used the word coonass in later telling the story to a group of Miami reporters following a news conference."
Memo to Saban – just because the comments were off the record doesn't excuse you from what you said.  If you feel that "coonass" is an inappropriate term, then you should filter it when you re-tell the story (as you were doing).  The fact that you left it in there indicates your insensitivity towards the potentially derogatory nature of the term. 
I am not personally familiar with the term "coonass."  However, knowing that it is taken with offense by a sector of the population is enough to keep me from using it.  Just because it is the norm to use the term in Louisiana does not make it OK.  In fact, the people who say it's OK are probably the ones who aren't the ones being called the name.
For the record, I would pay to see Nick Saban call a 5 star recruit of Cajun descent "coonass" in the family living room.