Boston University Hockey: One of the Best Comebacks Ever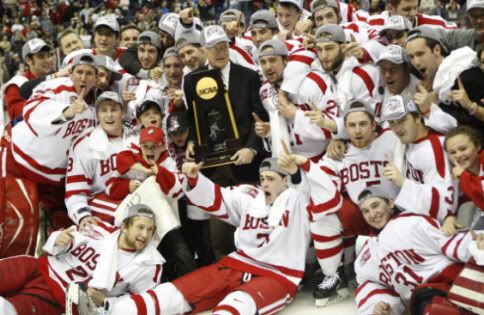 Ordinarily the Frozen Four wouldn't register too highly on the sports radar for the average fan. It's hard enough to get people interested in the NHL as is, and the pros play at such a higher level than the collegians that it's not even like watching the same sport. That aside, the 2009 Championship Game between Miami (Ohio) and Boston University will go down as a legendary one. After scoring with about four minutes left in the game, Miami of Ohio made it 3-1. They were only four effing minutes away from winning the national title. As you'll find out through this highlight video, they came to blow the lead. The comeback was amazing:
Colby Cohen is the player who will be remembered most because he scored the game-winning goal in overtime, but I actually think Nick Bonino's goal to tie things up with about 20 seconds left was the more impressive feat. BU had maybe one or two shots to send it to overtime when Bonino got the puck — he doesn't make it, they probably lose. But Bonino whaled on the one-timer with all sorts of pressure facing him to force the OT. You figure if the goalie stops Cohen's shot in OT they're still playing and BU can still win it. Bonino doesn't crush that puck into the net, it's game over. Unsurprisingly, BU's coach Jack Parker says it was the best comeback he's been a part of:
"It's the greatest comeback I've been involved in," said Parker, who became the first Division 1 coach to earn 30 NCAA tournament victories, pulling ahead of BC coach Jerry York. "The second-greatest comeback I've ever been involved in, we lost. We lost the 1991 championship [to Northern Michigan]. After being down by three goals, we came back, tied it up late in the third period, and went to triple overtime before we finally lost the game. We won [this] game because big-time players made big-time plays."
The Frozen Four might not have been on your radar, but the finish sure was a memorable one. Have to feel bad for Miami of Ohio too after blowing that game when they were four minutes away from victory. Sucks to be them.