Barry Bonds Sees Himself as a College Baseball Coach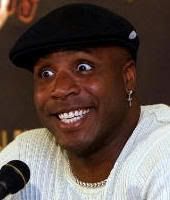 Barry Bonds was in the house at AT&T Park in San Francisco on Saturday night for a celebration of the Giants 50th anniversary in the city. After receiving a warm reception from the fans and making a brief speech on the field before the game, Bonds ventured up to the Comcast Bay Area television booth where he joined Kruk and Kuip for a half inning. Bonds was asked several questions, and said he still misses the game. One thing he was asked was whether or not he'd eventually try to become a manager. Bonds' response:
I think the best position for me would probably be in a college — that's how I feel. I'd rather teach kids what they want to do and what to do to get to the major leagues. I see myself doing something like that moreso than doing something in the major leagues if that time comes for me to make that decision.
Bonds also added that coaching at UCLA seemed ideal because of its proximity to his current home, but was torn because he's not keen on helping a team that competes against Arizona State — his alma mater. I think it's pretty curious that Bonds made this comment. Obviously Barry still wants to be around the game and wants to help young players get better, but I have to wonder if he said he'd prefer to coach college baseball because he feels blackballed and unwanted by MLB, or because he truly would prefer to work with college kids. I think there could be some underlying reasons there. Either way, sending my kid to go play for Barry Bonds probably wouldn't be the first choice on my list. And what prominent school would hire the guy anyway? Well, I guess there is a place for everyone.