Jon Lester Is the Next Casey Fossum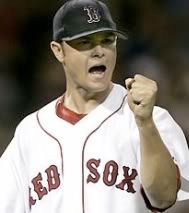 It irks me when I hear about unproven players "holding up" deals because teams are unwilling to trade them. I understand the thought process for most teams — if you drafted a player, your franchise has invested in him, therefore you want to reap those benefits. For most GMs, it's not easy to trade someone you believe to be a jewel in your farm system. More often than not however, these prospects don't develop. There's a reason why even a guy like Jose Guillen is a multi-millionaire; established talent is a sought after commodity since rookies hardly ever make it. Which brings me once again to the Johan Santana trade possibilities.
A lot of the talk out there is that the Red Sox are unwilling to trade Jon Lester or Jacoby Ellsbury for Johan Santana, that they're sticking points. I have to wonder what Boston's thinking. If you're New York, I can understand being reluctant or unwilling to deal Joba, Hughes, or Kennedy. They're looking to get younger with their pitching staff, and those three arms are highly valued. For Boston, acquiring Santana could mean two or three more World Series in the near future. Johan, Beckett, Dice-K and Clay Buchholz? Wow.
Aside from that luster, Ellsbury and Lester strike me as players whose value has peaked. I don't expect Ellsbury to be anything more than Coco Crisp (with whom the Red Sox are not happy), and I think Jon Lester is a Casey Fossum clone. Last year, Lastings Milledge could have netted a top pitcher from Oakland. This year he's dealt for Ryan Church and Brian Schneider. A lot of trading isn't necessarily what you do or don't do, it's about when you do it. Trading Lester or Ellsbury now is the right time to do it, especially if the Twins are dumb enough to take them. By the way, anyone know what Casey Fossum's up to these days?