Players Gone Crazy: Shawn Chacon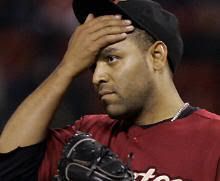 First it was Sidney Ponson getting released by the Rangers for being disrespectful towards the team, or something like that. Ponson is a guy who once punched a judge on the beach in Aruba, so as you could imagine, the news was quite shocking to hear. Anyway, there must be some sort of a trend going around MLB clubhouses where players are getting increasingly disrespectful these days. The Astros suspended pitcher Shawn Chacon for getting into an altercation with GM Ed Wade. Wade wanted to talk with Chacon privately in manager Cecil Cooper's office to discuss matters (Chacon has been unhappy since being demoted to the bullpen). Chacon wasn't exactly cooperating, as he told the Houston Chronicle:
And I said 'You can tell me whatever you got to tell me right here.' [Wade's] like, 'oh, you want me to tell you right here?' And I said, 'yeah.' I'm not yelling. I'm calm."

It deteriorated quickly afterward, according to Chacon.

"He started yelling and cussing," Chacon said of Wade. "I'm sitting there and I said to him very calmly, 'Ed, you need to stop yelling at me. Then I stood up and said 'you better stop yelling at me.' I stood up. He continued and was basically yelling and stuff and was like, 'You need to (expletive) look in the mirror.' So at that point I lost my cool and I grabbed him by the neck and threw him to the ground. I jumped on top of him because at that point I wanted to beat his (butt). Words were exchanged."
Hello Latrell Sprewell, 2008! Maybe he could call Spree for some advice on how to deal with this. And perhaps P.J. Carlesimo could lob a phone call to Ed Wade to offer support. Honestly, I can't even imagine a dude like that going on the attack after a boss. Sure, everybody says they would want to knock the snot out of their boss, but who actually does it? Chacon says he knows he might be done in the majors after this. I'm not so sure; if teams are desperate for an arm, they'll come calling. Either way, this is pretty disgusting to read. Who knew GMs had to keep assault in the back of their mind?