Schuerholz Implies Andruw Is Gone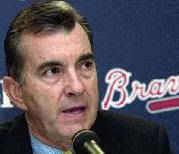 On the cusp of free agency to be followed by millions upon millions of dollars, Andruw Jones is struggling through a crappy season. No matter, Braves GM John Schuerholz is already preparing for life without Andruw. Asked if he could imagine the Braves without Jones robbing hitters in center field, Schuerholz offered the following on ESPN's Sunday Night Baseball to Jon Miller and Joe Morgan:
Well we have to Joe, the reality is in our business today, his contract is up. We'd like nothing more than to have him remain here and be a big part of our ballclub as he's been for the previous 10 years. But the reality is, there's a lot of money out there for star-caliber players like Andruw and someone may be willing and able to pay him more money than we can. Our job, my job as a general manager, and our job as an organization is to put the best 25 guys together, not to necessarily pay what has to be paid to star-caliber talent. We can't put a team on the field – we're an $80+ million payroll team. We can't do that if we're obligated to pay star-caliber players what the marketplace bears. We can't match that. What we have to do, is put the best 25 guys together and try to compete like that. That's always our goal.
Much like the frequent references in his book, Schuerholz wants everyone to know that he's running a low-budget, low-payroll club. OK John, I get the picture, you have an $80 million budget — spending $18 mil/year on Andruw probably isn't the best way to go. So unless U is willing to give Atlanta a hometown discount — the way Hudson and Smoltz did — he ain't staying with the Braves. I'm guessing the center fielder gets dealt prior to the deadline.