LeBron Piles It on Stephon Marbury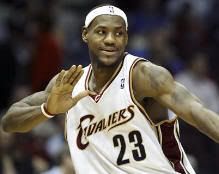 Earlier I was really pushing for Stephon to dump all his dirt on Isiah so we could have one lovely crap fest as it all hits the fan. I'm not quite sure if I'll get my wish. The topic du jour though, happened to be whether or not people thought Isiah or Stephon needed to leave the Knicks. If you ask me, I think you can win with Stephon, and I'd be quicker to get rid of Isiah. When was the last time a freaking coach caused such a P.R. stir? Anyway, none other than King James himself would disagree with me:
Do not expect New York Knicks guard Stephon Marbury to get traded to the Cavaliers any time soon. At least not while LeBron James is on the team.

"I don't know him that well," James said of Marbury. "But I couldn't have a guy like that on my team."
Pretty harsh words coming from Da King if you ask me. How can you comment on a guy you don't know that well? Or is it enough to know that the guy didn't respond well to a potential benching, and that's all you need to know about him? I'm guessing that's the deal. I think it's a shame that Steph seems to be taking more of a character hit in this whole situation than that dirty, rotten, scum of a coach, Isiah.
UPDATE: The omniscient Matt Watson passes along word that LeBron and Stephon have a history going back to last year when LBJ took a shot at Marbury and his cheap shoes.  Now that's an interesting twist.  Maybe this goes a little deeper than I originally thought.