LaDainian Tomlinson Is a Poor Sport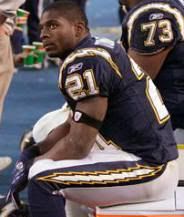 Despite touting himself as a classy person and growing into the role as the face of the NFL, LaDainian Tomlinson has now proved for the second time that he is a poor sport. The first time was when he called the Patriots classless after losing to them in the playoffs. And now comes the second incident. As I posted at FanHouse, LT made some comments that he wasn't surprised by allegations that the Patriots cheat. Now that his Chargers lost to the Patriots, Tomlinson has backed off the comments:
The New England Patriots reportedly used LaDainian Tomlinson's comments earlier this week as motivation. But Tomlinson said last night he did not regret saying, "The Patriots live by the rule, 'If you're not cheating you're not trying.'"

Said Tomlinson: "If you take it personally, then there must be a problem. Everyone knows I was kind of joking."
Right, easy to say you're kind of joking now that your squad got embarrassed on Sunday. I think that's weak on LT's part. He seems so gracious and classy when things go his way, but comes off as such a poor sport when his team loses. That's too bad.