Ichiro Once Again Itching to Pitch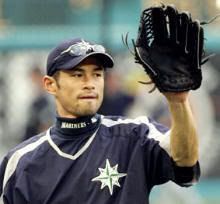 It was only last year that Ichiro revealed in an interview that pitching is on his list of things to do while in the big leagues. At the time Ichiro said he'd start pitching when he turned 40, but that he'd have to learn a knuckleball. Ichiro also added that if he started pitching now, he'd top out at 95 on the gun. Well, the way I see it, the Mariners could have used him on Sunday. In fact, Ichiro was itching to pitch in the 15-inning game once the Mariners had run out of pitchers:
Once Ichiro Suzuki heard that backup catcher Jamie Burke was about to take the mound, he hustled over to manager Jim Riggleman and volunteered his services.
Burke wound up surrendering the game-winning run as the Mariners lost 2-1 to the Tigers, but only giving up one run to the Tigers lineup isn't bad at all for a backup catcher. Burke was only clocking 82-86 on the gun (which puts him right up there with Barry Zito), meaning Ichiro probably would have been the best choice. Interestingly enough, the Post-Intelligencer says Willie Bloomquist, Adrian Beltre, and even R.A. Dickey (who started the day before), all volunteered their services. Look Seattle, I know you have a lot of money invested in Ichiro and don't want to screw around with him, but come on, you're like 20 games out of first, why not give the fans a thrill? And Ichiro, too — lord knows how badly he wants to get his shot.