Peter Angelos Wisely Holding Up Erik Bedard Trade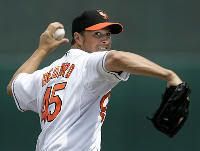 Jayson Stark has sources saying the reason the Erik Bedard to the Mariners deal for Adam Jones hasn't gone down just yet is because the big boss — owner Peter Angelos — has yet to approve the deal. Now there's a rumor floating around that Jones failed his physical with the Orioles and that's why the trade hasn't been completed. I'm going to pay that story no mind for the time being. Degenerative hip or not, I just can't see how trading away Erik Bedard can fit in with the mission of the Orioles.
The Orioles have essentially struck gold by developing a lefty with dominant stuff who's a legitimate Cy Young candidate. Rather than try and market the entire appeal of the team around this guy, they're acting like they're stuck in an inverse universe, eagerly and capriciously trying to get rid of the guy. What the heck for? Do they know something we don't know? Are they trying to sell high? This is a team that's flushed money on free agents like Albert Belle and David Segui recently. How can you tell me that signing Bedard to a long-term deal would not be within their best interest?
I've heard Arte Moreno mention on the radio in the past when defending Bill Stoneman that the Angels had a deal in place to acquire Miguel Tejada for Ervin Santana (and maybe someone else). When that deal got to Angelos' desk for approval, it got the veto. (the fact that you've never seen Tejada where an Angels jersey probably tipped you off to that tidbit). Now I don't know what's going on here, but something tells me that Angelos is probably applying a little bit of common sense and wondering why his people are so eager to get rid of the best thing they have going for them — Erik Bedard. Trading him makes no sense; what they receive in return won't be as good or valuable as what they have now.