Agent Zero Returns to Assassin Mode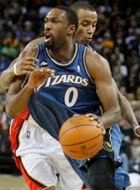 Here at LBS, we're generally some of the biggest Agent Zero fans on the web. We're only lukewarm on Gilbert Arenas, but we love Agent Zero. The problem is that following three knee surgeries and nearly two years off, Arenas has changed his demeanor and mannerisms. Gil started off by shutting down his ever popular blog, announcing a boycott of the media, and he changed his aggressive, scoring style to a pass-first distribution game. I don't like that Gilbert very much, and neither do the Wizards considering that attitude has resulted in a highly disappointing 8-16 start. But on Friday afternoon, in an interview with Yahoo! Sports, Gil admitted the world misses and needs some Agent Zero, and most importantly, so do the Wizards:
"My mind is not in killer mode," Arenas told Yahoo! Sports. "I haven't thought killer in two years. It's like I've been laid off. It's like getting an assassin, putting him in a box and making him watch TV. He can't go back to straight killing. Now he has a conscience. Before, I didn't.

"I just got to play. Play, play, play and get frustrated on the court."
That's part of Gil's new attitude towards distributing the ball and playing like a pass-first point guard. It's even resulted in heavy criticism from coach Flip Saunders who says you can't just decide you're going to get more assists, you have to take what comes. I think it's the concerted effort to gain assists that has resulted in so many turnovers and far less points from Gil. It seems like Zero took his own advice prior to Friday night's game against the Advil of NBA defenses — the Warriors. Arenas attempted 25 shots (3rd highest for him on the year) and he attacked the basket, getting to the line a season-high 16 times. Sure, it was against Golden State's (loosely-termed) defense, but it's nevertheless one of the best signs for Washington all season. I hope Gilbert has learned his lesson; more Agent Zero, less Gilbert Arenas.