Celtics Already Breaking Down?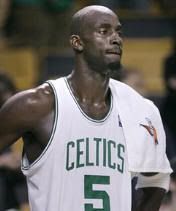 Is this the typical overreaction of a fan or what? The Celtics lose one game out of like 50, and you have losers on the internet already pondering whether or not they've broken down. Well guess what? That's me right there for you. The Celtics are now 29-4 after losing to the Bobcats Wednesday night. That's their first loss to a non-marquee team. Falling to LeBron, the Pistons, and the Magic is acceptable — those are the East's elite. But the Bobcats? What's that all about?
I know Boston won twice last month without Ray Allen, but man, doesn't the alarm go off a bit after they dropped this one? That's what was always said — the Celtics have a great 1-2-3 combo, but after that their depth is limited. Sure, their supporting cast has played well this year, but it was only a matter of time before one of their big guys broke down ruining the running triumvirate (yeah, that's assonance AND alliteration for you in the same sentence, baby). I know, I know, it's only one game. Still, I'm already worried that this could be an indication of how fragile the window for Boston's success is this year. Would be shame to see them fall because of injury and I have a feeling the losses will start coming in more frequently from here on out.
(photo courtesy AP/Charles Krupa)