How Can the Clippers Screw This Up?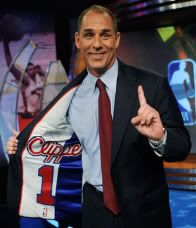 When I heard that the Clippers had won the NBA draft lottery, the first question that entered my head was pretty simple: why? With all the needy franchises out there, those desperate to pull themselves out of the depths of suckdom, why were the Clippers the lucky team to get the first pick in the draft? Having an owner who cares about the success of the team should be like a prerequisite to getting the top pick — that would have automatically disqualified the critters.
It actually wasn't too long ago when I was raving about the Clippers signing Baron Davis and talking about how good the team would be, assuming they re-signed Elton Brand. Right. So much for that one. They're probably better off now getting Blake Griffin and not dealing with the achilles-less Brand. While I know some people might already be forming the hypothetical Clippers roster, I'm going to temper my excitement. Sure, a starting five of Baron, Eric Gordon, Al Thornton, Blake Griffin, and then Chris Kaman or Marcus Camby at center looks promising. But it's the Clippers — they're like the Murphy's Law of the NBA — whatever can go wrong will go wrong. Book it. I wouldn't be surprised if Griffin dropped a weight on his big toe at the gym and were out for the season. Tell me you can't see that coming.
Thanks to Ball Don't Lie for the shot of Andy Roesler's cool jacket. And dude, next time you're on national TV, go with a different hairstyle, please.