Grandmas Love Gilbert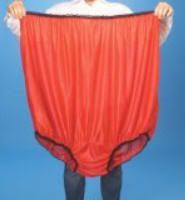 Really, this is quite a long tale, so I advise you to check it out in full. Apparently some fan went to a Wizards game and caught Gilbert's eye by pulling out a Halo video game box. He gestured to Gilbert using a writing motion, so as to ask Gilbert to sign the game. Gilbert then apparently summoned a towel boy to locate the fan and bring him the video game (while the game was going on, mind you), along with another surprise gift. And we'll pick up the rest of the story (Jimmy is the fan's name):
So, like a kid trying to avoid getting caught with a Sports Illustrated during physics class, Gil turned his body to shield the Halo box from assistant coach Randy Ayers (who was sitting next to Arenas), and signed the box.

Then Arenas pulled out the surprise gift — a massive pair of granny panties, size 10x. Upon which Jimmy had written, "My grandma loves Gilbert Arenas." Except he drew a heart instead of writing "loves." Jimmy even took the time to color the heart bright red.

Arenas was puzzled. As play continued on the court, he forgot about assistant coach Randy Ayers sitting right next to him. He frowned at Jimmy. Jimmy gestured that the panties were for Arenas.

About this time, the rest of the Wizards players sitting on the bench noticed Gilbert holding up ginormous granny panties. Which Gilbert happily passed around to the rest of the team – let no one say the man is selfish. While play carried on, they laughed uproariously. Somehow, the coaches seemed not to notice.
I love how Gilbert sent the Halo box back to the fan, but kept the granny panties for himself. What a character. And if the Wizards want to reach out to an elderly fan base, now they have a perfect slogan: "Grandmas Love Gilbert." I don't even care if this story isn't true — it's freaking hilarious!
(thanks to Matt W. for the tip)
UPDATE: Gil confirmed the story on his blog.
Other Great Gilbert Stories:
Gilbert Comes to Barry Bonds' Rescue*
I'd Drop 84-85 points on Duke
Gilbert Takes on DeShawn Stevenson in a 3pt Competition
Gilbert Predicts 50 points Game Against the Blazers
Gilbert Fires Back at the Media