Has Eli Surpassed Peyton as the Top QB?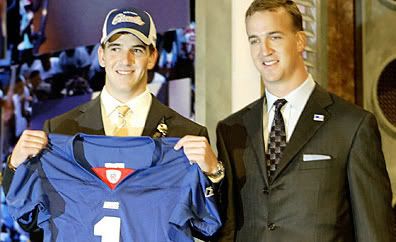 I've taken my shots at Eli Manning in the past, back when it was deserved. Funny thing though: a lot changes in less than a year. It was only November that I was criticizing Eli for throwing 4 interceptions (three returned for touchdowns) in a 41-17 loss to the Vikings. He was brutal that game. A month later, he was giving the Patriots a tough test in Week 17, and then boom! Playoffs hit, and Eli was a new man. The guy who threw more than a pick a game his first four seasons became one of the best care-takers of the football of any quarterback in the league. The change happened overnight. The improvement in Eli's game — from Week 17 last year through this season — makes me wonder whether or not he has surpassed Peyton Manning as the top quarterback in the family, which in essence would make him one of the top quarterbacks — if not the top quarterback — in the game.
There is no doubt that Peyton Manning has been slowed by a combination of factors. His off-season bursa sac surgery prevented him from practicing during training camp, and a rash of injuries to his offensive line left him vulnerable and unprotected — not a good combination for a quarterback whose already limited mobility became even more limited. Peyton has been turning the ball over this year and hasn't produced the gaudy statistics we're accustomed to seeing. He has however, still been quite capable of producing the late 4th quarter touchdown drive as he did against both Jacksonville and Houston.
If you're asking me which Manning brother I'd rather have start at quarterback for me this coming Sunday, right now I'd have to say Eli. He has become a superb care-taker with the football and avoided all the mistakes that used to plague him. He seems to constantly complete the 3rd down pass to keep a drive moving. And dating back to last year, Eli has proven to be quite adept at leading 4th quarter comebacks. I never thought I'd see the day or admit the day that Eli passed his brother as a superior quarterback, but right now, that is the case.