Marcellus Wiley on NFL Hotel Sex Parties: 'Of Course it Happens'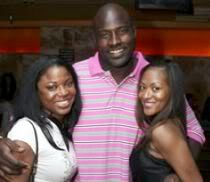 Chiefs wide receiver Dwayne Bowe blew the cover for NFL players when he shared a story about his teammates setting up a hotel sex party during a road trip to San Diego. While it's not surprising to hear that this stuff goes on, it's a shocker to hear a player speak about it openly to the media (Bowe wrote it as a contribution to ESPN the Magazine). Former NFL player and current analyst Marcellus Wiley joined the Jorge Sedano Show on 790 the Ticket in Miami and discussed the Bowe story.
Wiley started off by saying that Bowe "broke the code" by publicly talking about a "dirty secret" like that. Wiley then shared a story that happened during his third year in 1999 when as a member of the Bills, they had a road trip to Seattle and had a similar setup to the one Bowe described. "There were a few ladies already setup, already there, already in the hotel," Wiley said. His team wound up losing that game despite going 11-5 on the year.
Although Wiley noted that "of course it goes on, of course it happens," he clarified by saying these organized groupie imports don't happen every road trip, nor every other other road trip. That seems to make sense because you figure it takes a lot of time, money, and planning to orchestrate something like what Bowe described. Hitting up your girls in a given city the day before a game seems much easier to do. Wiley also estimated that 80% of NFL players cheat on their spouses/girlfriends. Any wonder why one of Bowe's former teammates is trying to dispute the claims?
Sources:
Marcellus Wiley on The Jorge Sedano Show [790 the Ticket]