Hey Melo, That's the Ticket!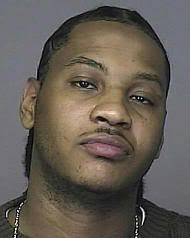 Longtime LBS readers know that Carmelo Anthony is one of the site favorite targets to pick on. Problem is since appearing in a video promoting the message of "don't snitch" — which prevents the law from taking its course against criminals — Melo hasn't done a whole lot bad. Sure, there was Captain Limpwrist's brush with hand-to-hand combat at the Garden, but since then, not much. He even told us in July that there would be "No more drama" for him. Yeah, whatever. Then how do you explain getting arrested right before the playoffs are about to start?
Coach George Karl even acknowledged that the arrest was a distraction for the team, "In a lot of ways, we're a family, and we feel the pain of the distraction — and we also feel for him. I think we have all made mistakes." Much like Brandon Marshall who got busted for DUI right after a Broncos win, Melo celebrated by getting hammered. I don't get how Carmelo couldn't hold off on his partying until after the season. And why not hire someone to drive for you? Given Melo's clear lack of focus, I would be surprised to see Denver take their playoff series to six games.
By the way, Melo gets bonus points for having a priceless mug shot. Anyone else think it could be swapped out for a head shot of LenDale White without any hesitation?