Houston Texans might ask you to Break Dance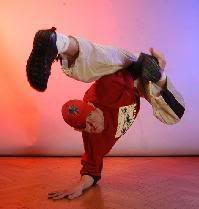 We've all heard the maddening stories of the NFL combine and interviewing process leading up to the NFL draft. They ask you off the wall questions, measure everything on your body including your choade hair count, and they proceed to bombard you with tests to see if you're fit to bang into people a couple hundred times on Sundays.
Despite all the wacky stories that have come out from the combines and interviews, I've never once heard of a team asking a player to break dance, which is what Alan Branch says he was asked to do. Branch was appearing as a guest on Fox Sports Radio with Sean Farnham and John Fricke when he said this:
The thing that got me was I used to break dance with a bunch of my friends back in high school so I told the coaches that's something I like to do and they didn't really believe me.  So they cleared out the room a little bit and I actually wound doing a little bit of break dancing right in front of all the coaches…I believe it was the Houston Texans.
I guess with the hundreds of interviews, it's hard to keep track. If it was the Texans staff that asked Branch to break dance, it makes me wonder what secret talent they asked David Carr to show off before they drafted him.