Brynn Cameron, Matt Leinart's baby mama, has kid with Blake Griffin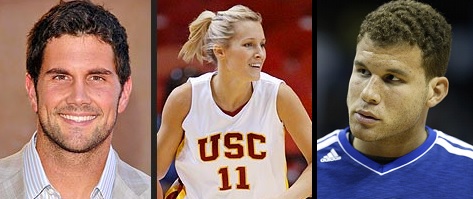 Brynn Cameron may have two of the most athletic children of all time, and the kids each have different fathers.
Cameron, who is a former USC basketball player, has a 6-year-old son with former USC Heisman Trophy winner Matt Leinart. We're also learning that she has a baby with Los Angeles Clippers forward Blake Griffin.
TMZ reported on Monday that Cameron had a child on Aug. 1. Blake Austin Griffin is listed on the birth certificate as the father. The child's name is Ford Wilson Cameron-Griffin.
Cameron and Griffin have been dating for at least two years. Cameron, who is from Newbury Park, Calif., played basketball at USC from 2004-2008. She took the '06-'07 season off when she was pregnant with her baby fathered by Leinart.
Brynn's brother, Jordan, played tight end and wide receiver at USC, and was drafted in the fourth round by the Cleveland Browns two years ago. Jordan is having a breakout season for the Browns and has four touchdown catches this year.
You may recall that Griffin collaborated with Jordan to produce a pre-draft hype video for the NFL prospect two years ago. You can watch the video below:
Looks like Blake's been on good terms with the family for quite some time.
Things between Matt and Brynn seem to be amicable, but there was a time when they were battling over child support. At one point early on, Cameron supposedly wanted $30,000 a month from Leinart. Previous reports have said she's getting at least half that amount. Leinart is currently a free agent.