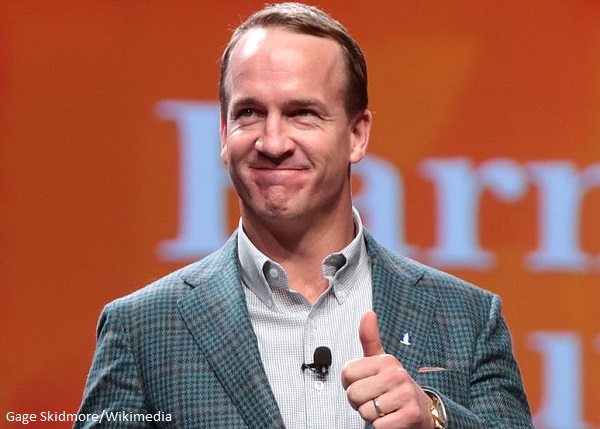 The rumors linking Peyton Manning to the New York Jets' general manager job appear to have little substance to them.
According to Ian Rapoport of NFL.com, Manning is not under consideration for the vacant position. Rapoport notes that there is little reason Manning would accept the job, and the links appear to come simply from Manning and Adam Gase having a good relationship.
From Up to the Minute Live: The #Jets GM search is going to kick into gear with requests and interviews expected this week… but no, the plans do not involve Peyton Manning at this point. pic.twitter.com/63PbraAwvQ

— Ian Rapoport (@RapSheet) May 20, 2019
In the past, it has been suggested that a front office job is Manning's major ambition. However, he'd want it to be the right situation. The Jets, who look chaotic from the outside, are probably not that landing spot, and even if the Jets were interested, Manning probably knows it.
LeBron James gave a public show of support for new Los Angeles Lakers head coach Frank Vogel.
Vogel was introduced Monday morning as the new Lakers head coach. LeBron was among the people in attendance as he was hanging out in the back of the room for it:
LeBron James is in the house for Frank Vogel's presser. #Lakers pic.twitter.com/hHvbvPBpLQ

— Ryan Ward (@RyanWardLA) May 20, 2019
Though it may not seem like much, that's symbolically a big move.
James is regarded as a superstar powerful enough to determine the fate of a coach. If he is not pleased with a coach, the team would be likely to fire the coach in response. That seems to have been part of the reason Luke Walton lost his job. If he showed no respect for the new coach, there would be very little chance of that new coach succeeding.
Instead, by attending the press conference, James seems to be showing respect for the coach, which is a sign he will give him a chance. In fact, Vogel says he has already had a positive conversation with James. He's also expecting a big bounceback season from the star.
"There's an excitement about … what we can accomplish."

Frank Vogel says he's had a "very positive" conversation with LeBron James since accepting the Lakers coaching job. pic.twitter.com/Rw2RhC3bPr

— NBA TV (@NBATV) May 20, 2019
Frank Vogel says he expects "one helluva bounce-back year" from LeBron James. Vogel says the two talked after he was hired. James has remained here at the press conference since the start. https://t.co/2ZTUkbzc6o

— Ohm Youngmisuk (@NotoriousOHM) May 20, 2019
The Lakers are coming off a 37-45 season that saw them miss the playoffs for a sixth consecutive season. Vogel and James will work to try and end that streak next season.
Los Angeles Lakers general manager Rob Pelinka took a diplomatic tone when responding to Magic Johnson's accusations of "betrayal."
Johnson accused Pelinka of backstabbing him, but Pelinka called the comments "saddening and disheartening." The GM added that he has talked to Johnson recently and hopes to talk to him again to discuss the "untrue" accusations.
Rob Pelinka on Magic's comments: "I think the most important thing for me is the two years getting work side by side with Earvin are some of the greatest memories I have. … It's saddening and disheartening to believe things are a misperception."

— Matthew Moreno (@MMoreno1015) May 20, 2019
Pelinka said he's talked to Magic recently. Added this morning's comments were "surprising to hear and disheartening. I look forward to the opportunity to sit down and talk to him, work through them, because they're simply not true."

— Matthew Moreno (@MMoreno1015) May 20, 2019
There were reports that Johnson wanted to fire Pelinka, so it's safe to say the relationship between the two men is difficult. It remains to be seen whether Johnson is even interested in having any further discussion.
Philadelphia Eagles quarterback Carson Wentz looks to be without limitation as team OTAs get underway.
According to Ian Rapoport of NFL.com, Wentz is not expected to have any physical limitations during on-field drills. While the Eagles will take care not to push their quarterback too quickly, it appears that it will be out of an abundance of caution rather than any actual physical issues.
#Eagles QB Carson Wentz is progressing well from his back injury from 2018 and sources say he has no limitations for on-field drills during OTAs, beginning tomorrow. The team will be smart with him, of course, but he's expected to be involved in the majority of all work.

— Ian Rapoport (@RapSheet) May 20, 2019
Wentz suffered a stress fracture in his back last season, but he was always expected to be cleared for offseason work. At this point, it's safe to assume he'll be under center when the regular season kicks off in September.
Ben Roethlisberger thinks he could have done some things differently during the final season of his doomed relationship with Antonio Brown.
The Pittsburgh Steelers quarterback apologized for going "too far" with some of his criticism of Brown, particularly after a November game against Denver when Roethliberger publicly criticized the receiver's route running.
Ben Roethlisberger's first comments to @KDPomp and @KDKA on Antonio Brown: "I took some heat and deservedly so for some of the comments on that show and especially towards him. I genuinely feel bad about that and I'm sorry. Did I got to far after that Denver game? Probably…"

— Andrew Fillipponi (@ThePoniExpress) May 20, 2019
Roethlisberger continued on AB: "That's the thing about media and social media, As soon as you say 'sorry' it only goes so far. You can't take it back. And I wish I could because if that's what ruined our friendship and relationship, I'm truly, genuinely sorry about that."

— Andrew Fillipponi (@ThePoniExpress) May 20, 2019
Roethlisberger's leadership style is frequently public and sometimes confrontational, and that clearly grated on Brown. After the season ended, the wide receiver went scorched earth on Roethlisberger before his eventual trade to Oakland. Nobody should be holding their breath for Brown to accept Roethlisberger's apology at this point.
Cleveland Browns GM John Dorsey and coach Freddie Kitchens showed solidarity toward running back Kareem Hunt by attending his baptism over the weekend, and Kitchens figures it was to his confusion.
The Browns coach offered up a funny quote about what he assumes Hunt's reaction would have been — one of befuddlement.
Q: What was Kareem's reaction to you and John showing up at his baptism?

Freddie Kitchens: "Probably, like, wondering what the hell we were doing there."

— Zac Jackson (@AkronJackson) May 20, 2019
Clearly, it was meant as a surprise. It's also another sign of the Browns' commitment to Hunt. The team has given him a second chance after his suspension and release from Kansas City, and the team's braintrust are clearly willing to publicly show that they're with him — even unexpectedly so.
Washington Redskins linebacker Reuben Foster suffered what looks to be a major leg injury during offseason workouts.
Foster went down during Monday's OTA and had to be carted off the field. Reports indicated that he needed an air cast on his leg, and was heard sobbing as he was carted off.
#Redskins LB Reuben Foster carted off just now. Left leg injury. Sobbing as he was driven back to the team facility.

— Mike Garafolo (@MikeGarafolo) May 20, 2019
Reuben Foster being carted away from practice field with an air cast on his left knee pic.twitter.com/ebWV0IpLTh

— Les Carpenter (@Lescarpenter) May 20, 2019
Foster has yet to play in a regular season game for Washington, and the team was widely criticized for picking him up. If this injury turns out to be as serious as it initially looks, it could be even longer before he suits up for the Redskins in a regular season game, but it's too soon to know on the severity of things right now.
Magic Johnson's wide-ranging interview on ESPN's First Take Monday morning had a lot of strange and memorable moments, but one appears to have caught the internet's imagination.
In discussing some of the moves he made as the Los Angeles Lakers' team president, Johnson referenced the departure of Nick Young, widely known for his "Swaggy P" nickname. Not quite widely enough, however, as Johnson referenced him a bit differently.
Shaggy P pic.twitter.com/awW2VeM719

— Rob Perez (@WorldWideWob) May 20, 2019
Naturally, the internet went right in on that.
Magic said he had to trade D'Angelo because he had problems with "Shaggy P"

— Chris Vernon (@ChrisVernonShow) May 20, 2019
Stunning that the guy saying "Shaggy P" on TV was accused of not being around the office enough.

— Dan Woike (@DanWoikeSports) May 20, 2019
Magic called Nick Young "Shaggy P" pic.twitter.com/Nkjhrw7kWk

— Davidoff (@JakeSirSee) May 20, 2019
Shaggy P?!? pic.twitter.com/9dJPaISeET

— adam jacobs (@adam_ology) May 20, 2019
Let's just say something like this isn't going to do much to convince people that Rob Pelinka's supposed "backstabbing" was unjust or unwarranted.
Brooks Koepka rolled to his second consecutive PGA Championship and fourth major win in the last two years. He also got a chance to go "scoreboard" against professional golf commentating provocateur Brandel Chamblee. Koepka acknowledged that Chamblee's criticism after the Masters, questioning his toughness, made him angry. Koepka posted a picture of Chamblee in a clown nose earlier in May. Chamblee spent the week trying to walk back and qualify his earlier comments, and said Koepka "is in elite company now."
Koepka has an unusual ally in his feud with Chamblee–Michigan head coach Jim Harbaugh. Harbaugh weighed in on Chamblee's previous comments on Monday.
Crossing the line to question a man's toughness. Especially when questioner @chambleebrandel has been cut in 4/4 PGA championship appearances while questioning man @BKoepka who had won PGA championship, now back to back & 4 out of last 8 majors. 💪 #koepka

— Coach Harbaugh (@CoachJim4UM) May 20, 2019
Jim Harbaugh brought up Chamblee going 0-for-4 in making a cut at the PGA Championship. This, though, just sets up Chamblee for the perfect comeback given that Harbaugh is 0-4 against Ohio State since returning to Michigan as head coach. Let's hope it goes there.
Magic Johnson appeared on ESPN's "First Take" on Monday morning and opened up about the end of his Los Angeles Lakers' tenure as team president. When asked directly if he felt betrayal, he directly identified general manager Rob Pelinka as the only one he feels betrayed him.
"If you're going to talk betrayal, it's only with Rob [Pelinka]."

Magic Johnson on @FirstTake!

— Ballislife.com (@Ballislife) May 20, 2019
Johnson also talked about how word of Pelinka criticizing him for not being in the office got back to him, not only from people inside the team, but also from friends outside the team.
Magic Johnson identifies Rob Pelinka is the person who was backstabbing him. pic.twitter.com/3mul9lJuzi

— Arash Markazi (@ArashMarkazi) May 20, 2019
Later, when asked about Ric Bucher's report that Johnson had inadvertently received an email exchange between Pelinka and team owner Jeanie Buss that was critical of Johnson. Johnson denied seeing that email or being aware of it until Bucher said it, but also was not surprised.
The Lakers are scheduled to introduce new head coach Frank Vogel on Monday. Buss and Pelinka can expect some additional questions based on Johnson's statements.
pixel2