That will definitely be filed under the "who knew" headline. Here I was thinking that South Carolina would admit anyone who wished to attend the university, you know, just so they could fill up seats in their classrooms. That was until I was informed that a few recruits who signed with the school didn't end up being admitted.
Spurrier was angered that receiver Michael Bowman of Wadesboro, N.C., and Arkee Smith of Jacksonville, Fla., were cleared by the NCAA to enroll, yet were turned down by the university. The rest of the Gamecocks football team officially reported Friday for preseason camp.

"Hopefully, I truly believe this is the last year this is going to happen, because I can't operate like that," Spurrier said. "I can't operate misleading young men."
First the confederate flag, now this. Spurrier, causing a stir. Not to mention, appealing to moral standards here — he can't operate misleading young men. Leave it to Steve to be watching out for America's youth. And South Carolina with academic standards? Who knew!

Chest Bump: Ryan Ferguson at FanHouse
Redskins OL Casey Rabach has a large ballsack [Deuce of Davenport]
ESPN getting preemptive with Bonds' 755? [100% Injury Rate]
What not to name a horse if you're going to race it [Awful Announcing]
Some pictures of NFL players with jacked up haircuts [The Big Picture]
Here's your proof that wrestling is fake [Nyjer Please]
Katharine McPhee is a hot weather girl, just for you Andy [Popoholic]
Angels, having trouble with rat infestations [Matt Watson at FanHouse]
This Samoan chick is almost disgustingly freaky strong [Foul Balls]
A blogger's account of A-Rod hitting his 500th HR [Just Call Me Juice]
Shorty's latest installment of young guns [The Extrapolater]
Check out Blog Show XVII, man 18 of them already! [Mr. Irrelevant]
Excuse the back to back X-Games posts, but the Jake Brown crash certainly was worth a looksie, and this, well this is definitely worth your 25 seconds. Check out Kyle Loza who completed the Volt, which is a Moto-X trick he invented. It's pretty sweet. Well, basically, anytime you're on a bike and completely let go of it, but wind up back on it, is pretty sweet. Kids, don't try this at home.
That would be Kyle Loza. Impressive. But not quite as cool as Jake Brown, for obvious reasons.
As Chris Farley said in Tommy Boy, "That was … awwwesome.  Sorry about your car." Or in this case, I guess skateboard would be more appropriate.  Children, don't try this at home:
Yes, and that man did walk away from the crash.  Imposible! I'm not a huge X-Games guy, but if they keep these types of charades up, count me in.  For the highlights at least.  And by the way, that mega ramp is insane.  That is exactly why they're so effing dangerous.
At first I was thinking the first thousand fans to trade in a baggy of coke get free entrance, but that wouldn't make so much sense, now would it? Here's how Lindsay Lohan Drunk Driving Awareness Night is going down at Grayson Stadium, home of the Savannah Sand Gnats:
It will be a Thirsty Thursday with half-priced beer and Coke and $1 Papa John's Pizza slices presented by Connect Savannah, Rock 106.1 and Papa John's Pizza. However, the Sand Gnats encourage all fans in attendance to learn from the redheaded actress' mistakes and plan for safe transportation home from the game.

Hook Towing will have a wrecked car from a drunk driving accident on display on the plaza in front of the main gate. Savannah Highway Enforcement of Aggressive Traffic (HEAT) will also be at the game with its blood alcohol testing van.
At least minor league baseball does serve a useful role in this country after all. And where would be without Lindsay Lohan herself. Hopefully she doesn't come out of rehab fixed; we would lose inspiration for promotions.
Chest Bump to Mullet at FanHouse
Yes, the rest of the sports world has taken notice. We all see. You're tied for first. You happy? Back 8 1/2 games on June 23rd and it didn't even matter. Good. Now you can settle back down, and we can all resume our days.
Seriously though, as anyone who has heard me do a radio interview this year knows, I said that the Cubs were going to make it close, and that it would only be a matter of time before the Brewers faded. Looks like that day has come. Funny enough, I think it's permanent too. Not to say that the Brewers might not sneak back into first at some point, but I think the Cubs will win the division, and the wild card won't be coming out of the Central. So there you go Cubs fans, go crazy folks.
100% Injury Rate dug up footage of something I had never seen before. It's blindfolded Muay Thai kickboxing. Not sure why anyone would come up with this idea, but it sure produces some interesting video:
Someone please explain to me why Van Damme was able to kick the crap out of Chong Li when he was blinded by the powder thrown in his eyes if it's that tough in real life. Actually though, something tells me I have seen some similar footage before.
If you remember, that came from the entire FOX Regional Sports Report video series. I highly recommend it.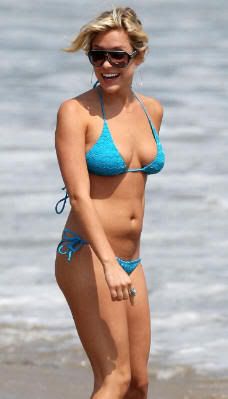 Don't mess with one of Vince Young's receivers [Winning the Turnover Battle]
It's rookie hazing time at Dallas Cowboys camp! [With Leather]
Jessica Alba may have left her headlights on [The Superficial]
A Formula One racing champ has lost his driver's license [SPORTSbyBROOKS]
Might Colin Cowherd get Dan Patrick's slot at ESPN? [The Big Lead]
Vick's dog fighting is worse than rape? Oh, really? [Awful Announcing]
Kristin Cavallari looking sweltering hot [Hollywood Tuna]
Great analysis from Gilbert Arenas on shark attacks tresspassing [Deadspin]
NESN, pissing off some Red Sox fans [One More Dying Quail]
Wow, there are actually some hot female bowlers [Doberman on the Diamond]
***20 days until Hayden Panettiere turns 18***
Amazing headlines ensue. Last week, we had the fantastic headline of the "Lady Jacks Off," in reference to the Northern Arizona women's basketball team. This week, trickblue from Cowboys Zone passes along this fantastic paper headline, from the Nacogdoches Daily Sentinel, following a win by the Stephen F. Austin Lumberjacks over the Jacksonville State Gamecocks.
What can I say, I have the sense of humor of a five-year-old. That gets me every time.
What Also Not to Use as a Headline:
Lady Jacks Off
I had been meaning to write this story for quite some time, but it wasn't until this morning when I linked to a post about Daniel Snyder that I was reminded to share it. I'm finishing up John Feinstein's book, Next Man Up, which is a behind the scenes account of the 2004 Baltimore Ravens. That season, Mike Nolan was the defensive coordinator with Baltimore, his last year with the team prior to accepting a head coaching position with the 49ers. Well, Nolan shared a story from his days with the Redskins. Apparently he and owner Daniel Snyder did not get along.
Early that season, after a Redskins loss, Snyder told Nolan that his defensive calls were "too vanilla." Like the other coaches, Nolan had figured out by then that trying to explain football to Snyder was pointless, since he already had the game figured out. A few days later a gallon of 31 Flavors ice cream showed up on Nolan's desk with a note that said, "This is what I like. Not vanilla."

Nolan laughed and sent Snyder a note: "Thanks for the ice cream. My kids enjoyed it."

"The first time it was actually kind of funny," Nolan said. "I didn't mind it at all."

The next time wasn't as funny.