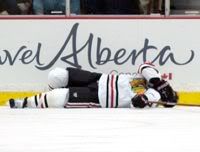 The last couple weeks, NHL players seem to be hitting each other harder and harder. In some cases, like the hit laid on Chicago Blackhawk Brent Seabrook by James Wisniewski a few nights ago, they are literally knocking players out cold. But what's with all the hard hits lately fellas? I might know the answer.
The Stanley Cup Playoffs are a few weeks away and the pressure is on. I don't know exactly what is going through the mind of players like Wisniewski. I don't know if he intentionally tried to lay Seabrook out like a sack of potatoes or if he was "in the moment" and feeling aggressive. But Seabrook isn't the only hit that's been like this lately. There's also his teammate Brian Campbell (who is now out for the season) and Boston Bruins Marc Savard who was knocked out a couple weeks back. These hits are proof that the players aren't messing around and they will be as aggressive as they have to so that they can be the ones hoisting up the Stanley Cup in just a few weeks time.
Although I'm all for being aggressive, I think these guys need to be smart about it. When you are headed towards another player and you're ready to hit him with all you can, remember that you can injure yourself in the process, too. If these NHL players keep making these reckless hits they are not only going to injure their opponent but themselves as well, and then picking up that Stanley Cup will be a difficult task when you have a broken arm.
Kelvin Sampson was fired unceremoniously by Indiana two years ago for committing several recruiting violations, the same issue that got him into trouble at Oklahoma. The Hoosiers started out the '05-'06 season promisingly, going 17-1 and ultimately 22-4 before losing in the first round of the NCAA tournament. Many of the IU players were upset that Sampson was fired and they were further angered when assistant Dan Dakich was appointed the interim coach. Several players stopped attending class during that tumultuous time and a few of them were kicked off the team (reports of drug and grade issues also could have contributed to the departures).
Armon Bassett was one of those players and he eventually transferred to UAB — former IU coach Mike Davis' new school — before ultimately deciding on Ohio. Bassett led Ohio to the MAC tourney championship and the Bobcats to an upset win over Georgetown in the first-round of this year's tournament, scoring 32 in the game. Xavier star player Jordan Crawford, best known for not dunking on LeBron James, was another player caught up in the Sampson mess. A freshman at the time, Crawford wasn't too fond of Tom Crean's new regime, so he decided to transfer to Xavier. Crawford's averaged 20 points per game in his first year at Xavier and put up 28 in their first round win over Minnesota. While I recognized Armon Bassett's name from the '08 IU team, I have to thank my uncle for pointing out that Crawford was on that team too. Clearly that Indiana team had talent, but that's not even where Sampson's ties end!
One of the stories this past week for the Patriots was that their star quarterback, Tom Brady, was not present in Foxboro for the start of the team's offseason workouts. Brady previously had a strong record of being the most dedicated Patriot in offseason workouts but his new family lifes has led to changes — Brady now spends more time in Los Angeles, away from the New England-area. Despite missing team workouts in Foxboro, we have confirmation that Brady's been staying in shape in LA. The website Faded Youth spotted 12 doing some boxing in Beverly Hills:
Thanks to the almighty PFT for the heads up on that story. While it's encouraging that Brady is apparently staying in shape on his own (not unlike many other star players), boxing in a ring and working with your receivers are two completely different things. Obviously Brady's priorities and responsibilities in life have changed and he has adjusted accordingly. While coaches like Mike Shanahan have demanded that players show up for Redskins workouts, Brady's missing time with his teammates. I have no doubt that the guy is a pro who will be ready to play at a high level this season, but it's indisputable that his focused has changed. Let's just hope the boxing proves to be more beneficial for Tom than MMA was for Matt Leinart.
Sources:
TOM BRADY STAYS IN FIGHTING SHAPE [Faded Youth]
Tom Brady Takes up Boxing [Pro Football Talk]
Oney Guillen is best known as the son of outspoken White Sox manager, Ozzie Guillen. Oney was drafted by the organization in '07, played two seasons, and then began working in the team's scouting department last season. He was looking forward to his second season in the team's front office until a twitter controversy arose, leading to his resignation on Friday.
Talking with Oney on Saturday, you could sense his frustration in what he called a contradiction with the White Sox organization, "You want to keep stuff private but you approve a reality show for the team. You say you want to keep stuff in-house but you agree to do a reality show. It's contradictory, don't you think?"
Oney was confused because he never felt he was critical about the organization on his twitter account and because he had been posting tweets for over a month without the team telling him to stop. While he did concede that the organization probably wouldn't want him to influence decisions with his tweets (he made several positive remarks about Andruw Jones and even advocated for re-signing A.J. Pierzynski), he was disappointed that they never approached him to talk about the issue.
"I didn't tweet anything bad at all," Guillen lamented. "I only heard stuff through the grapevine. If they had asked me to close down the account I would have but they never said anything." Oney said he felt there was a double-standard because other members within the organization have twitter accounts and that didn't seem to be a problem. He felt he was being watched under a microscope because of who his dad was, not because of what he was writing.
Tension seemed to have been brewing within the White Sox organization the past few months. First, the team grumbled when Ozzie Guillen signed up for a twitter account. Then, when Ozzie had plans to expand his thoughts onto a website, the team nixed the plans. Oney's resignation seemed to be the culmination of mounting problems that could last into the season, but it's his final words that will ring true for most Sox fans, "Why are we worrying about what a 24-year-old kid is twittering instead of winning games?"
Opening day is only two weeks away and suddenly a reality show doesn't look like the best of ideas for a club that's already engaged in a soap opera.
The Washington Natinals have been supplanted for the latest jersey misspelling in professional sports. The Atlanta Hawks screwed up the spelling of backup center Zaza Pachulia's last name on his jersey by placing they "C" in front of the "A" to produce Pcahulia. I'm not sure how they messed that up so badly because it just looks wrong:
It's bad enough that Pachulia's only playing 13 minutes a game. Now he has to deal with the equipment manager making fun of him? Poor guy. At least leaving out the "o" for the Nationals was much more understandable.
Sources:
Zaza Pcachuia [bball 'n' more]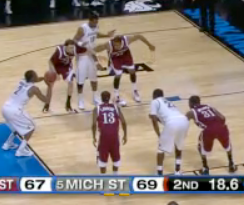 As good of a program as Michigan State is, you figure they wouldn't need much help to take care of the second place team from the WAC — one that went 22-12 in the regular season. That wasn't the case on Friday night when Michigan State never held more than a four point lead in the final 10 minutes of their game with New Mexico State. Things were interesting down the stretch with the Spartans pulling it out 70-67. The outcome would have been more in question had Michigan State not received favorable and surprising calls from the refs. The foul disparity over the final seven minutes in the game was 7-3 in favor of Michigan State. Several of the calls on New Mexico State were ticky-tacky hand checking fouls including the two called on Jahmar Young that fouled him out of the game. Any coincidence Young is New Mexico State's highest scorer? Probably not.
It also was quite odd that the refs called a lane violation on New Mexico State on Raymar Morgan's second free throw attempt with 20 seconds left (pictured). Morgan missed the free throw but the violation allowed him to shoot again. He made the shot which put the Spartans up 70-67. The second chance make forced the Aggies to take a low percentage three pointer to tie instead of a higher-percentage shot in the paint. They missed a couple of desperation heaves and lost the game. New Mexico State coach Marvin Menzies knows they got screwed: "You know, I wish [the lane violation] would have gone uncalled in this particular instance. In Ray's opinion, he felt he should call it. We would have had a much different approach to the last few seconds. I think I would have had something designed to get us to the foul line at least." I'm not saying New Mexico State would have won the game, I just wish it were called more evenly down the stretch.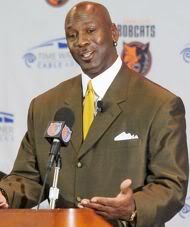 Basketball legend Michael Jordan officially became the majority owner of the Charlotte  Bobcats on Thursday.  During his press conference, he expressed his excitement to be back where he started.  He said it was amazing that he had come "full circle" by having the chance to buy a team in the state where he grew up. But I think all the excitement got M.J. a little flustered.
While explaining his goals and hopes for the Bobcats, I think M.J. may have been envisioning a different scenario. Maybe one where he was being introduced as the Chicago Bulls new owner. Check out Michael Jordan's slip-up at his press conference:
"The thing I want to get out this, I want to have fun. I want to provide entertainment to the public and the city of Chicago…I mean to the city of Charlotte.  Or Chicago too. I want to provide entertainment to everybody."
Oops, there it is. It seems as though someone was thinking about Chicago while talking to Charlotte. That's like getting with your special someone and saying your ex's name. M.J was also asked if he would be moving full time to Charlotte, and he didn't exactly say yes. He said that his kids are still in Chicago but he does have a home in Charlotte. And that means …? Oh, M.J. it's understandable why you can't let go of Chicago — Chicago can't let you go either. But for your new team's sake … let's try to be a little more discreet about it. At least this was much different from your Hall of Fame speech.
Sources:
Chicago still on Jordan's mind [Daily Herald]
Photo Credit [Charlotte Observer]
This time of year the almighty "Boss Button" is a huge item of contention. Last year we criticized CBS' March Madness on Demand Boss Button because of the content on the page. If anyone were to look at the screen closely, they would have seen that the content was all sports-related rather than business-related. A month ago, we got on NBC for their Olympics Boss Button because launching the boss page makes it look like you're working on a computer that has Windows 7. Obviously that would clash on a Mac so it wasn't very versatile. This year's CBS Boss Button is much like last year's — it will do the trick from afar but you're burned if anyone sees it from within five feet. Part of the reason is because there's a Dilbert cartoon strip on the side, ostensibly because this year's creator of the boss button is Scott Adams, the founder of Dilbert. Here's what the bad boy looks like:
You also better hope you have a tiny computer monitor because that image only stretches about 12″ wide. That doesn't exactly provide the best look if you're on a 17″ screen.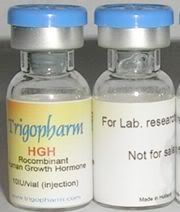 One of the criticisms of Floyd Mayweather Jr. was that he was holding up the fight with Manny Pacquiao because of outrageous demands that both fighters submit to random drug testing including blood tests. Critics say Mayweather was making these demands because he was afraid to fight Pacquiao. While I believe Mayweather took these steps because he knows how dangerous of a fighter Manny is, Floyd has displayed consistency in his new views on drug testing. Pretty Boy made Sugar Shane Mosley agree to random, Olympics-style drug testing prior to their fight, and they will begin that testing on Monday, March 22nd.
"I am excited that Shane Mosley and I are willing to take these tests to ensure a fair fight on May 1," said Mayweather. "I just want to show the world that boxing is a clean sport and it is my hope that all fighters will take a similar stance and responsibility which reflects sportsmanship at the highest level and sets a new standard for safety in boxing."

"I think the testing program is a great idea and I did not hesitate for a minute about agreeing to it," said Mosley. "Let's hope that the rest of the boxing world follows Floyd's and my example."
It's a great sign that the two fighters have agreed to the random testing to come as close as possible to ensuring a level playing field, PED-wise. I really do hope that all boxing commissions in the U.S. and all sanctioning bodies around the world follow the precedent set by Mayweather and Mosley. As I've said all along, if Manny Pacquiao doesn't have anything to hide then he shouldn't have a problem with random blood testing. What might he be hiding that urine tests might not detect, you ask? Check out this list from USADA via FanHouse: Human Growth Hormone (HGH), Homologus Blood Tranfusion (HBT), Synthetic Hemoglobin (HBOC) and the passport program. That's what Pacquiao could be hiding, amongst others. Why not submit to this program to prove he's clean? That's all he has to do, and with the health risks and physically demanding nature of the sport, why not level the playing field for all fighters as best as we can?
Sources:
USADA's Travis Tygart Says 'Test Blood'; Richard Schaefer, 'Zero Tolerance' [FanHouse]
Ah March Madness, the time of year when we scramble to finish our brackets confident that we have chosen the biggest upset in the history of college basketball. We stand assured that our number 16 seed will take it all the way. We ignore the "you are insane" looks we receive from friends and co-workers when we submit our bracket and prepare our windpipes to laugh at them because we were once doubted. Then, inevitably, we get knocked out in the first round.
I've been doing my research because I too want to be the psychic of NCAA tournament predictions picking Murray State and Old Dominion, so I figured there must be some tips to follow. Surely, someone must know the answer as to how to my bracket better and my wallet bigger. There's lots of tips out there and I've complied what I think the best ones. Basically, if you didn't follow these, your bracket might suck.
1. Use your head, not your heart
Just because you like a school, or you have a connection to it (a family member goes there, you're an alumni) does not mean that they will win anything. Do your homework and make sure that emotions are not outweighing logic.