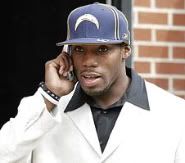 It just has not been Antonio Cromartie's week. The new Jets CB was roasted for struggling to name his children — all eight of them — but defended himself saying HBO's producers made him look bad. I'm not sure how Cromartie will defend himself against the latest criticism. In Thursday's Union Tribune via Rotoworld, Kevin Acee said that the Chargers secondary is much more united now that Cromartie is gone.
Things apparently are much more peaceful in the San Diego secondary and there is less drama. Additionally, as safety Eric Weddle noted, everyone is on the same page now. To clarify Weddle's comments, there are people on the team that are willing to tackle unlike Cromartie who was lambasted for going Deion in San Diego's playoff loss to the Jets.
If you read between the lines in the article, you can tell that many of the players wanted to point fingers in the past but didn't. All the drama off the field that distracted Cromartie the past two years certainly spilled onto the field and into the locker room and was not appreciated. He can only hope his fortunes are different in New York. At the least, the good news is he doesn't have to tackle Shonn Greene in games anymore. Just practice.
Sources:
Peace in Chargers secondary could bring prosperity [Union-Tribune]
I don't think anyone was shocked on Wednesday to discover that Brett Favre would return for another season with the Minnesota Vikings. But the dramatic quarterback didn't just want yesterday to be about his return, he also wanted to talk about his next retirement stint. Are we really talking about 2011 already? My head hurts just thinking about it.
Grandpa football said that this is his last year and that after 20 seasons he'll be ready to throw in the towel. Part of me wants to believe the drama queen is telling the truth, but his retirement track record says otherwise. Yes, he always gets the attention because he is one of the biggest names in the NFL, but is anyone else tired of hearing it? Who knows if he'll even last the whole season because players will be targeting his ankle. Then what? Are we going to hear that because he got injured six weeks into the season it didn't really count and he'll be playing football again in 2011?
I really am sick and tired of going through this every year with him. Ever hear of the little boy who cried wolf? Well Favre, you're the old man who cried retirement and eventually no one is going to listen anymore. I can't help but respect the man, but please give it a rest.
So, here's my proposal Brett Favre: I'll stop ragging on you if you really don't return next season. You may be big news nationwide but believe me, it's bigger news here in NFC North country. I've gone through it when you retired from the Packers, and now again with the Vikings, and I just can't handle the hype around your retirement anymore. Thankfully, I have an entire year until I know if you hold up your end of the bargain. That means another year of poking fun at old man Favre.
Source:
Favre returns to the Vikings for 20th season [AP/Fox Sports]
Isn't messing with drunk people the best?  It's even better when it happens at a baseball game and the mascot is the one leading the charge.  Raymond, the Tampa Bay Rays mascot, had that covered on Thursday night when he came across a fan who drank way too much and decided to have a little snooze during the game.  Check out the video of Rays mascot Raymond waking a drunk fan up with silly string, courtesy of Gawker.TV via YouTube user TheFloridapatriot:
There's a few things I love about this video.  First off, Rays security clearly takes things less seriously than Phillies security, judging by the fact that they laughed at a fan who probably had alcohol poisoning and may or may not have been driving home after the game.  Phillies security, on the other hand, breaks out the Taser if someone rushes the field.  Secondly, how much silly string do you need to be showered in before waking up?  And thirdly, I love how the guy just woke up and went back to watching the game as if nothing happened.  Then again, he probably had no idea that something had.
Sources:
Video Credit: YouTube user TheFloridapatriot
Napping Drunk Guy at Baseball Game Woken Up by Silly String Attack [Gawker.TV]
When he's not in the middle of an A-Rod injury issue, apparently Joe Buck is fawning over Tom Brady. It's actually difficult to tell if Buck was joking or being serious when he called Brady "dreamy" during Thursday's preseason telecast of the Patriots and Falcons game. Here's the video of Joe Buck calling Brady dreamy for you to decide if this was genuine swooning or sarcasm:
This wasn't anything near what Thom Brennaman did praising Tim Tebow during the national championship game, but it certainly raised eyebrows. I'm chalking it up as somewhere in between genuine admiration of Brady and sarcasm over his superhero status. Gotta love Joe Buck keeping us on our toes! Who knows, maybe this was part of a bet.
Video Credit: YouTube user notohous
The Buffalo Bills are attempting to regionalize themselves in hopes of being able to stay in New York.  As part of that effort, they have scheduled a series of pre- and regular season games to be played in Toronto.  The first — a preseason game between the Bills and Steelers in 2008 — drew 48,434 fans.  That same year, Buffalo played Miami in the regular season in front of 52,134.  Last season, the Bills played the Jets in Toronto and again were able to draw over 50,000 fans (51,567).
On Thursday night, the Bills faced the Colts in Toronto and while the announced attendance was 39,583, the Toronto Star is reporting that roughly 20,000 fans showed up for the game.  That would be bad news for the Buffalo Bills.  The stadium's capacity is 53,000, meaning the NFL managed to almost sell it out for the first three games in Toronto.  The idea is for the Bills to gain popularity, so the fact that attendance numbers were cut in half when one of the NFL's best in Peyton Manning came to town has to be discouraging.
In order for the Bills to survive in Buffalo, they need to prove that they can play some of their games in front of a packed house in Toronto and gain significant popularity in their region.  As PFT points out, the Bills need the Toronto series to be a success.  Otherwise, they could be looking at a move to Los Angeles.
UPDATE: An LBS reader has called to my attention the fact that the Bills attendance numbers are not that bad.  Initially, I had said they aren't drawing enough fans.  However, they were 10th in the NFL in attendance last season, so filling the seats probably isn't at the root of their financial issues.  Thanks to the reader who drew our attention to it.
Source:
Report: Only 20,000 at Colts-Bills game in Toronto [ProFootballTalk]
Last week, we found ourselves wondering what the Red Sox plan on doing with their closer after the 2010 season. Jonathan Papelbon has blown a career-high six saves this season and is under team control through next season. Should they trade him? I don't know how much they'd get in return for a declining closer who has an arbitration number that will be around $10 million for 2011. Should they keep him? He seems to have become a liability on the mound and the Sox have their next closer, Daniel Bard, waiting in the wings.
After attending Thursday night's Red Sox-Angels game at Fenway Park, I'm now fully certain that Sox fans have had enough of the once beloved, Irish dancing Papelbon.  A couple of friends and I sat in the bleachers, section 41, which is right behind the Red Sox bullpen.  Here is a list of some of the more memorable things I heard yelled at Papelbon Thursday night during Boston's 7-2 loss, many of which may or may not have come out of the our mouths:
It's been so long since Roger Clemens testified in front of Congress that I forgot about half the shenanigans that went down (except the now infamous "misremembers part"). Initially Clemens showed his feelings on the matter, saying he wouldn't call PED users "cheaters." In a pathetic effort to save himself, Clemens dragged his wife's name through the mud and said Andy Pettitte had things mistaken.
Now Clemens doesn't have much of a defense. Public opinion and Congressional opinion is now speaking and Clemens will have to face trial on charges of perjury obstruction of justice. Even though we all well know and believe that he was juicing since his Toronto days, he's still maintaining steadfastly that he is innocent. Clemens is taking his lies so far that he is willing to go to jail for them. Here's what he tweeted late Thursday:
I never took HGH or Steroids. And I did not lie to Congress. I look forward to challenging the Governments accusations, and hope people will keep an open mind until trial. I appreciate all the support I have been getting. I am happy to finally have my day in court.
Happy to have my day in court? Damn Roger, they will eat you alive and make you misremember even more. I can't believe he's so willing to enter the torture chamber. George Costanza wouldn't even go this far.
Sources:
Roger Clemens on Twitter
Former Colts Super Bowl winning coach Tony Dungy made headlines when he said he wouldn't hire Rex Ryan after hearing Ryan's profanity-laced speeches on Hard Knocks. Dungy's extreme comment unfortunately buried his message that an NFL coach can be effective without swearing. While Dungy comes across as mild mannered, it's not the first time he's gotten in a zing on an opponent.
Had Dungy presented his commentary without invoking Goodell's name and without saying he wouldn't hire Rex Ryan, then the Jets coach probably would not have been quite so upset. As it was, things got completely out of hand. Ryan is surprisingly self-deprecating and sensitive, so the criticism had to have stung. Not only did the two talk things out "man-to-man" on Wednesday, but Dungy will also visit a Jets practice at some point.
The uniting factor between Dungy and Rex apparently is an anonymous figure who knows both men and spoke highly of Rex. Because of the positive recommendation, Dungy is going to see things first hand to learn what Rex is all about. Aside from wondering who the uniting figure is, the obvious question is: will Rex cuss while Dungy's at practice or will he be on his best behavior?
Sources:
Dungy to visit Jets after a heart-to-heart with Rex [New York Post]
The NFL is full of tough guys and macho men. Players compete despite having broken bones, sprained joints, and torn muscles. Regardless of the condition, coaches have expectations for players and that is for them to practice and play no matter what.
You can only imagine how frustrated Brad Childress and the Minnesota Vikings' coaching staff was with superb rookie Percy Harvin last year. Harvin was one of their gamebreakers both on offensive and in special teams last season. Harvin also missed practice frequently and even had to sit out a game because of a chronic migraine condition that has plague him since he was 10 years old.
No doubt the coaches grew upset with Harvin because they expected him to work with the team but were let down on a regular basis. Additionally, compared to broken bones, migraines seem like a minor condition. Now, as if it weren't already confirmed, we have come to find out that Harvin's migraines are incredibly severe.
We've had quite a few misadventures in bullfighting lately. Well, maybe misadventures is not the correct term since all the disasters seem to be par for the course. We've seen a bull gore a matador in the nuts, a wimpy matador flee the ring, and the ultimate was the matador gored through the chin and out the mouth.
The latest escapade was a bull going for a joyride in the stands of a fight in Spain. Can you imagine some of the people in the front row? They all probably bragged to their friends that they had premium seats to a bullfight that day. Who's the idiot now, huh? Check out this video of a bull jumping into the stands to exact revenge on the fans: