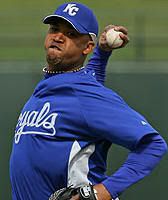 Shockingly enough, Octavio Dotel has been a popular name on the trade market this year. Why? Because he's fairly good, on a one-year deal, and he's on a bad team. Simply put, he's the ideal rent-a-player. And that's great for the Royals, because they have Joakim Soria who can close in the future, and Dotel would be a great bargaining chip to trade in exchange for some prospects. Only one problem. Dotel wants to sign a contract extension to stay in KC!
I would love to talk to them now," he said. I mean, right now. I like it here. It's not like I want to be somewhere else. I like the players here. I like the coaches. I like everything about Kansas City. There's nothing not to like about the city or the club."
OK, either one of three things is going on here. One, Dotel might actually like Kansas City — there's no pressure, no attention, and you can play ball under the radar. Two, Dayton Moore asked him to make these comments in order to drive up the bargaining price and Dotel obliged. Or three, Kansas City might be on the up-and-up just like the Tigers were a few years ago. They signed Gil Meche, and they could do the same with Dotel. I'm thinking Dotel will still be traded, and these comments are certainly helping the cause — in terms of asking prices at least. But what the hey, a baseball player dying to play for the Royals?! Who knew!