Some of the small conference teams that come to the NCAA Tournament bring amazing and hilarious stories with them. Abilene Christian coach Joe Golding certainly has the latter.
Golding ripped his pants celebrating after Abilene Christian clinched their automatic bid to the tournament. Normally, that's only an embarrassing problem once, but the coach doesn't have a second suit with him, meaning he's just going to deal with the hole in his pants while coaching his team against second-seeded Kentucky.
"I'm gonna have a hole in my butt. It is what it is, man."

Joe Golding will be coaching against Kentucky with torn pants after ripping them celebrating @ACU_MBB's @SouthlandSports Championship! #MarchMadness pic.twitter.com/IDyulvGGJ5

— NCAA March Madness (@marchmadness) March 20, 2019
Sometimes, guys get a little excited celebrating their tournament bids, and it can have ramifications into the tournament itself. Golding is only the latest. He'll probably take the trade-off.
Ben Roethlisberger has come under fire this offseason thanks to some of the things Le'Veon Bell and Antonio Brown have said about him on their way out of Pittsburgh, but Maurkice Pouncey wants to make it clear that not everyone who played with the quarterback feels that way.
In a lengthy interview with Jenny Vrentas of Sports Illustrated, Bell admitted that Roethlisberger "was a factor" in his wanting to leave the Steelers. He indicated his belief is that Big Ben feels he's bigger than the team.
"Quarterbacks are leaders; it is what it is," Bell said. "(But) you're still a teammate at the end of the day. You're not (general manager) Kevin Colbert. You're not (team owner) Art Rooney."
Brown has made similar remarks about Roethlisberger this offseason, and Pouncey wanted to set the record straight on Wednesday.
"I've been with Ben going on 10yr I swear on my kids he is a true LEADER!! sucks to see players who leave and are mad at the organization now try and point fingers like they are perfect! But this is the world we live in now!" Pouncey wrote.
Pouncey is not the first member of the Steelers organization to stand behind Roethlisberger this offseason, and you have to take anything Brown and Bell say with a grain of salt. They clearly had several strained relationships in Pittsburgh, even if their issues with Big Ben have attracted the most attention.
After an injury-hit 2018, it doesn't sound like Seattle Seahawks wide receiver Doug Baldwin is out of the woods.
Baldwin said Wednesday that he has more surgeries to come this offseason, though he didn't specify the nature of them or what they would be meant to correct.
Doug Baldwin just said with @cliffavril on @SportsRadioKJR that he has more surgeries yet to come still this offseason.

— Curtis Crabtree (@Curtis_Crabtree) March 20, 2019
Mike Garofolo of NFL Network reported that he's slated to get a potential sports hernia checked out.
He's slated to see William Meyers in Philly soon re: a possible sports hernia, according to a source. Early April is what I was told. https://t.co/SzYdQmYgTs

— Mike Garafolo (@MikeGarafolo) March 20, 2019
Baldwin's knee was an issue for much of 2018, though it seemed to improve down the stretch. While he did play in 13 games, his numbers were down, and nagging injuries seemed to impact him. Hopefully he can get everything corrected ahead of 2019.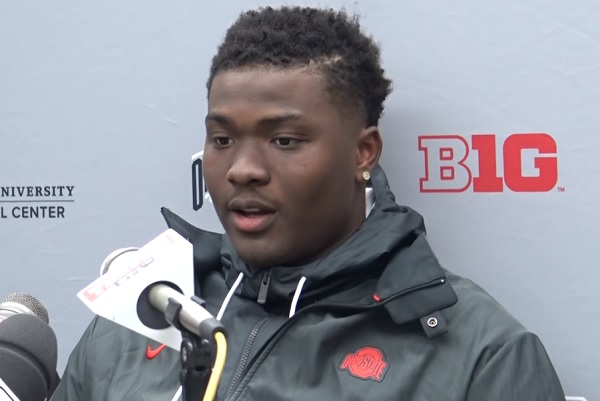 A wide array of NFL teams are doing their due diligence on top quarterback prospect Dwayne Haskins.
According to ESPN's Adam Schefter, the Oakland Raiders and Miami Dolphins have initial workouts scheduled with Haskins, while the Washington Redskins, Denver Broncos, and New York Giants are next in line for visits.
In the coming days, Ohio State QB Dwayne Haskins is scheduled to work out for Raiders and Dolphins in Columbus, and then he's also scheduled to visit the Redskins, Broncos and Giants, per league sources.

— Adam Schefter (@AdamSchefter) March 20, 2019
The Raiders are interesting, as they already have a veteran starter in Derek Carr. The Miami Dolphins have Ryan Fitzpatrick, but that's little more than a stopgap until they find a permanent option.
The other teams, Washington perhaps excepted, feel like they're doing their due diligence. The Broncos just acquired Joe Flacco, while the Giants don't sound all that motivated to go quarterback in the draft.
The Chicago White Sox are aggressively moving to lock down one of the brightest young talents in their organization for quite some time.
According to ESPN's Jeff Passan, it will be a long-term deal for the 22-year-old outfielder. Dominican journalist Hector Gomez reported that it would be an eight-year deal worth between $65 and $70 million.
Top outfield prospect Eloy Jimenez and the Chicago White Sox are finalizing a long-term deal, league sources tell ESPN.

— Jeff Passan (@JeffPassan) March 20, 2019
BREAKING NEWS: The White Sox are close to an agreement with Eloy Jimenez for an 8-year extension that would pay him between 65-70 US$ Million. With Incentives the contract could get to the 75-80 million Range. Source says deal is pending only a Physical.@z101digital @ZDeportes

— Héctor Gómez (@hgomez27) March 20, 2019
Jimenez is a consensus top-five prospect. He hit .337 with 22 home runs between AA and AAA last season. He has yet to actually make his MLB debut, which is, in the minds of most, down to service time manipulation. If Jimenez has already penned a long-term deal, that will no longer be an issue, and it seems safe to assume that he'll be on the Opening Day roster.
Craig Kimbrel remains a free agent with just over a week to go until Opening Day, but there appears to be some momentum toward him potentially signing with the Milwaukee Brewers.
Jon Heyman of Fancred reports that contract negotiations between Kimbrel and the Brewers have gotten "pretty serious."
Brewers talks with Craig Kimbrel are pretty serious I hear. They already had the best pen last year, so this would be strengthening a strength @ken_rand @ByRobertMurray 1st mentioned

— Jon Heyman (@JonHeyman) March 20, 2019
Kimbrel is one of the best closers in baseball history, and he went 5-1 with 42 saves and a 2.74 ERA last season for the Boston Red Sox. He may be asking for a bit more than teams are willing to spend this offseason, and there have been rumblings that he is open to sitting out a season rather than signing a below-market deal.
Brewers reliever Jeremy Jeffress, who was outstanding as the team's closer in 2018, is beginning the season on the injured list due to a shoulder injury. That likely explains why Milwaukee is interested in adding Kimbrel.
A lot of people couldn't help but laugh when the selection committee paired Richard Pitino's Minnesota Golden Gophers with the Louisville Cardinals, the team that fired his father Rick over a recruiting scandal, in the first round of the NCAA Tournament.
Richard Pitino, however, says he's putting any other angle aside other than beating his opponent, and he's not distracted by the off-court storyline.
"When you see Louisville pop up, you're more about, 'What am I going to say to the media? How am I going to lie to the media?'" Pitino said, via Adam Teicher of ESPN.
"From an emotions standpoint, when you play in the Big Ten, there are so many emotional games. I learned that," the Minnesota coach added. "I'm only 36. That's a young head coach. But you have to keep your emotions in check. I think I do a pretty decent job of that.
"When I'm watching film and I'm watching Louisville play, it's about not really what the name on the front of the jersey is, but I'm watching a really good team in Louisville, a really well-prepared and well-coached team with a lot of good talent and how can I put myself in a position to help our team beat them?"
Pitino added that he'd only spoken to his father, who is currently coaching in Greece, once since Selection Sunday, and they discussed the status of Minnesota, not Louisville.
There is no love lost between Rick Pitino and Louisville, and Richard has defended his father. He may not say so, but he'd probably enjoy the victory over Louisville if he can get it.
The New York Giants made a huge decision this offseason to trade away their most talented offensive player, and that could make life more difficult for head coach Pat Shurmur in the short term. However, that does not mean he was opposed to the deal.
In an interview with Paul Schwartz of the New York Post on Wednesday, Shurmur was asked if he and Giants GM Dave Gettleman were on the same page with trading Beckham to the Cleveland Browns
"Absolutely," Shurmur said. "Everything we do behind the scenes, coaching and roster building, is collaborative."
Shurmur said he feels the Giants got a good return for Beckham with a first-round pick, a third-round pick, and starting safety Jabrill Peppers. He described the trade as "good for both parties" and said he wishes both Beckham and pass-rusher Olivier Vernon — whom the Giants also traded to the Browns in a separate deal — nothing but the best.
"I know from my standpoint on a personal level anybody I've ever worked with I wish the best for when they leave," he said. "I'm hopeful O.V. and Odell can go to Cleveland, have an impact and help their team win games. That's where it's at."
The Giants obviously felt good enough about Beckham to sign him to a $90 million contract prior to last season, but there was talk that OBJ became unhappy in New York and was starting to create problems. Shurmur said he would not comment on any of that, but Gettleman shed some light on the decision behind the trade earlier this week.
The San Diego Padres are coming off a season in which they won just 66 games and finished last in the NL West, but they feel good about the moves their general manager made heading into 2019.
When Padres players entered their clubhouse on Wednesday morning, a shirt that featured general manager AJ Preller's face and the message "In Preller We Trust" was hanging at every locker.
These T-shirts were hanging in every locker when the Padres arrived in the clubhouse this morning: pic.twitter.com/ZB7L50QSr3

— Dennis Lin (@dennistlin) March 20, 2019
The Padres named Preller their general manager back in 2014, and it wasn't that long ago that it looked like he might be dismissed. If you remember, Preller was suspended by MLB for 30 days following some shady antics when he traded left-handed pitcher Drew Pomeranz to the Boston Red Sox in 2016.
All is apparently forgiven now, and the Padres are obviously pleased that Preller was able to beat out the big-market teams to sign Manny Machado to a $300 million deal this offseason. While Machado has already tried to temper expectations heading into his first season in San Diego, the Padres are clearly confident with where they're at.
Nikola Mirotic has played a key role off the bench for the Milwaukee Bucks since they acquired him in a trade with the New Orleans Pelicans, but the big man will not be able to contribute for the rest of the regular season and possibly into the playoffs.
Shams Charania of The Athletic reports that Mirotic suffered a fractured thumb during Tuesday night's win over the Los Angeles Lakers. He is expected to miss 2-4 weeks.
Bucks forward Nikola Mirotic has suffered a slight fracture of his left thumb and will miss at least two-to-four weeks, league sources tell @TheAthleticNBA @Stadium.

— Shams Charania (@ShamsCharania) March 20, 2019
That will likely keep Mirotic out for the remainder of the regular season, and he could miss the some of the postseason as well. The playoffs begin on April 13, so that would be just over three weeks from when Mirotic suffered the injury.
Mirotic had to wait a while before making his Bucks debut because of a calf injury, but he has been a solid reserve player for the East's best team. He's averaging 11.6 points and 5.4 rebounds in 14 games with Milwaukee. While losing Mirotic for part of the playoffs wouldn't be the end of the world, he could provide some much-needed depth.
pixel2