In case you're unaware of where the whole Belichick/Dungy dicey relationship, you only have to go back to September when Dungy compared Spygate to Barry Bonds' use of performance-enhancers in baseball. That's a pretty strong charge where I come from, and it resulted in a non-handshake between the two after they played in the season. Well anyway, Dungy was interviewed by Gametap about NFL Head Coach '09, a videogame for which he appears on the cover. Check out the remarks he had for the Patriots:
GameTap: Are there going to be any cheat codes in the game where I can spy on my opponents?

Tony Dungy: [laughs] I don't know about any cheat codes. They say that's really a big secret around here, it's like Spygate. I don't know if they put that in there or not or what the penalty would be if you entered any cheat codes, but we'll probably only let New England have cheat codes.
Surely he'll say he meant it in jest, but man, has any coach ripped on the Pats harder than Dungy? Even the Rams who have players suing the Pats haven't unloaded comments like that, and they lost in the Super Bowl. Love to see how Billy boy reacted when that comment got around to him. Next time these teams play, I'm sure the Pats will do their best to run up the score.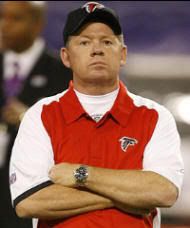 I think this story slipped by nearly everyone, well, with the exception of The Wiz and my man Arnie Spanier at Sporting News Radio. According to the Austin Statesman, Arkansas called over to Texas to ask about canceling their scheduled game for '09, the back end of a home-and-home series. The teams will meet this coming season in Austin, a home game for Texas, but Bobby Petrino's backing out of the game in '09. One has to wonder why Arkansas would cancel a future home game against a notable opponent, but the answer became clear: Bobby Petrino is a manipulative weenie when it comes down to it.
Apparently Arkansas will begin playing Texas A&M in the Dallas Cowboys' new stadium in Arlington beginning in '09, scoring a major payday for each team. The paper says Arkansas does not want to have both Texas and Texas A&M on their non-conference schedule in the same season. I think we saw this season that having a creampuff schedule is the way to go these days in college football, given the success of Kansas and Ohio State to name a few. I could easily understand it if coaches tell their ADs to start scheduling patsies in the future. But to come right out and ask to cancel a game with a tough opponent? That spells wussie, chicken, puss, whatever you can think of. Certainly seems like Bobby Petrino's M.O, so I can't really say I'm surprised.
When you think of East Carolina, I'm not sure exactly what comes to mind. I'm guessing it's not football, though David Garrard has done a lot to change that recently. Maybe you will think of athletics because of Kings SG Kevin Martin, though he played for Western Carolina. Or maybe, just maybe, running back Chris Johnson will change all that. Turns out he was the fastest player at the NFL combine, burning up a 4.24 40 time. I'm ordinarily not too impressed by combine stats because I don't believe they're significant in the overall evaluation of a player, but this video was too cool to pass up. Check out Johnson's highlight reel from ECU:
Maybe it was just the competition, but damn, CJ sure looked like he was in Madden jamming on the turbo button heavily against a crappy defense. Dude just looked FAST.
If you liked that video, this Joey Gathright/Adrian Wilson jumping video will blow your mind. Talk about athletes with just freakish ability, man.
This is the most exciting and competitive season I can remember in years. I really couldn't understand why the last issue of ESPN the Magazine was bringing up the "image problem" of the NBA. What's the problem? The way I see it, the NBA is thriving right now. What we witnessed over the last month in terms of trades, signing, and roster movement, was most likely unprecedented. It's like every team is fighting, clawing, and scratching their way to try and come out on top in what's become a lion's den lately. And I'm only talking about the Western Conference. As it stands, all eight teams that would make the playoffs in the West have winning percentages over .600. The Nuggets wouldn't even make the playoffs despite being more than 10 games over .500. This is the same team that also set the season high mark for points scored in a game last night. That's absolutely insane.
In the Eastern Conference, the teams are much weaker top-to-bottom, but the top teams are fighting to improve. The Cavs shook up their roster adding Ben Wallace, Joe Smith, Delonte West, and Wally Szczerbiak. The Celtics just signed veteran P.J. Brown for depth. The Pistons keep rolling along, while the Magic did their damage in the off-season signing Rashard Lewis. The Western Conference saw the Lakers acquire Pau Gasol for nearly nothing, setting off a chain reaction. First the Suns took a risk getting Shaq, then the Spurs got Kurt Thomas, and then the Mavs responded by getting Jason Kidd, and the Hornets even got Mike James and Bonzi Wells. That's not to mention the Jazz acquisition of Kyle Korver. Nobody is content letting their team stand as is; they all are hyper-competitive trying to win.
Oddsmakers have installed the Lakers as 2:1 favorites to win the title, but truthfully it's completely up for grabs. It's wide open, and best part is there are so many teams out there who not only want to win, but are fully capable of winning. Honestly, there are 10 different teams I could easily picture being handed the trophy by David Stern at the end of the season. There's not going to be one easy matchup in the playoffs — the eight seed will be nearly as tough as the top seed in the West come the post-season. I don't know about you, but I'm loving what I'm seeing right now, and I credit all the active GMs and owners for making this the most exciting season in memory. It's like watching a fantasy basketball season unfold between a bunch of drunk fraternity boys, only this is real life!
And I don't mean that to be a negative commentary about the man. His statement at the press conference on Tuesday sort of slipped under the radar for me. Upon incurring a season-ending stress fracture in his foot, Yao said it would be the biggest loss in his career if he were to miss out on the Olympics because of the injury. Here he is, in a country where most of the top stars decline an invitation to play for team USA, and he's saying that not representing his country would be the biggest disappointment for him. That's insane. It makes news headlines for us when a star NBA player says he will play for the U.S. — this news is incredibly difficult for us to comprehend.
So now I pose the question to you: is Yao off base in his thinking or does he have his priorities straight? Was his statement a noble one? Is being patriotic more important than being there for one's NBA team? Have I lost complete sight of proper values by thinking players' commitments to their NBA teams are more important than how the country performs in the Olympics? I just don't think the Olympic team is a big deal for us; everyone already knows the best basketball is played in the U.S., what else do we have to prove? But for Yao, I can see why this would be a disappointment. He represents what, the largest country in the world? He was their hero, their savior? Possibly their largest international sportsman when the Olympics happen to be in his home country? I can see why this would be a major disappointment for him — he has the weight of his nation on his shoulders. I understand his comment and think most of it stems from patriotic pressure. I do have to say though that I don't think it means our players have their priorities out of whack.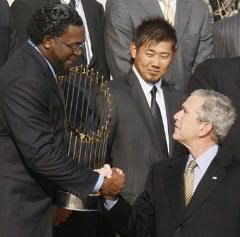 If approval ratings were based on how the President relates to athletic teams, the country would be demanding a third term for Dubya. The guy broke out all the stops when he met with the Red Sox Wednesday at the White House to congratulate Boston on their World Series win. Amongst some of his zingers, he mentioned he was happy Jonathan Papelbon was wearing pants, perhaps referring to Papelbon's Irish Jig. But his best lines were reserved for Manny who missed the '05 celebration, and then Dice-K:
"I guess his grandmother died again," Bush said to prolonged laughter. "Just kidding."
…
Bush noted the pitching of Japanese player Daisuke Matsuzaka, known as Dice-K. His presence drew a huge number of Japanese reporters.

"His press corps is bigger than mine," Bush said. "And we both have trouble answering questions in English."
At least the man acknowledges his shortcomings. I wonder who's writing his material. Problem is he'll probably be out of office by the time Clemens needs him to step in and deliver the pardon. Well done Bush, well done.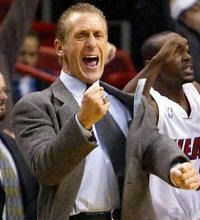 Much like most other people in the media, I love it when guys step out of the norm and get creative with their pre or post-game comments. That's why we love Gilbert Arenas so much — dude says stuff that's completely off the wall, like when he told us about his pube-shaving incident. Anyway, when the Miami Heat won Tuesday night breaking their 11-game losing streak, head coach Pat Riley could have settled for the typical "It's nice to finally get a win, hopefully this will set us in motion for the rest of the season so we can finish strong," or something to that effect. Instead, Riley delivered what was likely the top simile by a coach this year:
"I feel like a mosquito in a nudist colony," Riley added. "I know what to do. I just don't know where to start."
I've never even heard anything remotely similar to that line. Where does Riley come up with this crap? Damn, his team may be boring as all holy NBA putridness this year, but at least this dude is providing us with some entertainment. Oh, and Riles, for the record, head for the hottest chick first (not exactly sure how that translates in a locker room situation, however).
Apparently Kobe Bryant trains in a discipline called jeet kune do, which was developed by none other than Bruce Lee. In the video, Kobe says he's good enough to kick your ass, making you wonder why he even needed a bodyguard in the first place. Video evidence courtesy of none other than Elie Seckbach:
Jeet kune do is all about visualizing where your opponent will go next, and trying to beat him to the punch. Sounds like a pretty good practical application for playing basketball. I doubt it has much of an impact on Kobe's game, but it's still pretty cool. Hey, gotta figure if it works for Bruce Lee, it has to be pretty good, right?
(via Seattle PI)
Now don't get the wrong idea here and think for a second that I'm about to buy into the hype and start posting wonderful tales about Reds prospect Jay Bruce, who can supposedly hit home runs one-handed, and throw balls so hard the whizz makes girls skirts go up. No, I'm just a fan of baseball pranks, and this certainly was a good one. The Enquirer has the details:
Dunn's most elaborate prank happened Monday. Copies of the "Reds Report," with Bruce on the cover, arrived in the clubhouse.

The headline next to Bruce's photo was "The Next Big Thing."

Dunn had Bruce sign copies for a number of people, including manager Dusty Baker.

Dunn then made Bruce deliver the copy to Baker and ask him if he knew Bruce was the next big thing.

"He came in here all shy," Baker said. " 'It wasn't my idea. It really wasn't, Mr. Baker.' I said, 'Who's idea was it?'

" 'Adam Dunn.' "

"Dunn came by later. I asked him whose idea it was.

"Jay's all the way.'"
That's a solid prank right there. Most players are uneasy seeing publications with their names and mugs on the cover. So to personalize one for your manager? That really has to stink. I feel bad for the kid. Thought not as bad as I felt for Kyle Kendrick. That could go down as possibly the greatest prank ever, probably because it was documented on video. If you still haven't seen it, you must, just keep reading.
Talk about close calls you're happy you didn't have a do-over for. Come to find out that Mets manager Willie Randolph and hitting coach Rick Down both wanted the Mets to bring in the now infamous Brian McNamee. The two knew McNamee from their days with the Yanks and were about to bring the dude in as a batting practice pitcher. Yeah, crazy right? That pencil neck is nothing but a drug dealing trainer — why would they want him as a batting practice pitcher? Easy answer — Lo Duca was pushing for it. But that was the exact problem — McNamee had no direct qualifications to be a batting practice pitcher, something Omar Minaya recognized.
Omar apparently looked into Mac's background and decided not to bring the dude in. He was most likely scared away by the accusations of McNamee slipping some chick in Tampa a date rape, drug David Boston style. Besides that, Omar said he wasn't interested in bringing someone who's experience comes from working with individuals (a la Clemens and Pettitte) to a team environment. That's probably the PC answer. Down says he had no idea about McNamee's steroid ties. Sure thing buddy. We all know you were just trying to help Delgado revive his career.
Mobiright