The Chicago Sports Review put together a list of the Top 10 Sports Blog Stories in History.  For those of you who are new to the sports blogging scene (aka the sports blogosphere), it's a good way to get caught up on things.  Without further ado,
Honorable mention The Postmen
(chest bump for my man Mister Irrelevant who brought the story to my attention, and who was also interviewed in it)
Here's an audio recap of my day at the De La Hoya vs Mayweather press conference promoting their May 5th bout.
Listen to hear how each fighter was received by the fans, Pretty Boy Floyd talk all kinds of trash, and Oscar make his prediction.

MP3 File
I told you I'd be checking in today at the final stop of the 11 city tour promoting the May 5th bout between Oscar De La Hoya and Floyd Mayweather Jr., and let me tell you, it was a lot of fun.
The conference took place at Grauman's Chinese Theater in the heart of Hollywood, right on the Walk of Fame. Pretty Boy Floyd wasted no time trying to go "LA" on the crowd. Let me tell you, they weren't having any of it. Oscar was the real hero of the city.
Pretty Boy did most of the talking, matter of fact, all of the talking. Oscar was quite humble in his approach. There's the photo below (explained in my audio recap of the day) and plenty more pictures if you continue reading.
So Floyd Mayweather Jr. and Oscar De La Hoya are concluding their 11 city tour (11 cities!!) aimed to promote their May 5th fight with an announcement in Los Angeles on Wednesday and guess what, yours truly will be in attendance. 
I've already expressed my elevated level of interest in the fight and I can't wait for all the pre-fight excitement.  Check back later today for a recap of how the day went. 
As the tag-line for the 11 city tour says, Everyone is talking…on May 5 the whole world will be watching…(and I'll be there reporting)
Let's play a game. For each row of numbers, find the one that doesn't belong (aka the outlier)
a) .222, .190, .227, .275, .248, .275, .255, .313
b) .600, .561, .706, .780, .675, .811, .756, .866
c) 8, 47, 153, 147, 169, 129, 207, 307
Hmm, let's see, that's a toughy. How about .313, .866, and 307?
Ding, ding, ding — that would be the correct answer!
Exactly what is this about, you ask? Well, anyone with half-a-brain who read the title of this posts knows what's coming.
The Angels and their ridiculously dumb off-season moves are coming back to bite them.
Try this on for size, who the eff pays $50 million over 5 years to a 32 year old journeyman centerfielder who never hit higher than .275 prior to his free agent walk year?
Bill Stoneman, that's who.
And now here's this nugget of news from the Albany Times Union via Deadspin
Investigators in the year-old case, which has been kept quiet until now, uncovered evidence that testosterone and other performance-enhancing drugs may have been fraudulently prescribed over the Internet to current and former Major League Baseball players…The customers include Los Angeles Angels center fielder Gary Matthews Jr., according to sources with knowledge of the investigation.
.316, .866, and 307 represent the batting average, slugging percentage, and total bases for Gary Matthews Jr. in last year's season. One would think that a little comparison to the PREVIOUS 7 SEASONS should set an alarm off for most people, but apparently not Stoneman.
I realize that nobody has convicted Gary Matthews Jr. of any wrong-doing just yet, and he certainly hasn't tested positive for any illegal substances (to my knowledge), but let's just say the statistics tell quite an implicating story.
By now you've probably seen the youtube clips floating around of Clippers PG Shaun Livingston dislocating his knee cap — it wasn't pretty. The unlucky Livingston came down awkwardly after attempting a layup against Charlotte and wound up tearing three ligaments in his knee. The young guard (who was too untouchable to trade for Allen Iverson), will reportedly be missing 8-12 months.
You've probably seen what the injury looked like…now, here's your chance to hear what it sounded like. Remember, this is the sound of a man who dislocated his knee cap and tore three ligaments. (listen closely to hear the profanity mixed into the groans). This my friends, is the sound of pain

MP3 File
I've already shown the ACC and SEC coaches as South Park characters…and now I present, the Pac-10 football coaches as South Park characters.  Not sure who created these as they were sent to me by a friend, but here they are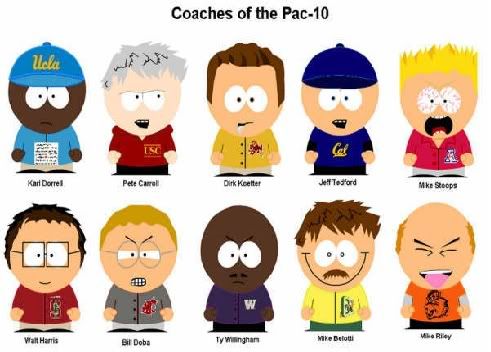 OK, so Walt Harris and Dirk Koetter may be a year old, but it's still pretty funny. I like the Dirk Koetter a lot, and the Karl Dorrell intricately caputres his emotions (and is that a playbook shoved down his pants?) 
*If you created these please let me know so I can properly credit you.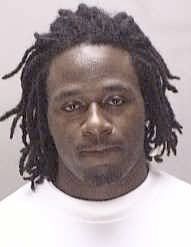 Posting Pacman Jones stories are becoming increasingly tedious, so I have included all the background on his story at the bottom of the post so I can get straight to the juicy point. From NewsChannel 5 in Nashville, Tennessee we have perhaps the most amazing twist to the Pacman Jones saga.
In one of the greater ironies in life, convicted drug dealer and friend of Pacman, Darryl Moore, who made his living by selling illegal products on a daily basis, had enough sense to know that his friend Pacman Jones was on the wrong path. Here are some of the incredible quotes (made by the convicted drug dealer about Pacman) from a wiretap obtained by NewsChannel 5:
"We gotta slow down, man. We gotta get him focused on football, man. He's focused on too much other s****,"…."You know, I was talkin' to him the other day about smokin', and he was like man, if I didn't smoke I couldn't take all the stress that I'm dealing with right now,'"…"Fisher's being as patient as a m*****f***** as he can. Fisher gotta win. Fisher trying to win…He ain't putting up with that s***,"…"He gotta concentrate on season…that ******* drug test coming up," he said. "We telling him he needed 33 days before he took his ******* test; dry-out, and he didn't…that's let me know right there that he ain't taking his ****** job serious."
And for the #1 answer on our list of Top 10 ways to know you're 'effin up — a convicted drug dealer is looking out for you — insane!!!
Background:
It appears as if Pacman Jones has a strong involvement in the shooting at a strip club in Las Vegas last week in which three people were wounded, one of whom was paralyzed (you can visit ESPN 760 to listen to Evan Cohen's interview with the parents of one of the shooting victims). Before that, Pacman had a court case dismissed in which he was accused of spitting on a woman at a club. During that same court session, Pacman said he had learned his lesson and was done with trouble. Previously, Pacman had other trouble at clubs and was in court on public drunkenness and disorderly conduct charges. Additionally, Pacman's ties to a drug dealer led to his car getting confiscated — which he eventually bought back. John Czarnecki of Foxsports.com said in his blog that the Titans were warned about Pacman's troubles and still drafted him (via NFL Fanhouse). The Tennessean suggests that it will be difficult to prove that Pacman was criminally involved in the Las Vegas shooting.
Lifetime is known as television for women. Their programming is filled with shows such as Designing Women, Golden Girls, Gay, Straight, or Taken?, How Clean Is Your House?, and Cheerleader Nation.
NFL Network is the home for football 24/7, also known as television for men. Their programming is filled with shows such as NFL Total Access, NFL Gameday, NFL Replay, NFL Draft, and NFL Scoreboard. Notice a theme?
That's why it was so hard for me to figure out exactly what the NFL Network was trying to accomplish with their coverage of the combine this weekend. Exactly who was their was target audience?
One after another, players came out sorted by position, wearing nothing but boxers, and they proceeded to get felt-up like male strippers at a bachelorette party full of horny divorcees.
They entered the room, knees shaking, millions of dollars hanging on the measurement of every quarter inch. Kevin Kolb, followed by Troy Smith, followed by Trent Edwards, followed by JaMarcus Russell…all half-naked, all getting their height measured right down to the quarter-hundreth of a centimeter, wingspan taken, and sperm count measured. OK, maybe no sperm count, but nearly everything else was considered.
I'm sorry, I may be interested in a quarterback's vital stats and completion percentage, but I don't need to be in the doctor's office when you're measuring the dude's johnson — comprende?
A little advice to NFL Network: let me know when you'll be airing fully-clothed sessions of these players running passing drills and then I'll tune in. Until that point, count me out.
Don't think I've been neglecting you here on the site…I've put together links to some stuff I did over the past few days that appeared elsewhere
At MLB Fanhouse:
At NBX:
Mobiright