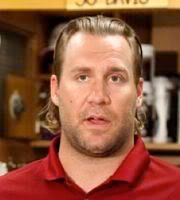 It's almost like piling on Steelers quarterback Ben Roethlisberger at this point. On top of the Lake Tahoe sexual assault civil suit allegation Roethlisberger faces and the Georgia sexual assault allegation he escaped, a Boston lawyer now says Roethlisberger had a third similar sexual assault case in Las Vegas. From WEEI in Boston:
"Six months ago I was retained by a client of mine and a close friend to investigate allegations against Ben Roethlisberger in a Las Vegas nightclub that were absolutely identical to this Georgia girl's story," said [Boston attorney Harry] Manion, a partner at the firm of Cooley Manion Jones, LLP and a frequent guest of WEEI. "The outcome was that the young woman did not want to proceed, and we did not take any action. There is a history here — and I can't say any further because we never proceeded with it — but there is a history here that is just super troubling."
Sounds to me like there was a payoff so that an investigation was not launched, just like I feel there was a monetary settlement reached in the Georgia case, as Mike Florio also felt. Hush money may have protected Big Ben to this point, but as we've seen with Tiger Woods, paying people off only protects you to a certain extent. After that point, how you treat(ed) people becomes more of an issue once your status as a hero has been stripped. That's precisely what happened with Roethlisberger so I wouldn't be surprised if this isn't the last negative story we hear about him. Lastly, I really don't see how Commissioner Roger Goodell (or at the very least the Steelers), cannot suspend Roethlisberger at least two games for the negative attention he has brought the League and the franchise. Isn't that what the code of conduct policy is all about, even if criminal charges weren't filed?
Of course, the same lawyer is now backing down maybe realizing he's made slanderous claims.
Sources:
Boston attorney on Roethlisberger: 'There is a history here that is just super troubling' [WEEI]
As we all know, the Chicago Cubs have brand new owners this year — the Ricketts family. And boy, do they have big ideas for the Cubs and historic Wrigley Field. When I say big, I mean eight 19′ x 14′ photos of current players and manager Lou Piniella hanging outside of the ballpark right next to the classic "Wrigley Field" sign.  What are they thinking?
Let's me start by saying this: that red sign is classic. It's a baseball icon, and it's a classic in Chicago and especially for Cubs fans. Putting anything around it just seems disrespectful even if they are pictures of Cubs players. Why on earth did they think this was a good idea? They are practically defacing a 100-year-old building. Part of Wrigley Field's charm is that it is historic. People who aren't Cubs fans or who aren't even interested in baseball go there to soak up some history, not to see obnoxious giant photos surrounding the infamous red welcome sign.
All I can say is that I hope that this is just part of their opening week celebration. If they plan on keeping those giant photos in their current location then we may have a riot on our hands. Chicago is a city that is very passionate about its teams and its architecture. What are they going to do next? Take out the classic scoreboard? Remove the ivy from the walls? If you're going to mess with Wrigley Field you might as well just knock it down, because this feels like the equivalent of doing so.
Sources:
Wrigley Field renovations [Chicago Tribune]
An urgent message for Steelers quarterback Ben Roethlisberger: once again, you're lucky, now start acting like a professional.  Big Ben is now a perfect 2-for-2 in escaping criminal charges against him for sexual assault cases, all within the last two years (the first case never involved a criminal complaint, only civil).  The latest, at a Capitol City nightclub in Georgia, is sort of a mind-boggler given the details that have come out about the night.  Roethlisberger gave the public a very Tiger Woods-like apology Monday night from the Steelers locker room. Here's part of his apology:
"I'd like to begin by expressing gratitude for the thorough investigation process in Georgia and the Prosecutor's decision not to bring charges.  I know without a doubt it is the right conclusion.  I am happy to put this behind me and move forward. I am truly sorry for the disappointment and negative attention I have brought to my family, my teammates and coaches, the Rooneys and the NFL."
Whether he is guilty or not, this is the second time Big Ben has put himself in a dangerous situation.  This time, it definitely looked like Roethlisberger was in trouble, but due to reasonable doubt, the DA found that there was not enough evidence to pursue to case.  I know in America you're innocent until proven guilty, and I'm not saying Roethlisberger is guilty, although I must admit the fact that the girl went to the emergency room immediately after the alleged incident only to have a doctor find bruises, bleeding, and DNA is a bit suspect. 
Whatever the case, guilty or not, the DA said it perfectly when he told Big Ben he needs to "grow up."  The Steelers are too storied a franchise to let this type of thing happen again.  They already proved this week that they aren't afraid to unload some talent even if it means getting rid of unnecessary luggage too.  That's not to say Ben Roethlisberger and Santonio Holmes are on the same level, but I think the message has been delivered.  We'll see if Ben takes it seriously otherwise his stay in Pittsburgh will be short.
Sources:
Ben Roethlisberger issues apology [Yahoo! Sports]
'Grow up,' DA tells Roethlisberger while announcing decision not to prosecute rape case [Pittsburgh Post-Gazette]
Photo Credit: ESPN
Not to worry, Yankees fans.  The Chan Ho Park we all saw help get the Phillies to the World Series last year with his crisp bullpen work may still be the Chan Ho Park you'll be getting this season.  After Park was shelled by the Red Sox on Opening Day, he went on to throw three scoreless innings in the finale of the three-game series to help the Yankees take two out of three.  Turns out his poor Opening Day performance may have been more than just typical new season jitters.  Check out Park's explanation for his problems — it's something with which Derrick Mason could relate:
Apparently Park just couldn't get his s*** together on Opening Day.  Happens to the best of us.
Sources:
Chan Ho Park digestive issues [SI Hot Clicks]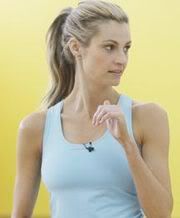 A few years ago we had the pleasure of interviewing Dancing with the Stars pro Karina Smirnoff whose partner at the time was Floyd Mayweather Jr. Karina's off the show this season but her words from two years ago are still applicable; Karina said she and her partners spent 8-10 hours a day practicing. That's quite a commitment, but it doesn't even encompass all the responsibilities for each contestant according to season 10 competitor Erin Andrews. In an interview with Jimmy Traina of SI's Extra Mustard, Andrews explained the demands of the DWTS schedule:
SI.com: What's the typical day for you like with the show?

Andrews: Usually, you do press starting at 5:30-6:30 in the morning and that goes for three or four hours. Then I record an interview for DWTS. Then I have an hour before I have to be at the studio and then I'm at the dance studio for six or seven hours.
Considering the payoff in terms of popularity gained and the corresponding earning potential increase each participant receives from appearing on the show, I'm not about to lend some sympathy here. My point is that based on Andrews' depiction of the typical show day, Chad Ochocinco might be completely burnt out when it comes time for the season to begin. Yeah I know he's a busy dude with all his ventures away from the field, but damn, this takes it a to a new level. At first I was worried about the lack of priority Chad's decision showed. Now I'm just worried that his legs will be done by training camp.
Sources:
Erin Andrews talks about death threats, ESPN future, DWTS [SI Extra Mustard]
The NHL playoffs begin Wednesday and the NBA playoffs start a few days after that. What does that mean? It's time to start thinking about playoff beards! You know those hairy, unshaven neck beards that develop this time of year in hopes that your team will make it all the way? So gentlemen (and hormonally unbalanced females) let's talk about what to do with your face fuzz.
1. Get started now. The playoffs will be here before you know it and if your team has made it, it's time to start that beard. This is your chance as a fan to share something in common with your favorite players; you will both be sporting a grizzly mess on your face as a sign of your dedication to winning.
2. Throw away your razors. Don't let that silver temptress get to you. You need to stick to your guns on this one, mister. As itchy and unattractive as your face and neck get, don't you dare shave that thing. As much as your wife/girlfriend, co-workers and others close to you complain about how you are beginning to resemble a mountain man, you must sport that thing with pride.
3. Buy a beard guard. Part of the joy of sporting the playoff beard is the way that it gets to run wild on your face. Don't you dare wash your manly mane. In doing so, you may just wash away the magic that has nestled itself inside of your facial hair. So go out and invest in a beard guard because I'm not telling you not to shower, but how badly would you feel if you ruined your team'ss chances of advancing in the postseason because your chin felt a little gross?
So that's it fellas.  Fans and players unite in growing those lovely, grizzly, itchy playoff beards that we all love so much. And feel free to send me a picture of your progress. Larry has even tracked his playoff beard progress in the past, why not join the tradition?
Sources:
The great unwashed [Canada.com]
Commissioner Bud Selig was on hand for the opening of Target Field in Minnesota Monday where the Twins hosted the Red Sox. He spent some time in ESPN's broadcast booth to talk about many of the issues facing the game. Selig discussed the League's drug testing policy, MLB's efforts to get more African-Americans playing the game, the plight of small market teams, and the issue of playing the World Series in November, amongst others. I could do a separate post on each issue in baseball but I'll stick to the possibility of MLB expanding the playoffs for this one. Here's how the conversation went between play-by-play man Dan Schulman and commissioner Bud Selig in the bottom of the second inning:
Schulman: "Do you see any change in the playoff format? Do you ever see another Wild Card team?"

Selig: "Well, I remember all the abuse I took about the Wild Card to begin with and now everybody wants more. I would like to see more. You know we only have eight out of 30 — the least number of any sport — we have the most direct playoff system. It's something we're going to consider. In some ways I like it, in some ways I don't. It's very attractive."
Mr. Selig, for all the complaints I have about baseball (the W.S. ending in November, the strong correlation between high payroll and long-term success, instant replay), the playoffs is where baseball has it almost perfect. I am a champion and proponent of systems that highly reward strong play during the regular season as MLB's currently does. Four teams out of 16 in each league works perfectly for me. Just having the Wild Card in addition to division races means many teams are still involved in a playoff race the entire season and that keeps fan excitement up. The only playoff change I would want is expanding the Divisional Series to best of seven, not five. I hope that will be addressed in the upcoming collective bargaining negotiations. But please, please, please don't expand the amount of Wild Cards — the playoff system is excellent as is.
It's been quite some time since we've mentioned, much less heard from, Michelle Wie. Two years ago we found out that she was dating fellow Stanford athlete Robin Lopez who has moved onto the NBA. I don't know if the two are still dating but I do know that Robin wouldn't be too happy with the latest Michelle Wie bikini pictures that have emerged courtesy of Radar Online via Deadspin.
After bursting onto the scene and creating controversies everywhere she went, Wie sure has been laying low lately. Hopefully she's been working on her game so she can dominate the greens in future tournaments.
Sources:
Michelle Wie Bikini Photos [Radar Online]
Michelle Wie Shows Off Her Less-Clothed Side [Deadspin]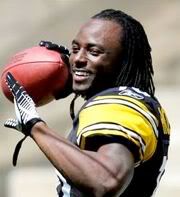 The New York Jets have had a busy off-season so far.  They're already signed on to be featured in the HBO original series Hard Knocks, so the new faces that will be joining them in training camp will serve as more than simple additions to their football team.  With the questionable characters they have added so far this off-season, New York might not have even needed to pair up with HBO to give their preparation period a reality show feel.  The Jets traded a fifth round pick to the Pittsburgh Steelers on Sunday in exchange for Super Bowl 43 MVP Santonio Holmes.  Holmes' services won't be available immediately, however, as he has been suspended four games for violating the NFL's substance abuse policy
Holmes joins Antonio Cromartie, who has in the past admitted that having seven kids in five different states can be distracting to his NFL career, as the second player with off-the-field issues to join the Jets in the last two months.  While it'd be tough to argue that New York is not a more talented team with these two on its roster, I can't help but think that Rex Ryan is quickly creating a recipe for disaster heading into the 2010 season.  Ryan has enough problems keeping his own name out of the headlines and behaving like a big boy, as he proved to us at an MMA event back in January where a fan caught him on camera giving Dolphins fans the bird.  The mix of characters on this team is going to be worth watching in itself for non-Jets fans.  For the J-E-T-S Jets, Jets, Jets faithful, its going to be a complete hit or miss.
Sources:
Steelers ship Santonio to the Jets [Pro Football Talk]
NFL to Announce 4-Game Suspension of Holmes [USA Today]
And through the woods, to grandmother's …. never mind. Despite all the eagles and brilliant shots recorded throughout the week and weekend at the 2010 Masters in Augusta, Phil Mickelson's shot on 13 in the final round was arguably the best of all. In so many ways, that shot was emblematic of Mickelson's personality on the course: he's daring. Mickelson takes the chances most other golfers won't. Many times it hurts him as it did at the U.S. Open in 2006 at Winged Foot but this time the risk paid off. Here's arguably the shot of the 2010 Masters, Phil Mickelson hitting between trees and over the water on 13:
Phil being Phil of course missed the easy putt and wound up with a birdie instead of an eagle, but the shot helped him extend his lead over Lee Westwood. Mickelson said after the tournament that going for the shot wasn't a question; the only issue for him was which iron to use, a five or a six. I guess that's just what Phil does and you can argue that the chances he takes help him shoot under par and make up strokes. Even though it worked out for Phil this time, I still say it was a dangerous shot and the wrong move. What if that winds up in the water? Then aren't we talking about another idiotic Mickelson moment resulting in a blown major? We're results oriented so most people will say it was the right move because it paid off. I remain consistent in my thoughts and I still feel the shot was too risky and therefore the wrong move. Either way it worked out for Phil and he now has his third green jacket. Congratulations to Mickelson on the win.