Billy Hamilton has some of the best wheels of any player in the history of baseball, but the young pup definitely has a lot to work on when it comes to his bat.
Thanks to a 3-for-5 game on Saturday, Hamilton is over the Mendoza Line for the first time all season. He's now batting .214 with 3 strikeouts, 13 walks and a .540 OPS. After watching the at-bat he took against Chicago Cubs starter Jeff Samardzija on Friday, it's no wonder why.
Hamilton led off the game and worked it to a full count. Clearly he was expecting some off speed on the next pitch, because when Samardzija threw a 91-mph fastball on the outer half, Hamilton could only wave at it with a last-ditch slap as the ball was already in the mitt.
Someone remind Hamilton that this is baseball, not softball, and that slap-hitting is not a preferred technique. And guessing off speed with a full count probably isn't going to work out too well most of the time.
He's definitely much better off making it into LBS for his baserunning highlights.
Showtime favorite child Adrien Broner was in the house in DC Saturday night to provide some commentary for the fight card headlined by Bernard Hopkins.
Broner shared his thoughts on the Hopkins fight, and of course he was iced out like a margarita. He had a diamond grill, diamond earring, diamond ring, diamond watch, diamond bracelet, and about five huge chains around his neck. When you add in the beard and sunglasses, the dude strongly resembled Rick Ross.
In the shot below, you can see the diamond bracelet and a hint of the diamond watch:
None of this should surprise you; Broner is the same guy who put on a double gold grill in the ring after beating Paulie Malignaggi last year. He always keeps it a maximum swag levels (except for when he's getting KTFO).
I have to admit, that Rick Ross look does work for him though.
The Indiana Pacers are a hot mess right now, and this play is just an illustration of their struggles.
During the third quarter of the Atlanta Hawks' 101-93 win over the Pacers Saturday, Jeff Teague fooled Evan Turner with a sweet crossover.
Maybe Turner's defensive assignment was to make sure he didn't get beat to the baseline and that could be why he went so hard, but he was so faked out it was embarrassing. He was so lost his back ended up facing Teague:
Teague led the Hawks with 28 points in the game. Roy Hibbert continued to struggle for Indiana, posting just 8 points and 8 rebounds. They're looking terrible.
Arian Foster came through for a female fan who had a social media mishap involving the Houston Texans running back.
Two weeks ago, a Texans fan named Jenni Bazard posted a photo on Twitter of her and a man who she thought was Foster, boasting that she had met and taken a picture with one of her favorite football players:
Ran into @ArianFoster at Pub Fiction last night! So blessed to get a picture with one of my favorite #HoustonTexans!! pic.twitter.com/SpyyyBw09f

— Jenni Bazard (@j__baz) April 6, 2014
As you can see, though the man in the photo looks like Foster, he clearly was not Arian Foster. Foster even responded to the woman over Twitter to inform her that she had been duped.
Lol I appreciate the love but that's not me. RT @j__baz: Ran into @ArianFoster at Pub Fiction last night! … pic.twitter.com/FoViIxzCmF

— Arian Foster (@ArianFoster) April 6, 2014
Fast forward nearly two weeks, and the real Foster got together with Bazard to make sure she could get a picture with the actual Texans running back:
For being such a good sport about the whole thing, I met up with @j__baz and gave her a picture with the real me. http://t.co/2Bi6HxkeNh

— Arian Foster (@ArianFoster) April 19, 2014
Perfect ending. And I'll tell you this: one look at that photo and I'm pretty sure I know why Foster didn't mind getting together.
The playoffs have begun, which means the NBA is going to turn into a fashion show for some players over the next several weeks. That also means that Russell Westbrook's wild outfits will be receiving a lot of coverage.
On Saturday, Westbrook dressed in all red to ensure he would receive some coverage for his fashion attempt prior to Oklahoma City's first game against the Memphis Grizzlies. Some pointed out that he looked just like a Teletubbie:
Silly Russell Westbrook, at it again! pic.twitter.com/KJfz0yZiMb

— Noam Schiller (@noamschiller) April 20, 2014
In the words of Russ himself, don't hate on the brodie. But I will — that outfit is terrible!
Former Bills quarterback Jim Kelly is back in Buffalo and will remain there as he receives treatment for his sinus cancer.
"Jim is coming back, and he wants to fight cancer here in Buffalo," said his brother Dan Kelly. "He'll be continuing all his treatments here in Buffalo."
Jim is fighting cancer for the second time and had been receiving treatment in New York City. He completed his first round of chemotherapy earlier this month and is set for two more chemo treatments. He's also receiving radiation five times a week.
Kelly's wife Jill posted this reassuring video her husband recorded to her Instagram account:
Kelly has also been approached by multiple groups interested in buying the Bills, according to The Buffalo News. He is said to be very interested in joining one of the ownership groups, though his top priority is getting healthy for now.
Photo: Twitter/BuffaloBills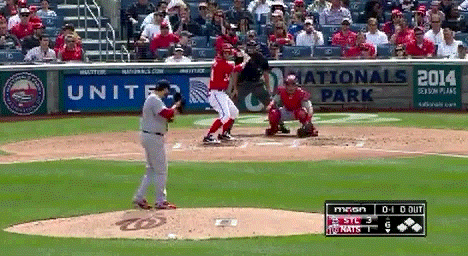 Bryce Harper was benched by Washington Nationals manager Matt Williams Saturday for not running out a weak comebacker to the pitcher during the sixth inning of a 4-3 loss to the St. Louis Cardinals.
Harper waved at a good changeup that dove low and away and hit a dribbler back to Lance Lynn, who threw to first for the easy out. Harper just jogged about halfway down the line and peeled away without running all the way to first after he was thrown out. Williams responded by benching his left fielder and having Kevin Frandsen replace him.
Harper was 0-for-3 in the game and has been dealing with a quad injury, so you figure Williams might give him so leeway, but that was not the case.
"We made an agreement. He and I made an agreement, this team made an agreement, that when we play the game, we hustle at all times. That we play the game with intensity and the willingness to win," Williams said after the game.
"For the sake of his teammates, he needs to play with aggression in the way he plays," Williams said of Harper.
You can watch video of his postgame comments below:
Clearly Williams will not allow the quad injury to be an excuse. He felt Harper didn't run it out because he was frustrated with his at-bat, not because he wasn't well enough to. He probably sent the youngster a good message with the decision.
Oh, and DC Sports Bog shared this on Twitter – how great is this ironic Nats in-game magazine cover for Saturday's game:
Amazing cover for today's in-game Nats mag pic.twitter.com/8Rz5np7jNh (via @bencelestino)

— Dan Steinberg (@dcsportsbog) April 20, 2014
Forearm bash to Eye on Baseball
Doc Rivers believes that the referees called a few too many weak fouls on Blake Griffin during Game 1 of the Clippers' playoff series with the Golden State Warriors Saturday, which they lost at home 109-105.
Griffin only played 19 minutes before fouling out in the final minute of the game, and he never really got into a rhythm.
Rivers was asked after the game whether he felt the officials were primed to call the series closely because of some of the pre-series talk, such as Klay Thompson saying Griffin is a flopper.
"Do you want me to get fined? Come on, why would you ask me that question?" Rivers responded with a smile and laugh before answering honestly.
"Yeah, I do, I thought all the hype had an impact on how the game was called," said Rivers. "Lot of tight, touch fouls. I thought three of [Blake's] six were probably touch fouls. Same thing with CP. But the way I look at it is both teams have to play under the same rules. And they did a better job playing under the same rules that we have to play under.
"I wish there were less calls in that way, yeah."
So Rivers got to make his point while still saying the game was called fairly. That's Rivers being masterful.
It's fine for the Clippers, because the officials just won't call as many fouls on Griffin in Game 2 which should allow them to tie the series.
Just as the St. Louis Blues were battling with the Chicago Blackhawks in overtime of Game 2 of their first-round Stanley Cup playoff series, one fan decided she was going to reach deep down inside her to provide the hometown team the inspiration they needed to close out the game.
Yes, one female fan gave the Blues a lift by pulling down her top and exposing her bosom.
Did any of the players see it? Was that the motivating factor that led to their winning goal to go up 2-0 in the series?
No one can be certain about it. But we do know that she definitely seemed to be pleased with herself for the daring adventure!
H/T Deadspin
Blake Griffin was pretty upset over fouling out in the final minute of Game 1 between the Los Angeles Clippers and Golden State Warriors on Saturday, and he reacted by throwing a drink back — literally — after seeing a replay of his foul.
The question is: did he mean to soak the fan behind him, or was that unintentional? The great part was seeing the fan react like "what the f—?" to Blake after getting soaked.
The fan was wearing a yellow Warriors shirt, so knowing Blake, he probably did it on purpose. Plus, that sneaky smile out of the corner of his mouth kind of gave it away, too.
So awesome.
Video via @cjzero
pixel2