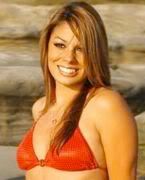 I hope Jaimee Grubbs is satisfied because it seems like she's getting everything she wanted in life: a moment of fame, a relationship with a high profile celebrity, and a lot of money for telling her story. The first pay day came when she released a voicemail from Tiger to US Magazine. The latest pay day came when she released text messages from Tiger that appear in US Magazine. Here's an excerpt of his texts:
One exchange from Sept. 27, 2009 reads:

TIGER: I need you
JAIMEE: then get your tight ass over here and visit me! I need u
TIGER: I will wear you out soon
JAIMEE: how soon? I got a new piercing

A couple hours later that same day, Woods vows to Grubbs "quietly and secretively we will always be together …when was the last time you got laid".

In a text-swap on Oct. 18, Grubbs wonders "why I keep falling more and more for u ;)." Woods' unexpected reply: "because I'm blasian :)."
Tiger once famously called himself a "cablinasian," which is a reference to Tiger's racial makeup of Caucasian, Black, Native American, and Asian. I wonder why he said "blasian" in the text — what's that supposed to mean? These texts remind me of what other golfers on tour have said about Woods before, that's he's funny and a dirty talker in the locker room who cracks lots of jokes. This sounds much more like that person than the one who appears like a robot in interviews. Yes, Tiger will still bounce back from all of this stronger than ever on the course but no doubt this period of time is embarrassing for him.
PICS: TIGER'S ALLEGED MISTRESSES

Rachel Uchitel, Jaimee Grubbs, Cori Rist, Holly Sampson
We've been hearing the name Brian Kelly as a candidate to replace Charlie Weis as the head coach of Notre Dame even before Weis got fired following the Stanford loss. The name Jim Harbaugh was floated around, though he denied he was meeting with the Irish brass. Reports also said there was "mutual interest" between ND and UConn coach, Randy Edsall. But on the same day that Cincinnati decided the media wouldn't be allowed to attend a team banquet, word comes out from that Notre Dame will make Brian Kelly their new head coach.
Because of his success at Cincinnati, Kelly was likely the top candidate to move up on the coaching ladder. Even though Kelly has turned a basketball school like Cincy into a football powerhouse recently, there is one item about him that makes me skeptical: the Bearcats' offense, not defense, has been their strong point. If there was a glaring weakness for the Irish this past season (and all along under Weis) it was that the defense wasn't good enough to make them dominate. One would have thought their priority should have been to bring in a defensive-minded coach. Even if that's not what they did, given Kelly's track record of winning at Cincinnati and Grand Valley State, he should have more success at Notre Dame than his predecessors.
We've often cracked on Alabama for its fervor and never ending passion for football. In some senses, it's great that the school supports its team tremendously. In others, the support goes too far. Case in point: the school's plans for the second week of January as reported by WAFF:
Due to large numbers of students and staff who are expected to go to Pasadena, CA, for the Rose Bowl, the University of Alabama is dismissing classes from Jan 6. through Jan. 8, 2010.

Students should expect additional assignments to make up for the lost class time. Also, staff who wish to attend the National Championship game will have to arrange for leave and for their work to be covered.
Guess I know when is a good time to rob the school. Not that I would do such a thing, but who's going to be there for protection? Putting aside the question of how so many college students can afford to travel across the country to Pasadena and purchase tickets for the game, how can the school say they're going to cancel classes? What's the primary function of the students, administrators, and instructors, to foster an environment of higher learning or to support the football team? It's this sort of mentality and misplaced priorities that leads to all the corruption and recruiting scandals in and around the Alabama (as well as other SEC programs) football team.
Considering a new mistress seems to emerge on a daily basis for Tiger Woods — and that's not even an exaggeration — it's surprising that none of this information came out before. If Tiger was out carousing at clubs constantly, banging chicks left and right, then why didn't any of this information ever emerge? Where were all the Vegas spies to say Tiger was "spotted" at the club. Was everyone on the take? It really makes you wonder how the media dropped the ball on this one until the National Enquirer stepped up Thanksgiving week. Anyway, Deadspin did some investigation and provides incredible insight into the world of cheating and corruption for VIPs like Tiger. For instance, they say Rachel Uchitel was really more of a party liaison for Tiger than a mistress. They also say porn star Veronica Siwik-Daniels aka Joslyn James is/was his favorite girl.
Last week, James supposedly left a status update on her facebook account suggesting all the chicks proclaiming they had relationships with Tiger only wanted to be like her: ""I find it comical when certain individuals have no life of their own and want to be ME…so terribly bad. LMAO!" Deadspin's source also says "Joslyn used love to talk about "all the freaky shit Tiger dug in bed," and that every time he'd come to town he'd pay for a visit. You know, with cash." The news keeps getting worse for Tiger on a daily basis. At this point, I don't even feel badly about his character getting crushed; he did it to himself. The only shame was the sham the sponsors and media had us believing this whole time.
Read more of Deadspin's reporting
PICS: TIGER'S ALLEGED MISTRESSES

Rachel Uchitel, Jaimee Grubbs, Cori Rist, Holly Sampson
Another gem was unloaded by Extra Mustard on Monday. It appears that there was a skit put on at Jacksonville Municipal Stadium Sunday when the Jags played the Texans. Yes, that's a person in a tiger costume wearing a red shirt and black hat getting chased by a blond wielding a golf club. Sound familiar?
Man, that's just cold. I guess you can say they were playing to the local audience with that one. It's full-on Tiger joke time now making you think people are just compensating for all the years of kissing Woods' butt.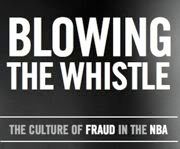 The case of Tim Donaghy is a difficult one to analyze. The guy was thrown in prison for betting on games he officiated, shamed, disgraced, and now he's written a book about the corruption by officials in the NBA. Skeptics will say his claims confirm what they have believed for quite some time, that the NBA officiating is sketchy because of its subjective nature. Others will say that Donaghy is writing with revenge on his mind and that he doesn't care whose reputation he sullies while trying to make a buck. I think the truth lies somewhere in between; some referees may favor certain teams or individuals and it may be manifested through their calls, but that's not the case for every official and it doesn't mean the biased ones do it in all situations. One of Donaghy's claims was that referee Dick Bavetta bragged about being the ideal "company man" for the NBA and that Bavetta kept games close. The fine gentlemen at True Hoop have done some quality research that would dispute Donaghy's assertion:
Bavetta officiated 69 games between the beginning of the 2003-04 season and the end of the 2006-07 season where the closing betting line was 10 points or greater. The big underdogs in those contests went 25-44 against the spread — a winning percentage of 36.2 percent. In other words, teams that were expected to be beaten badly were far more likely to be embarrassed when Bavetta was on the floor.
Donaghy may have been outstanding at fixing games he reffed, but he's apparently incorrect regarding his assertion about Dick Bavetta. I do believe there was some accuracy to what he said about Bavetta's desire to be in the spotlight and Steve Javie's dislike of Allen Iverson, but that doesn't mean all the games they reffed were fixed. The one thing that I still have a tough time accepting, as do many, is the notion that the '02 Western Conference Finals were officiated fairly. The refs did everything possible to help the Lakers beat the Kings, no doubt about it.
Check out more great info at True Hoop as they further discredit Donaghy's claims.
With the Monday Night Football game being low-scoring early on and relatively boring, some sports fans may have found their way to Monday Night Raw. The event took place at American Airlines Center in Dallas and Mavericks owner Mark Cuban was a guest host for the evening. Because Cubes loves to be in the middle of things, you knew he had to get a piece of the action. Since I'm not exactly in the WWE loop, I'll have to defer to their website for the storyline:
WWE Champion John Cena and Sheamus met in the ring with moderator, special guest host Mark Cuban. As the Dallas Mavs owner asked questions, The Celtic Warrior answered with bombast, stating why and how he will defeat The Champ. For his part, Cena demurred, finally asking his opponent whether he believes what he's saying.

The question riled Sheamus. He appeared ready to leave the ring, but instead he attacked Cuban and took a cheap shot at the WWE Champion. When Cena came to, Sheamus kicked him in the skull to put him down again. That's when The Celtic Warrior went all psycho on Cuban, slamming the host through a table!
Yes, Cuban got thrown through a table and it was pretty cool. You know David Stern's going to love this video. Not great quality, but still worth a look at the video of Mark Cuban slammed through a table by Sheamus:
I thought I had seen bad fan reactions to losses before but this one might rank at the top. The Civil War by itself creates plenty of bad blood, but when there's a Rose Bowl berth on the line you're talking about livelihoods at stake. In case you doubted the intensity of the rivalry between Oregon and Oregon State, check out this Beavers fan's reaction to losing to the Ducks on Thursday night (warning: language, content is strong).
Thanks to Jimmy at SI Extra Mustard for including that video on Hot Clicks. One of the YouTube commenters nailed in saying "he looks like the baby of andy roddick and sean william scott." Funny, I was thinking the exact same thing. How I love rivalries.
Latosha Lee got her name in the news recently for her relationship with NBA players Shaq and Damien Wilkins. She's the mother of a child shared by her and Wilkins and she also has (is?) fooled around with Shaq who, despite being married, was upset Lee cheated on him. Anyway, upon further review, my boy Ty Eli noticed Latosha is featured in a few videos around the net showing off her stuff. There's one of Latosha doing some stripper moves, a music video that would make Michael Vick proud, and one of her doing private confessions. The graphic dancing is a little too strong to post here so I'll leave it up to you if you want to chase it down. My personal favorite of Latosha Lee is a short film on spousal abuse in which she plays the victim wife. Check out this Oscar-worthy performance:
Bengals receiver Chad Ochocinco is no stranger to touchdown celebrations. Heck, he's taken them to an art form. The extravagant receiver hasn't celebrated too much this season, instead remaining content to mail packages to opposing defenses. Prior to Sunday's game however, he promised a touchdown celebration that would get him fined if he happened to score against the Lions. In the second quarter, Ocho caught a bomb from Carson Palmer but didn't do anything special in the end zone. Instead, he waited until he got to the sideline before slipping on a Zorro-type costume containing a poncho and sombrero. Here's the Ochocinco poncho and sombrero celebration video: