A tremendous find by C. Mottram of Mr. Irrelevant fame. Not for the easily offended, nor very safe for work (but apparently safe for ESPN's cameras!):
Now, if he had that stunt planned (and it sure seemed that way), I have to give him tremendous props. Well played, Mr. Jaguars fan.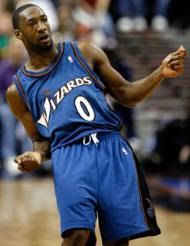 Aside from being a source of great humor, Gilbert's blog has actually provided some newsworthy content recently. For one, it helped him clarify the story that he was going to opt out of his current contract with the Wizards. Now, it's allowed him to explain another report about where he'd like to play. And I'm pleased to say that coming to LA is high on Gilbert's list:
When I told Complex.com that the L.A., San Antonio, Dallas and Houston would be cities that I would like to play in if I opt out, they all come after D.C. If something did happen weird where Antawn left and we lost our team and it wasn't a good situation for me to come back, those are the four cities that I would want to play in.

I would want to go back home and play in L.A. I would want to go to San Antonio because they're a championship-caliber team — same thing with Dallas. Houston is on the come-up with Yao Ming and Tracy McGrady. Three out of the four are contenders right now. That was my reasoning.
…
You never know, but the four teams I mentioned have a solid base. If anything happens with the Wizards, that's my Plan B.
There was a time when wanting to come to play in LA also fell into the same category as going to a contender. Funny how things work. One thing I think Gil is missing is that most of the teams he mentioned probably couldn't afford to take him on with the salary cap. Just a thought. But it sure would be nice to see Gilbert back in LA (sorry Wizards fans).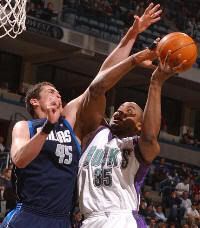 Whenever you have one of those discussions with a friend regarding player salaries, it's always wise to walk in armed with some examples. For instance, my bread-and-butter overpaid baseball contract is always the Rangers dishing $65 million for 22 wins from Chan Ho Park. Trumps every case. After that, I always come strong with my Jason Caffey signing by the Warriors for $35 million in '99 (Caffey averaged 7 points and 4 boards a game during his career). Sure, it's a bit outdated, but it always comes through in the clutch. Well, looks like Caffey might actually have another use for me. He now will happily reside in the Travis Henry/Shawn Kemp discussion.
As I have come to learn, Jason Caffey has fathered eight children from seven different women. That's not quite up to Henry's standards, who has nine over eight, but nonetheless, quite impressive. Caffey had to recently file for bankruptcy to get some of those credit collectors of his back because he can no longer afford to pay all the bills. Some of the women are quick to point out that Caffey was a good father and paid up when he was in the league, but getting bounced from the Association before his contract ended, he didn't make all the cash on his deal. Even if that's the case, I have no sympathy for the man. Bottom line: Don't be a fool, wrap your tool.
And it looks like 100% Injury Rate might have to update that list.
(via Ballhype)
Kentucky fans sure know how to get down at games, literally [Deadspin]
Vancouver deporting homeless to clean up for Olympics [100% Injury Rate]
SI's newest reporter looks good in a bikini [SPORTSbyBROOKS]
Megan Fox lights up the Spike TV Awards [Popoholic]
Don't expect to see Joe Torre on FOX next year [Awful Announcing]
Houston Nutt is a real man of genius [Zoner Sports]
Wait, Keyshawn calling out Chad Johnson? Huh? [Our Book of Scrap]
Tricia Helfer with a slight nipple slip [Egotastic!]
Some inconsistencies in Paul Byrd's story [Signal to Noise]
Is it still a surprise when the Red Sox win? [Sons of Sam Malone]
I guess this ass hat doesn't realize that despite his team's win, he failed to get into the end zone to help out my fantasy squad. Maybe that's why he wasn't too depressed Sunday night after his team beat the Steelers. To the contrary, Marshall went out after the game, and got busted for DUI.
Police pulled Marshall over at 14th and Blake streets. Details about the traffic stop were not available, police spokesman Sonny Jackson said.

Marshall was booked into a detoxification facility for suspicion of DUI and cited, Jackson said.
I'm not sure how many times this discussion needs to be had, but when your game check for one day's work is multiple thousands of dollars, why can't you just hire a driver for the night? Or call a taxi cab? I just don't get it.
Last we checked up on boxing, other than to present you the news of Old Field's 9th loss, I was sharing with you Unsilent Majority's great piece on the sports media burying boxing. UM's premise was simple: Boxing is alive and well, you just wouldn't know it because places like ESPN have it low on their agenda. Well, Unsilent isn't the only person who feels that way. While I was handling business the other day, I read an interesting letter to the editor in Sports Illustrated that caught my attention. Here's what it said:
I am getting a little tired of your using the "save boxing" story line every time you guys decide to cover the sport, as you did in your story on Kelly Pavlik. If boxing is dying, why did our 24/7 De La Hoya-Mayweather reality series average 4.7 million viewers a week over a four-week period? And how did the fight itself do 2.4 million buys? If boxing is dying, why is the anticipation for Calzaghe vs. Kessler, Cotto vs. Mosley, and Mayweather vs. Hatton so great? I think magazines and newspapers that characterize boxing as dying are trying to rationalize their stubbornness in not covering the sport. Boxing fans are out there in millions. You and others are just not serving their needs. We are.

Ross Greenburg, President, HBO Sports
That letter was so well put, I could not have said it better myself. Greenburg completely hit the nail on the head. And I have to give SI credit for not being too embarrassed to publish such a harsh letter; it's not easy to not only take that type of criticism, but put it on display for millions of readers.
Commenter JS points out that USC's chances of avenging their football loss to Stanford on the basketball court just went up immensely. Why? Well, stud Cardinal big man, Brook Lopez, not only is academically ineligible for the first nine games of the year, but he's also suspended indefinitely for skipping class. Yeah, that's a brilliant idea. It's one thing when you go to a public university with 300 kids in a lecture; professors don't know you from the kid serving baguettes in the teacher's lounge. But when you got to a private university such as Stanford, with 15 squires to a class, something tells me people are going to notice when the one 7'0″ kid isn't in the room. Feel me? Then again, I don't expect much more from a pair of dudes named Brook and Robin. How do you even get names like that? Here's my guess:
Doctor: Would you like to know the sex of your babies?
Mother Lopez: Now, that's OK. We prefer surprises.
Father Lopez: Yeah, we like surprises.
*** 16 years later ***
Brook (to Robin): How the eff am I supposed to be an intimidating big man in the NBA with a name like Brook?
Robin: Just think of Stacey Augmon and Sasha Vujacic every time you're on the court. Besides, quit complaining. I'm the one who got named after that hobo sidekick. How do you think I feel?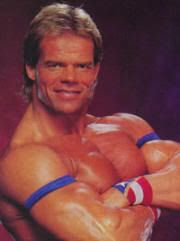 I may not be the biggest wrestling fan out there (at least, not since 3rd grade), but I am a fan of classic wrestling entrances and signature moves. Anyway, a concerned SpinMax emails in with the news (?) that wrestling stud Lex Luger's health is in question. From 411 Mania:
Lex Luger, real name Lawrence Pfohl, age 49 is currently listed in stable condition in the emergency care unit at Stanford University Hospital in Palo Alto, CA. Luger had a major health scare in his hotel room in San Francisco this morning and reportedly has no feeling below the waist. No official word is being released, but at this point it still could be a stroke, but a heart attack is also possible.
Hmm, Lawrence Pfohl? No wonder he went with a stage name. I have to say, after reading up on Luger's questionable lifestyle, this news comes as no surprise. Still, that would just add to the growing list of wrestlers who have died early. I guess steroids use its a price.
Some student at Nebraska has a genius idea to write a book chronicling the downfall of Cornhusker football (this kid is definitely headed for the big time). In the book, the student relies heavily on a former football trainer as his source of information. The source, as you could imagine, was fired by Bill Callahan. Anyway, in the book, it says Callahan allegedly referred to Tom Osborne as a "Crusty Old ***."
I'm sure you can fill in the blanks there. Is Callahan that far off base here? Seriously, Osborne has to be what, like 70 now? Dude could probably start digging himself a grave alongside Al Davis — the corpse. Bottom line, Nebraska is a mess and they're not going anywhere with Callahan as head coach, nor ye olde man as AD. But Callahan sure as hell has a death wish to call Osborne such a name. I wouldn't be surprised to see Billy Boy fired before long.
Chest Bump to FanIQ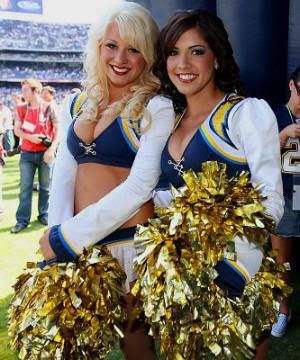 Screw underdogs in college football, they suck [Obscure Sports Quarterly]
Screw horses, real me race cheetahs [100% Injury Rate]
Why exactly is Allan Houston making a comeback? [Part Mule]
Is Lindsay Lohan now engaged? [The Superficial]
Torii Hunter to the Nats to play with Da Meat Hook? [Mr. Irrelevant]
Maybe USC will start traveling via train or bus now [SPORTSbyBROOKS]
An interview with Jimmy Traina from SI [The Big Picture]
Greg Olsen is He-Man, can he play like it? [Bear Goggles]
The Chargers have some hot ass cheerleaders [Kissing Suzy Kolber]
Uma Thurman has a nipple slip [Egotastic!]
The latest sensation in entertainment news and gossip [ShowHype]
(photo credit John W. McDonough of Sports Illustrated)
Mobiright