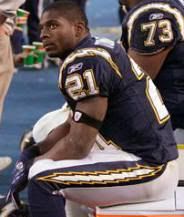 After Darren Sproles took the swing pass from Rivers for a touchdown, and Turner ran for 70 yards as an injury sub, the issue became prevalent. My Dad inferred that maybe it wasn't all LT — maybe it's the Chargers' line. I'm not so sure about that since Tomlinson has been doing it for like 7 years with different lines in front of him and no passing game to work with, but there's something to be said about the way the Chargers played without Tomlinson against Indy. Brian Baldinger made a bold statement on the radio this week saying the Chargers were better off and helped by Tomlinson getting hurt. On the surface that sort of comment is ludicrous; how could last year's MVP leaving a game improve the team? Then you start to realize that maybe the defense dropped a few men out of the box to defend the pass and that Sproles made a play LT wouldn't have, allowing San Diego to win the game.
Sure the Chargers are probably better off with LT in the lineup, but just remember that when he's not out there, it's not like the team is only lining up 10 players — the Chargers have many other players who can capably fill the holes. That's probably why we've seen the Giants be successful without Jeremy Shockey; Eli's been looking at Amani Toomer as his secondary target and Toomer's made plays. Yes, San Diego will be hard-pressed to win if Rivers, Gates, and LT are banged up, but they won't be out of it. Just remember that the Chargers probably wouldn't have won last weekend if their MVP hadn't been hurt. And as weird as it initially sounds, it actually makes sense.
I realize I just set you up as if I had a punchline coming. Sorry to disappoint. There will be no punchline. Instead, I will share a few anecdotes from an article on Rick Majerus in this week's issue of Sports Illustrated. In the article it was mentioned several times that Majerus is quite the exhibitionist and that his behavior towards his players isn't too far off from what you'd see out of Bobby Knight. From the article:
Another player remembers Majerus calling him up to his hotel room on various occasions, and "he'd answer the door in his towel and I'd come in and the towel would fall off and it was like nothing had happened. He'd just be standing there buck naked. One year he had this lower-back injury, and he would have the trainer massage it with the ultrasound. But instead of just lowering his pants a little bit, Majerus would pull his pants down to his ankles and sit in a chair and coach us. Sometimes he'd be like, 'Guys, bring it in, take a knee.' We'd come in, and we're just like, No way this is happening."
…
Majerus kept telling [former Utah player Michael] Doleac that he needed to keep six inches between himself and his opponent in the post. When Doleac was caught shortly after leaning on his man, the coach erupted. "'Jesus ****in Christ, Doleac! When a guy catches the ball in the post, you gap him six inches!'" Doleac recalls Majerus yelling. "Then he turns to the guys sitting on the baseline and says, 'Six f***** inches,' and he says, 'the size of the average white d***!' and pulls it out."
The imagery is just simply incredible, is it not? Who knew this about Majerus? I had no clue. And frankly, I'm not sure I ever wanted to know that information.
Let me say this first: whatever bad rap both Pacman and Moss have they have earned. That being said, I can't help but feel that they are both the victims of extortion efforts. Just two days ago a woman was seeking an arrest warrant for Pacman Jones, saying that the Pac hit her at a strip club in Atlanta. What else is new. Then yesterday it came out that the chick had dropped the case. I don't know if that means Pac's people paid her some hush money or what, but she sure disappeared quickly after raising a stir. Since the negative news always makes it front and center, I wanted to point out that the woman's accusation was dropped and that this accusation probably shouldn't be held against Pacman.
Now onto Randy Moss. A woman received a restraining order against Randy Moss, alleging that Moss committed battery that resulted in her injury. Moss claims the woman was trying to extort six figures from him to keep it quiet. Moss chose to defend himself to the media today against this story:
Green Bay TV pulling Seinfeld to piss off Eli Manning [SPORTSbyBROOKS]
Police using pepper spray on fans at Australian Open [The Sporting Blog]
Former Duke prosecutor Mike Nifong is going bankrupt [Deadspin]
Cardinals now officially the 2002 Angels reincarnate [Obscure Sports Quarterly]
ESPN's Pat Forde has a great take on sports blogs [We Are the Postmen]
AL players primed for breakout seasons [The Baseball Authority]
Packers come before church in Wisconsin [Lion in Oil]
Marion Jones now telling her tale to Oprah [Steroid Nation]

Just last week we had a Golf Channel announcer make an off color remark about Tiger Woods — and that's putting it mildly. Maybe I'm talking to myself here when I say that announcers need to watch what they say on-air. Remember a while back we had the story of the women's basketball announcer who thought one of the coaches was hot but didn't realize his microphone was live when he said it? Yeah, that was bad. Well Roger Rasheed is following in everyone's footsteps. Check out what happened with him:
Roger Rasheed, a former coach of Lleyton Hewitt, commented on Williams bottom during a slow motion replay of her match against China's Yan Zi at the Australian Open.

"Take a look at this now. Make or think as you will, ladies, but for me, that's a pretty good sight," The Daily Telegraph quoted him, as telling co-commentators Tracy Austin and Nicole Bradtke.

And while the two women found it funny, viewers certainly didnt and broadcaster Channel Seven was inundated with calls.

Though admitting that there had been a number of calls, the broadcaster maintained that there would be no action taken against Rasheed for his comments.
Now, I wonder what Venus' alleged fiance would have to say about all this? Probably would just take it as a compliment — after all, it's Serena who's quite bootylicious.
UPDATE: video below, via Awful Announcing and FanIQ
Back when Bobby Petrino left Atlanta for Arkansas, I pondered whether or not the meeting between Petrino's Razorbacks and Nick Saban's Crimson Tide would be the worst matchup ever. I may have to amend that post. If Arkansas and Michigan were to meet, I think that would be the worst game ever. As JS emailed in with the tip, West Virginia is suspicious of former coach, Rich Rodriguez, who may or may not have destroyed some old football documents. The files contained information — good or bad — on every single player in the West Virginia program. They reportedly disappeared between the time that Rodriguez resigned and the team returned from the Fiesta Bowl. Important documents? I wonder, where could they have gone?
And as far as my title and whatnot goes, even if Rodriguez is cleared of this issue, he's still way up there on the scum list. Think about it; Rodriguez ran a program that boasted both Pacman Jones and Chris Henry as its star student athletes. Can you believe the two encountered this much trouble in the NFL but none in college at West Virginia under Rodriguez? Gimme a break. And what does it say about West Virginia for letting Rodriguez run the program with those cats only to leak this story to the press for sympathy as soon as he leaves? Don't think I'm not seeing right through you enablers.
They say pictures are worth a thousand words, so I won't waste any more of them.
So yeah, she's a tennis player from Austria and lost to Jelena Jankovic in the Australian Open this week. Oh yeah. And she's 17. But that's not for too long. Tamira has some goods, but she's no Ana Ivanovic if you ask me.
Thanks to Andy for passing along. (also spotted at Deadspin, SbB, and WL)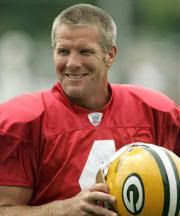 We saw a storybook ending to Jerome Bettis' career a few years ago. We knew he was retiring, we knew the Super Bowl was in his hometown of Detroit, but we didn't think he'd be playing in it — much less winning it. Even more of a long shot entering the season though was the odds of Brett Favre having a great season and playing in February. Though I defended Favre's ability a few years ago when people said he needed to retire, I never would have thought the guy had a shot at the Super Bowl. Never. And that's what makes the NFL so great, not to mention crazy.
So how about that? How insane is it that this old, graybeard 38-year-old is still tearing up defenses and throwing TD passes and on the verge of a birth to the Super Bowl? How insane is it that the NFL is all of a sudden falling back in love with the same guy who was an MVP and hero in the league more than a decade ago? Guys like Tim Couch who was a top pick in the draft not too long ago can't even find work, yet here he Favre is like 15 years later still playing — and balling it up at that. I just know this much: after Sunday, either Eli Manning or Brett Favre will heading to the Super Bowl. That scenario absolutely blows my mind. Can you believe that Brett Favre is thisclose to playing in another Super Bowl? I can't. That's crazy. And too bad the Pats are just gonna beat his Pack and he'll wind up returning for a downer year in '08. Oh well, fun while it lasted.
It's pretty hard to go 13-3, get the top seed in your conference playoffs, and still get fired after the year. Then again, you can go 14-2, get the top seed, and still get fired if your name is Marty Schottenheimer. But getting back to the point, it's quite possible that Wade Phillips could be out of Dallas despite having a fantastic season. If you remember correctly, Jerry Jones signed Jason Garrett on to be the offensive coordinator in Dallas before the head coach was named — quite a caveat for a coach trying to set up his staff. Clearly Jones was committed to Garrett. After seeing the Cowboys offense explode for most of the season only to tank in the first round of the playoffs, the question must be asked: will Wade Phillips be retained or blown out to make room for Garrett?
The Baltimore Ravens are apparently hot on the case for Garrett, having supposedly interviewed him a second time. Garrett could be a year or so away from being completely ready to assume a head coaching position but he might be tempted to take a job now. Much like Pete Carroll, Garrett is a commodity in demand so I would suggest he choose carefully and act picky. He has a tremendous amount of leverage and could probably be a head coach in the league by next year if he wanted to. That puts Jerry Jones in a difficult spot — fire the coach that just went 13-3 to make room for Garrett, let Garrett go, or try to talk Garrett into staying another year? My guess is Phillips could be a victim of circumstance, having sealed his fate by losing the playoff game. Jones won't let Garrett get away — at least not over his dead body. This could be a huge shakeup in Dallas … stay tuned.
The great Unsilent Majority of Kissing Suzy Kolber has already slammed the Mannings for this one. In case you missed it, Eli and Peyton have joined the Double Stuff Oreo Racing League or something like that. I just know that anything with the name "double stuff" in it is somewhat sketchy. Guess they didn't learn from Carson Palmer's hot dog commercial. Anyway, check out the commercial the two were recently in:
You know, I have to say I really like the ESPN commercial of the brothers taking a family tour of the joint — that was cool. And the Peyton Manning "cut that meat" commercial was pretty good too. But come on, at some point you have to put the foot down and say "no," don't you? I would think so. Especially if they're going to be running after your team has already been eliminated from the playoffs.
Mobiright