Last year's record and finish are in parenthesis with projected improvement/decline indicated by plus or minus.

San Diego Padres (88-74, 1st in the NL West) -1 game

Get Crunked: It's an awesome pitching staff, not just on name recognition, but on performance. These could be the best group of starters in the majors 1-5. Jake Peavy should be ready to embrace the ace role and be in Cy Young contention, Chris Young was awesome last year, Maddux is still made for 6 good innings, David Wells is a question mark, and Clay Hensley is very underrated. The bullpen is also fantastic. Trevor Hoffman proved last year he's still an elite stopper, and good luck beating these guys if you're down after the 6th inning, Cla Meredith and Scott Linebrink are pretty un-hittable.
Party Foul: The lineup doesn't have a whole lot of pop. 20-25 homers will lead the team, and they're not going to score a lot of runs. Kouzmanoff, Bard, Sledge, and Marcus Giles are all new-comers, but they're not filling huge holes, so the Pad squad should still be OK.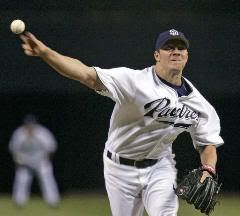 Jake Peavy is filthy and prime for a huge year

What'd my GM do: It was a busy off-season for Kevin Towers. He signed Maddux for one year at $10 million in order to make another playoff push. He traded Josh Barfield to Cleveland for Kevin Kouzmanoff and Andrew Brown. The Barfield trade cleared a hole for Marcus Giles at 2B, who was extremely cheap at under $4 million and should be just as productive. He lost Mike Piazza in free agency, but Josh Bard looks like he can take over if last year was at all a sign. He also just locked up Adrian Gonzalez for four years, which is an excellent sign since Gonzalez is their best hitter.
Lay it on me Straight: The pitching is so good it will keep the Padres in contention all year long, and send them to the playoffs. The lineup might not be powerful, but it could surprise people since it's doesn't have too many glaring holes. They also play excellent defense which helps them win close games. It's a very good club, built around pitching as it should be in that park.
So where my boys gonna finish right now: They'll be right around where they were last year, but probably behind the vastly improved Dodgers. They'll be one of the top teams in the league and in the wild card hunt at the least.
Can we be better than that: If the hitting truly comes around, like Kouzmanoff, Sledge, and the Giles Brothers, and everything else from last year stays the same, they could take the division with 90+ wins.
Last year's record and finish are in parenthesis with projected improvement/decline indicated by plus or minus.

New York Yankees (97-65, 1st in the AL East) -1 game

Get Crunked: Where do you start? Where do you finish? OK, it's like the best all-around lineup since the mid-90s Indians teams. Aside from Doug Mientkiewicz, there are sluggers at EVERY SINGLE POSITION. Everyone except Dougie can pop 20, some can pop 40, and everyone can hit .300. This definitely ranks up there as one of the best lineups in baseball history, enough said. Mariano Rivera is still an elite closer, and Kyle Farnsworth is pretty good as a setup man. Mike Mussina bounced back last year to have a Mussina type of year.
Party Foul: The pitching doesn't come close to matching the hitting, but of course they'd need Santana, Halladay, and Kazmir in addition to Pettitte and Mussina in order to do that. Still, with an injured Chien-Ming Wang, it doesn't look pretty. Pavano just simply isn't very good, Rasner's got nothing, and Kei Igawa is a wild card. Pettitte and Mussina are reliable, but not stellar.
Mariano Rivera, still the most clutch closer in baseball
What'd my GM do: It was the most quiet off-season in the Bronx that I can remember. It looks like Cashman's trying a different approach in order to avoid being saddled with crappy contracts (e.g. Pavano, Jaret Wright). Kei Igawa was signed for 5 years at $20 million, which is such chump change for the Yanks they can afford to have him suck. He signed Doug Mientkiewicz to a one-year deal at first base. As long as Doug can help get A-Rod's head on straight, he'll be worth his money. I think the Yankees off-season has now become July; they will head into the year content with their team, ready to take on contracts (or Roger Clemens) at the trade deadline if they need arises.
Lay it on me Straight: You could choose the No. 5 starters from 5 of the 6 last place teams, have them start for the Yankees, and I'd put money on it that the Yanks would still win 90 games. Yes, their lineup is that good. The pitching is quite obviously the weak spot, but man, that lineup is so good, it was MADE for the regular season.
So where my boys gonna finish right now: They'll be right around 95 wins or more like usual, but I think Boston's a better all-around team and good enough to overtake the Yanks for the division.
Can we be better than that: If the starting pitching does well 1-5, they'll win 100 games. But that's not likely to happen.
Last year's record and finish are in parenthesis with projected improvement/decline indicated by plus or minus.

Chicago Cubs (66-96, 6th in NL Central) +16 games

Get Crunked: Carlos Zambrano is a Cy Young contender — funny he turned out to be the best on a promising staff that once featured Mark Prior and Kerry Wood. Bam-Bam Soriano went 40-40 last year, fully maximizing the potential he's shown for his entire career. If he can bash 46 out at RFK, imagine what he'll do at Wrigley! Aramis Ramirez is a stud slugger at 3B, and killed during spring training so he should start out the year strongly for a guy who's a notoriously slow starter. Derrek Lee is back from injury, and seems fully recovered and ready to return to his MVP-like form of '05.
Party Foul: The bullpen still blows big-time, that's the major weakness. Dempster was as stable at closer last year as a coke addict tweaking out in Vegas. Neal Cotts showed his true colors last year with the White Sox after a stellar '05 and will probably stink. Scott Eyre and Bob Howry are probably the most solid in the pen, but even they're not too reliable. And for all the additions to the rotation, there weren't many upgrades, it's still only slightly above average.
A healthy Derrek Lee is the key to the Cubs' success
What'd my GM do: What didn't he do is the question. Hendry was busy all winter setting the team up for the future owners, saddling them with around $272 million in future payroll commitments over the off-season. Let's examine: Aramis Ramirez could've been the best bargain of the winter, Alfonso Soriano got overpaid by about $20 million, Jason Marquis was decent value, Lilly was overpaid by about $8 million, DeRosa will be a bust, and Cliff Floyd is a cheap and excellent bench option. Kerry Wood did the right thing in giving the Cubs a discout for being so ineffective the past few years. But I would've liked to see them reach a long-term deal with Zambrano, that's a huge priority.
Lay it on me Straight: It's a much improved team this year, if not for the free agent additions, but also just to get Derrek Lee back and healthy. His absence is a big reason why the Cubs struggled to score runs last year. Don't be fooled however, lots of free agent acquisitions don't mean instant winning. Lilly and Marquis offer depth and consistency, but not a drastic upgrade. Soriano's bat probably added an extra 5-6 wins alone. The wheels seriously fell off last year and the team just spiraled downhill, they weren't as bad as they turned out to be.
So where my boys gonna finish right now: I have them at just above .500, in the thick of the division, but with new players, a new manager, and a refreshed attitude, they can put up a serious fight for the division title. Man, if they only had a bullpen.
Can we be better than that: Yes, if all the pieces in the puzzle come together this team can win around 86 or 87 games, which should be good for first place or so. They probably won't finish worse than 5 or 6 games below .500.
Last year's record and finish are in parenthesis with projected improvement/decline indicated by plus or minus.

Philadelphia Phillies (85-77, 2nd in the NL East) +1 game

Get Crunked: After leading the majors in home runs last year, Ryan Howard has proven that he has some seriously sick power and that he's one of the top power hitters in the big leagues. Chase Utley is by far the best second baseman in the game. He has the entire package — a complete five-tool player. Jimmy Rollins had the finest year of his career in '06, and he's continuously improving as a player, cutting down his strikeouts at the plate, raising his average and power each season. Brett Myers has become a top-line starter, and Cole Hamels probably isn't far behind from over-taking the NL East with force. Flash Gordon still has it going on in the pen.
Party Foul: Aaron Rowand needs to shake off some of his jitters from the chance meeting with the fence in center to become the productive hitter he was in Chicago, and stay healthy the whole season. Pat Burrell still hasn't lived up to his potential — I still believe one day he'll hit 45 homers when he puts it all together, but when will that day come? Shane Victorino is a weak Rule 5 player in RF. Adam Eaton's injury history concerns me, as does Freddy Garcia's current arm injury.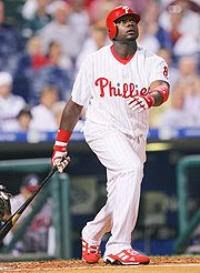 Ryan Howard led the majors with 58 homers last year,
will he get intentionally walked this year?
What'd my GM do: He signed Adam Eaton to a pretty big free agent deal, $24.5 million over three years, for a guy who hasn't put together a full season since '04, and is coming off reconstructive surgery. Seems to me that it was a move out of desperation and really doesn't have much upside. Rod Barajas was signed as a free agent catcher from Texas, probably an adequate replacement for the aging Mike Lieberthal. He traded one time hot prospect Gavin Floyd for Freddy Garcia to bolster the rotation with someone proven, but Freddy's already hurt. He also signed Jamie Moyer to come back for another two years, at which point Jamie will be nearly 45, but heck, the guy can still pitch.
Lay it on me Straight: Last year they rode Ryan Howard to a near playoff birth. This year they probably won't have to do that in order to come close to the playoffs, but they'll need some serious support from Pat Burrell and Aaron Rowand behind Howard in the lineup if they want to contend for the division. The lineup should be fine, but the ultimate finish of this team depends upon the rotation staying healthy and performing. I think at least two of these guys won't be able to make it through the year, keeping the Phillies from making the playoffs.
So where my boys gonna finish right now: They'll be in the wild card hunt, closer to the Braves than the Mets in my estimation. They really need the starting pitching to step up and be difference makers.
Can we be better than that: I just don't see it happening. It would be too much of a "perfect world" scenario for this team to win the division, too many injury concerns in the rotation, and not enough protection for Howard who will get the Albert Pujols treatment.
Last year's record and finish are in parenthesis with projected improvement/decline indicated by plus or minus.

Chicago White Sox (90-72, 3rd in AL Central) -1 game

Get Crunked: Paul Konerko, Jim Thome, and Jermaine Dye offer one of the better 3-4-5 combos in the league. All three can bash 40+ home runs, and hit for some average too. For guys who can hit for power at their positions, Joe Crede, Juan Uribe, and Tad Iguchi also play awesome defense, a big reason behind the White Sox success. Jose Contreras, Javier Vazquez, and Mark Buehrle are still filthy on the mound, and have a lot to prove this year. Bobby Jenks and Mike MacDougal are both fireballers with closing experience out of the pen.
Party Foul: Jon Garland got roughed up big time in Spring Training, making you wonder if hitters have figured him out. Although Buerhle has been an All-Star, one has to be concerned with his lack of receiving calls from umpires leading to his demise. John Danks is a total wild card at the No. 5 spot, and probably doesn't have the talent Freddy Garcia did. Scott Podsednik needs to overcome a groin injury, and Darin Erstad needs to avoid one.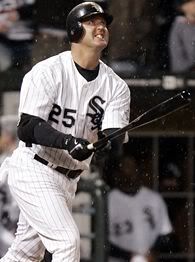 Jim Thome could easily crush 50 bombs and lead the league

What'd my GM do: At first looks, it appears as if Ken Williams was disbanding the team. He traded Freddy Garcia for Gavin Floyd, and Brandon McCarthy for Danks — but Williams seems to know what he's doing, so we'll see if his genius was working this off-season. Darin Erstad was signed at a cheap price to play CF since Brian Anderson hasn't worked out the way the Sox had expected him to. Moving Erstad back to center is probably a good idea; he's not a good enough hitter to put at first, and he's a wasted defender there as well.
Lay it on me Straight: They may have lost some pieces from their awesome teams the past two years, but they're still a fine club. For the type of disappointing year it appeared to be last year, this club still won 90 games. While I don't expect Dye or Crede to repeat his year, I don't expect the pitchers to be as bad as they were, so that should balance things out. It's still an elite major league team with good pop and proven starters.

So where my boys gonna finish right now: They'll be in the middle of the playoff race, fighting with the Tigers, Twins, and Indians within the division, but they're not good enough to keep up with the Yanks and Red Sox in the AL East. Their hope is to come out smoking with 93+ wins to take the AL Central, and not pack it in when it gets to September like last year.
Can we be better than that: Man, we've all seen what the pitching can do (see playoffs '05), so if they all get hot tossing complete games after another, they'll be cruising along winning 95 games. We all know their lineup is good enough to hit, my question is whether or not the pitchers can regain form.
Larry Brown and 13 year MLB veteran Denny Hocking break down the American League and preview the 2007 season. Each of us give our playoff predictions and awards predictions including Cy Young, HR king, batting champ, Manager of the Year, and MVP. Listen to hear our Rookie of the Year picks and World Series picks.

MP3 File
Larry Brown and 13 year MLB veteran Denny Hocking break down the
National League and preview the 2007 season. Each of us give our
playoff predictions and awards predictions including Cy Young, HR
king, batting champ, Manager of the Year, and MVP.

MP3 File
Last year's record and finish are in parenthesis with projected improvement/decline indicated by plus or minus.

New York Mets (97-65, 1st in NL East) -7 games

Get Crunked: How's this to start — it's an American League lineup in the NL. That work? No? OK, it's an AL East lineup in the NL. There you go. Their lineup and power is so ridiculous it's not fair. Start things off with Jose Reyes who has tremendous power for a leadoff man, astounding speed, and has learned to lay off bad pitches, making him an MVP candidate. Carlos Beltran hits as well as he plays defense and runs the bases, which is to say awesome. Carlos Delgado is a slugger at first base. David Wright is a good all-around hitter and defender at third base. Moises Alou can still crush the ball in left field. And Billy Wagner is one of the better closers in baseball.
Party Foul: The rotation is garbage — for a first place team. I guess it's befitting of a New York team and seems to be the common trend in the Big Apple. The big reason is because Pedro's hurt, and they unexpectedly lost out on free agent Barry Zito. Losing Guillermo Mota to the suspension and Duaner Sanchez to injury severely hamper the bullpen as well. If you look at the pitching staff as a whole, it's safe to say that it's only average.
Jose Reyes, an elegant combination of power and speed
What'd my GM do: He failed to bring in a front line starter which will hurt the team come playoff time. He traded Brian Bannister to the Royals for Ambiorix Burgos, which will probably benefit the Mets more than KC. Acquiring Burgos was especially key now that Sanchez has gone down with the broken shoulder. Minaya also brought in Moises Alou on a one-year deal. I don't care how old Moises is, even if he's 50, just roll him into the batters box and he'll crush a double. In all, it was a quiet off-season in Flushing.
Lay it on me Straight: The hitting is so head-and-shoulders above everyone else in the NL, it will automatically win the Mets 90 games. The pitching staff, both starters and bullpen, leave a lot to be desired. But the hitting is so good, the Mets are guaranteed to make the playoffs.
So where my boys gonna finish right now: They'll be in first place, and it's a credit to Minaya for spending his money wisely on Delgado, Beltran, and Alou, and the development of Wright and Reyes. Just don't expect the division to be wrapped up in August like it was last year.
Can we be better than that: I think 93-94 wins is the ceiling for this year's team since they don't have Pedro, and the pen's a little worse off. It'll be another successful year for the Mets, just not a repeat of '06.
Last year's record and finish are in parenthesis with projected improvement/decline indicated by plus or minus.

St. Louis Cardinals (83-78, 1st in NL Central) +3 games

Get Crunked: Albert Pujols is the best player in the game. By far. As long as he's around and healthy, the Cardinals won't be a sub .500 team come the end of the season. The impact he has on the game is unreal and the Cardinals know this. Chris Carpenter could very well be the best starter in the NL and has been totally dominant for three seasons in a row, proving he's not a fluke. Scott Rolen was effective last year despite his shoulder injury, and he still can slug and play great defense. Post-season star in the bullpen, Adam Wainwright, looks ready to embrace his new role as a starter. Between him and Anthony Reyes, the Cards have some good young arms in the rotation that will impress. Oh yeah, between Rolen, Kennedy, Molina, and Pujols, it's a very good defensive team.
Party Foul: The bullpen is much weaker now that Wainwright is gone. They need Isringhausen to rebound from hip surgery and come back strong, otherwise they'll struggle to close games. Josh Hancock and Brad Thompson must build on their seasons from last year. Injuries are the other issue for the club. In addition to Izzy's recovery, and Rolen's shoulder, Jim Edmonds is already hurt, as is Juan Encarnacion. Luckily Preston Wilson, Scott Spiezio, and So Taguchi can carry the load in the meantime.Â
Albert Pujols, best player in baseball

What'd my GM do: Jocketty lost 3/5 of the rotation — Suppan, Weaver, and Marquis who aren't stars, but whose games elevated in the post-season. Adam Wainwright and Braden Looper were moved into the rotation from the bullpen, and I think Wainwright will shine. Adam Kennedy was signed to a short-term deal to play 2B. His bat isn't worth much these days, but his defense more than makes up for it. Other than that, it was a pretty quiet off-season for the defending World Series champs.
Lay it on me Straight: Having the best pitcher in the league and the best hitter in the game is enough to keep this team above .500 no matter what. While it's not a stellar team, and although they lost Marquis and Suppan, I think they'll be better this year. It seemed like a lot went wrong last year that will be corrected this year.Â
So where my boys gonna finish right now: They'll be at the top of the division once again, this time a few games better than where they finished last year. They shouldn't tank and make the race as close as it became down the stretch last year.
Can we be better than that: In a perfect world, this could be a 90 win team, at best. Most likely they'll be around 86-87 wins for the year, good enough to take the crown.
Do you know what it's like to see your team lose two years in a row after reaching the Final Four?  Two excellent seasons full of promise and only to see it come to a crashing hault?  Losing to Joakim Noah and his disgusting antics on the court.  Getting crushed by the inside play of Richard and Horford.  Being proud that the Gators missed their initial shot, only to see them follow it up by stuffing the putback down all-the-while teabagging your big men?  It's hideous.  It's repulsive.  It's enough to make me not want to write any more. 
I am crushed.  I am defeated.  I am hurt.  I am sulking and basking in sorrow. 
I don't know what to do.  I don't know what to say. 
Not once, but twice.
A mirror image of last year's one-sided ass-kicking. 
It's over, it's done.  Give UCLA ten cracks at Florida, it would be a collective 100 point margin of victory for the Gators.  
I have lost all motivation.  I have lost all spirit.  My muse is gone. 
Just wanted to let you all know, because as my loyal supporters it is my duty to tell you the news. 
Thank you for being a part of my life the last few months and for allowing me to be a part of yours.  Maybe some day down the line, I'll be able to return should something else inspire me, but for now, I have no further desire to write.  No more funny pictures of Joakim Noah, no more reasons why UCLA should win.  It's gone, all gone.
Thank you once again.
Mobiright