It's been said for quite some time that Scott Boras is only interested in representing his clients' monetary interests rather than personal interests. Alex Rodriguez admitted as much in a recent interview. He told the NY Daily News that he regrets not having signed with the Mets back when he was a free agent in 2000, the year he signed a 10 year $252 million contract with the Texas Rangers:
I'm quite pleased with the contract the Twins and Joe Nathan agreed upon. For one, it means Minnesota is retaining some of its elite talent and staying competitive. Secondly, it keeps the closer market down, which is good news for the Angels' negotiations with Frankie Rodriguez. While it was nice to see Nathan get his contract, it wasn't cool to see what it did with his head. All of a sudden the guy is spewing the company line though he can't possibly mean it. Check out what he said:
"We've shown that we're committed to winning," Nathan said. "A lot of people are counting us out, but we're going to be good this year and for years to come, because we're young and a lot of our guys are hungry."
Right, because teams that are committed to winning trade away the best pitcher in the league. Duh, I should have known better. I mean, what better way to commit to winning than by trading away your stud pitcher in the middle of his prime? Even Johan said as much — the Twins aren't committed to winning, and that's why he wanted out. It's amazing what a little bit of cash in the pocket will do to a man's sanity. Apparently it's good enough to brainwash Nathan. And it just confirms that the Twins are going about this rebuilding thing all wrong.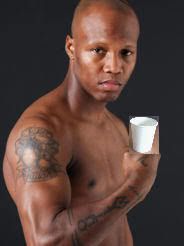 Zab Judah and Shane Mosley agreed to fight at Mandalay Bay in Las Vegas on May 31st a few weeks ago. It's an intriguing fight because both men still are big names in the sport and were amongst the most talented fighters in the world not long ago. One problem however, Zab thinks Shane might be a little too talented, or shall I say, Zab is worried Shane might still be aided by illegal substances. And to ensure Sugar Shane isn't still using steroids "unknowingly," he wants Mosley to take a private drug test to prove it:
In a March 13 e-mail obtained by The Times, [Judah's promoter Michael] Shinefield formally requested to Mosley's Golden Boy Promotions that Mosley submit a blood test through a World Anti-Doping Agency-accredited laboratory.

"We would be willing to absorb all cost associated with this test for both fighters," Shinefield wrote in the e-mail. "Please understand that this ends any and all speculation of doping by either fighter. With the fight being touted as 'High Stakes,' it's only just that every step is taken to ensure a fair fight. We hope Shane agrees!"
Mosley continues to say what he did was totally innocent and believes this is a ploy by Zab to get under his skin. Probably is. What's wrong with attracting a little extra attention to the fight, especially if you're Zab and just returning from a one-year suspension by Nevada? Zab's looking for any edge he can get. And I do know one thing: Zab is making Rick Reilly proud.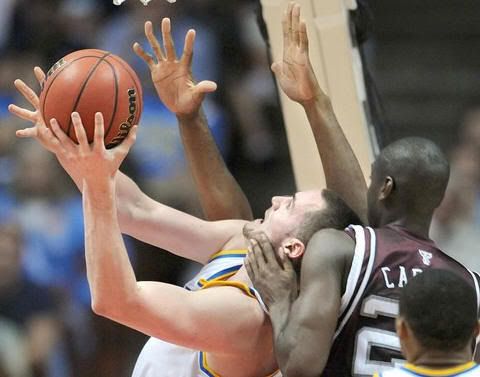 That seems to be the theme around college hoops lately — UCLA and all the great calls they've received from officials. Sure, I admitted they benefited against Stanford and Cal down the stretch, but people are now bringing up the Texas A&M game as well. First it was a co-worker saying there was a non-call, then an email, and then a few different stories and message boards suggesting as much. Let me say a few things on the subject. Sure — the photos indicate there was a foul on the last play when Shipp blocked Donald Sloan's shot, but Sloan would have needed to make two free throws just to tie the game — no easy proposition for a 67% shooter. Not only that, but the game would have gone to OT where A&M was already in serious foul trouble — and the longer that game was going, the more UCLA would have increased the point differential.
Those are simple logistics. But how about this to try on for size. If you want to point out one non-call, then you must also point out every other non-call that impacted the game. Just because they weren't in the final 10 seconds doesn't mean they didn't influence the game, right? Check out this horrendous foul call on Darren Collison when he was mauled by Sloan. In addition to that, chew on a few of these photos from the game (in addition to the non-call on Love in the photo above) — more non-calls that suggest A&M got away with several calls in the game: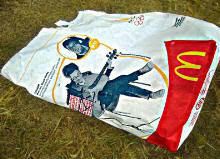 This one could very well be so improbable that it might be true. Not even George Costanza on his best day could have come up with this excuse by Broncos receiver Brandon Marshall for needing stitches on his elbow. Honestly, Raul Ibanez hurting his neck sleeping and Aaron Rowand hurting his arm playing tag thinks this is a stretch. From Brandon Marshall, on how he injured his arm:
In the most bizarre off-season injury to date, Broncos wide receiver Brandon Marshall said he slipped on a McDonalds bag and wound up with his arm wrapped in a cast.

Marshall said he was at the Westgate Lakes Resort in Orlando, Fla. on Saturday and slipped and fell on a McDonald's wrapper. When he slipped, he said he stuck out his hand to brace his fall and it went through a TV entertainment center.
Seriously, we're supposed to believe that happened? Where did he come up with that one? Why not just come out and say you were hammered with buddies, one broke a beer bottle, and you cut your arm on it. Or that you cut it hopping a fence — you know, something believable. Or maybe, just maybe, it's so wild and wacky that it has to be true. I doubt it, but it is a possibility. FanIQ's gonna have to add this one to the list.

UPDATE: The bag KO'd Marshall for at-least three months.
They've been doing it all year. During the regular season, I kept saying, "at least it's not March," every time the Bruins got down at the half only to rally back and win the game. Only problem on Saturday night was that it was March, meaning they don't come back to win, season's over. I could handle the charade during the regular season, but man, doing the same stuff in the tourney is just too painful. UCLA trailed almost the entire second half after being down at the half, only to finally tie things up and go on to win in the final minute. I'm sure my pulse was like quadruple the standard rate, and I'll probably have to be checked for high blood pressure, but at least the Bruins won.
I think there are a few factors at hand with the game. For one, Texas A&M is a good team that took lots of high percentage shots inside to build their lead. But they began committing a lot of fouls in the second half, so the longer the game went on, the less likely they were to win. Secondly, you would have had to have been blind not to realize how much UCLA's draw opened up with the losses of UCONN, Drake, and Duke. I'm sure the Bruins noticed and thought ever so slightly about their path to the Final Four being easier. As soon as your mind wanders to the future like that, you start losing sight of the present.
So UCLA won, dodging what was quite the scare. And they won with Mbah a Moute, Westbrook, and Shipp playing what will likely be their worst games of the year. To balance it out however, both Collison and Love played out of their minds, showing off studly elements of their games. Though UCLA could wind up going out at any time, they sure showed the mettle of a championship team in their comeback. A few more great parts of the win:
Come to find out that there was more to Stanford coach Trent Johnson's ejection Saturday than meets the eye. Luckily we don't have to discuss the controversial nature of the move since Stanford ended up winning the game, but apparently Trent Johnson should have realized with whom he was dealing. The sleuthing Matt Spiegel at Sporting News Radio pointed out Saturday evening on his show that Curtis Shaw is notorious for blowing the whistle more than any other referee in college hoops. Shaw leads all officials in both fouls called this year as well as technical fouls called. He also has made five ejections, more than twice anyone close to him on the list.
In fact, when you google "Curtis Shaw referee," you wind up with nothing but stories of Curtis Shaw impacting games with his calls. A story from March 2000 tells of Iowa State's Larry Eustachy losing his cool and getting ejected in a game against Michigan State by the officials, one of whom was Shaw. A Syracuse blog tells of Shaw making whimsical calls against Pitt a few years ago. And the best was a 1999 official's magazine featuring an interview with Shaw, with the sub-headline "overcoming a hot head early in his career." Yeah, so much for "overcoming" the issue. Really, officials need to know their place, and for the most part, that doesn't include ejecting coaches in the middle of the NCAA tournament unless completely warranted.
Even if Mark Cuban is doing his best to piss off bloggers and make it awkward for others, he still is on the cutting edge when it comes to product development. The man who started HDNet has arranged a screening of the Mavericks/Clippers game Tuesday in 3D at a movie theater. No surprise that Cuban's idea is a form of synergy for the man who owns both the Mavericks and some Landmark theaters, but the concept in itself is quite creative. FSN Southwest will broadcast the game in 2-D and work with a special 3-D production crew to make the 3-D broadcast work. Cuban seems to think the idea is a real winner:
"I think 3-D will play a huge role in out-of-home entertainment for the next few years," said Cuban, founder of HDNet. "It will be a unique experience for watching sports, concerts and special events that only theaters will be able to offer."
I don't know if I'd be running out of the house to go catch a basketball game in 3-D, but I do have to say that I'm quite intrigued. And by intrigued, I mean I'd like to watch it if I had the opportunity, but I wouldn't go out of my way to do so. Man, never shy to express his opinion, Mark Cuban is always way ahead of the game when it comes to technological ideas. Is it any surprise he's a billionaire?
I bet most of you probably didn't even know Denver had a lacrosse team. I bet many of you have a professional lacrosse team in your town and don't even know it. I didn't. But apparently the people of Denver happen to be quite interested in theirs. Matter of fact, the Colorado Mammoth draw more fans per game at 17,400 than the Nuggets and Avalanche. The Mammoth only play eight home games a year and have cheap ticket prices, but still, packing the house to watch professional lacrosse is impressive; I figure even lingerie lacrosse would have a tough time selling out.
So is there a future in this country for professional lacrosse? I doubt it. Even the team second in attendance — the Buffalo Bandits — attract just around 14,000 fans a game. Most others have a tougher time. I think one of the big factors hindering the popularity of lacrosse is its regional appeal. Growing up on the West Coast, there was no exposure to the sport. It looks like fun, but nobody plays it. Still, to outdraw a potential playoff team with superstar power like the Nuggets as well as the hometown favorite Avalanche, is equally impressive as it is shocking.
(via Fark)
Man, even while injured, the dude still makes great headlines. He's had some shoes with Adidas now for a few years, and they're starting to expand into the customizations realm. For instance, Gil and Adidas released a special edition Halo version of the Gil II Zeros in honor of the popular video game. While Gil told us to head out to certain shoes stores to pick up the special edition Gil II's, I couldn't find em at the LA stores. We might have to fix that problem considering Gil's latest sneaker — the Hibachis are being released: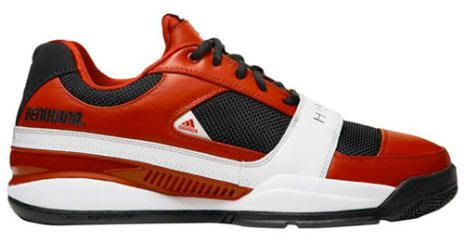 Unfortunately for me, only 1,000 are being made, and they're only available in DC. And if I do say so myself, the kicks sound a lot cooler than they look. Not the best of the limited edition Gil II Zero's. I think my fave is the one that has the erasable wet/dry board on it. Now that is sick. Thanks to Kicks On Fire for the pic.
Mobiright