Earlier in the week, we questioned the reason for Allen Iverson's release by the 76ers. He had been reasonably effective with the team — well worth a roster spot — and he had expressed a huge desire to play following his release by the Grizzlies. How could he go from one extreme — wanted to continue his career and play in the All-Star game — to missing Sixers games with regularity and the All-Star weekend in Dallas on top of it? Well, with the unfortunate news of the impending Iverson divorce, we now have what appears to be the answer.
In the petition, Tawanna Iverson asked for temporary and permanent custody of their five children as well as child support and alimony.

She did not ask for a specific dollar amount.
In the coming months, the courts will prepare to examine the Iverson's parental and financial status to determine custody and support/alimony amounts. Allen understands that whatever the courts decide will dictate how he lives the next several years of his life; he's clearly looking out for his best interests. This helps explain the reason given for Iverson's release from the 76ers (so he could take care of his daughter). The reason makes Allen look good in two ways: he appears as a caring, concerned, and responsible parent for the custody evaluations, and now Iverson has zero income when the courts make their spousal support evaluation. Hence, Iverson might want to continue playing but he has to take the bullet for the rest of the season in order to protect himself from high alimony payments the next twenty or so years. Iverson's a smart guy and obviously getting some good advice.
Brett Favre's first true public appearance since his interception to Tracy Porter in the NFC Championship Game was an interview on The Tonight Show with Jay Leno. Favre of course didn't offer much on his NFL future saying: "Well Jay, it's only been a month, and I know now that I'm just not going to say anything anytime soon, just going to kind of sit back, relax, enjoy the offseason." Favre obviously had that answer well prepared ahead time, as he probably had this crack that he got in. Check out Favre displaying his self-disparaging humor thanks to this clip via NBC partner Pro Football Talk:
Favre also touched on one of his accomplishments with Minnesota: "I've told people I really believe my biggest accomplishment this year was winning over the majority of the Vikings' fans. For so many years I was hated." Favre was a better option than Tarvaris Jackson and Sage Rosenfels but he ultimately proved what he is — a heartbreaker who builds up your hopes and lets you down. Vikings fans an expect more of that next year, much to the dismay of Jared Allen's butt.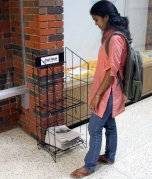 In yet another example of how the world has turned into a bizarro universe, Texas A&M Commerce football coach Guy Morriss actually had positive words for his players following their alleged theft of newspapers on campus. Part of the reason why he backed his guys is because he feels like the charges are bullcrap. The other?
Morris, who admitted to his team members' involvement in the theft and said he supported their actions.

"I am proud of my players for doing that," Morris said. "This was the best team building exercise we have ever done."
Amen to that. The alleged crime is so petty that Morriss should stick up for his guys. The East Texan is a student newspaper that claims its first issue is free but every one afterward costs 25 cents. I have an easy solution: have the players pay back the five bucks or whatever it is that they owe and let Morriss go back to turning Commerce into a loser just like Baylor. If you're wondering why they organized efforts to take all the papers, it's probably because the headline was a story on two players being arrested as part of a drug bust.
Via Texas A&M student newspaper The Battalion which could use some editors to correct a constant misspelling of Morriss' name. That's two "S's" in Morriss — the extra one reminds you how badly his teams suck.
I realize that the lines of sports and politics will be somewhat blurred by the following post but I was so enraged by the comments I heard I felt the need to respond. A Butler County jury in Iowa found Mark Becker guilty for notoriously murdering former Aplington-Parkersburg High School football coach, Ed Thomas. That Becker opened fire on Thomas in the school's weight room isn't in question; what was in question was Becker's sanity. That shouldn't even result in a debate — if you're crazy enough to murder someone just like that, you should be locked away for life. Period. No insanity pleas. Beyond that, it was the words of Becker's mother that bothered me the most:
"Ed Thomas was a victim of a victim. Although Mark and we as his parents attempted to go through all the proper channels to get Mark the mental health treatment he desperately needed, the system failed miserably."
Maybe Becker never should have been excused from the mental ward after his high-speed chase before he went out to kill Thomas, but to call him a victim? Please. The victim is six feet under and the remaining victims are his family and players who are now fatherless and coachless. Way to take responsibility for your kid's actions, Mom. I guess in your society it is the village that raises the child. Disgusting. Back to your regularly scheduled sports programming.
I'm an admitted Bengals fan who has defended Chad Ochocinco time and time again. The whack job has been my favorite player and the last jersey I bought but now he's officially lost me. The news that Chad Ochocinco will be a contestant on the upcoming season of Dancing with the Stars means Ocho won't be concentrating on football in the offseason for the second time in three years.
I don't know too much about Dancing with the Stars, but from what I understand, at worst his participation should take up the entire month of March. At best, and judging by his dancing skills with the river dance, Ocho could last as long as 10 weeks. That's correct — his commitment to participate on the TV show could take up all his attention for the next three months. While I still feel that Ocho is one of the top receivers in the league and that he'll probably play well next season, this proves that his top priority is not preparing for the upcoming season.
In the time that Chad's dancing away, guys like Andre Johnson, Reggie Wayne, Roddy White, Larry Fitzgerald, and Steve Smith are probably busting their butts in the weight room and on the field. Chad will be polishing up his moves for his newest touchdown celebrations instead. No hard feelings but I hope he gets voted off quickly so he can focus on football. Ocho may not get into legal trouble off the field like his teammates but he's still causing just as big of a distraction off of it.
Allen Iverson has been quite the enigma this season. After taking forever to sign with a team, Iverson joined the Grizzlies but was unhappy with his role. He and the Grizzlies worked out a release and Iverson declared he wanted to spend more time with his family. That was until the 76ers told him they would take him back, at which point basketball took more of a precedence than family. But then Iverson's daughter got sick and Iverson started missing games, including the All-Star game — as improbable as that was. He played in the first three games after the break but then proceeded to miss the next four including Monday night's home game against the Magic. Considering Iverson's back-and-forth behavior, it's hard to believe that taking care of his daughter is the sole reason for his hiatus. After all, he apparently found the time to host a massive party in Charlotte this weekend:
Things just don't seem to be adding up to me. Given the way Iverson's tenure in Detroit played out (he ended the season with a "back injury" but really agreed to just go away because he was unhappy with his role), I'm pretty skeptical. I don't doubt that his daughter is sick and that he's taking care of her, but I'm guessing he'd find time to continue playing with the 76ers if there weren't something wrong in Philly. Something must be up there, I'm not sure what, but something must not be working out.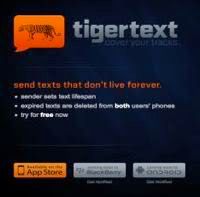 If there's one positive to come out of Tiger Woods' mistress scandal it would be the adaptation of technology. Tiger was already being crucified by the gossip mags before the ultimate embarrassment came when his personal voice mail messages and text messages were released to the public. Imagine though if those messages were never made available for the public. OK, I admit Tiger would only look like 1% better given all that he did, but an iPhone app has been developed to help these situations in the future.
The TigerText app allows a user to put a timed delete on messages they send. Put that at 24 hours and any embarrassing/potentially incriminating evidence disappears a day after you send them because all texts are sent and received on a server. The only problem with the app is that both users must have it for the deleting process to work. It's only available for iPhones but at least Blackberry is also supposedly developing the same program. Then again, anyone who's willing to betray you by sharing personal messages probably would lie about having the TigerText program. The good news is that Tiger can pick up a new endorsement to replace Gatorade. I think his people should seriously consider this one.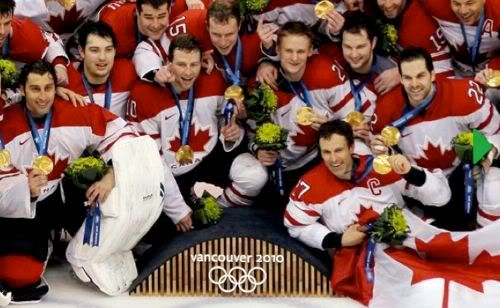 And apparently so do we. Not as much as them, but the TV ratings for the Olympics gold-medal game between the U.S. and Canada were through the roof in both countries. The game apparently had an average viewership of 27.6 million and maxed out at 34.8 million viewers at the end of the 3rd period. The only game with a higher rating in the U.S. in the last 30 years was the 1980 gold-medal game against Finland which followed up the Miracle on Ice. Now if you thought that sounded like strong ratings, the numbers in Canada blow ours away:
It was also the most-watched television broadcast ever in Canadian history, with an average audience of 16.6 million viewers. Nearly half of the Canadian population watched the entire game on average, while 80 percent of Canadians watched some part of the game (26.5 million).
80% tuned in at one point? Damn, that's freaking crazy. The Super Bowl usually attracts less than 50% of our population by comparison. Also putting this game into proper context, the gold-medal game outdrew the Rose Bowl, World Series, NBA Finals, March Madness championship game, and the Daytona 500. Without a doubt this was a boon for hockey and hopefully just what the NHL needed to regain some of the popularity it once had. Remember, it was only 15-20 years ago that the NHL had equal popularity as the NBA. I hope this enthusiasm keeps up.
Last time we heard from BYU senior Jonathan Tavernari, he was in the middle of a Holy War skirmish between BYU and Utah. Not much has changed for the 6'6″ forward. Tavernari was guarding New Mexico star player Darington Hobson with 52 seconds left when the clock was stopped because of a timeout. Hobson was upset that Tavernari was playing him so closely and it appeared as if Hobson threw an elbow at Tavernari. The refs didn't see anything wrong in the replay so the game played on. New Mexico won 83-81 but the hostility between the teams spilled over into the handshake lineup after the game. Check out this video of Steve Alford cussing at Jonathan Tavernari after the game via The Sporting Blog (warning: profanity):
While the video makes Alford out to be the bad guy, The Salt Lake Tribune reports that Tavernari went into New Mexico's locker room after the game to apologize for his behavior. Moreover, "Alford told Tavernari that he initially was just trying to tell him that he had a heck of a career at BYU." Sure sounds to me like Tavernari is the a-hole in this one, even if Alford is getting all the bad press. By the way, that's a heck of a win for New Mexico. At 27-3, they're likely headed for a three or four seed in the tourney and they've proven they can win anywhere.
When it comes to the combine, most fans go one of two directions — you either like it or find it pointless. I fall on the side of people who don't like it too much. While I think it can serve to affirm what you already know about a player — that they're extremely fast, strong, or athletic — I don't think a poor showing should change a team's mind about a player. When it comes to Tim Tebow, the opinions vary vastly. Some think his heart and Bible will lead him to greatness on Sundays while others feel he doesn't have the skills to succeed at the next level. There is one fact about him that all fans can agree on: he's extremely strong and athletic for a quarterback.
Tebow impressed several scouts by tying an NFL combine record for quarterbacks with his 38.5″ vertical leap. You'll be extra impressed when you hear that Tebow's leap barely surpassed Michael Vick's 38″ mark. You'll place this nugget back into proper context when you realize it ties Tebow with Josh McCown for the record. McCown has 35 career touchdown passes. I'm willing to bet that's more than Tebow will have. Any takers?