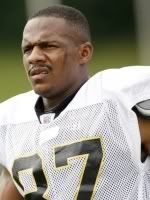 For a man who portrayed himself as such a hero in the wake of Hurricane Katrina's destruction of New Orleans, WR Joe Horn certainly tried his best to undo all the good he did back then (although that would be hard to).  Upon being released by the Saints, here's what he said
I just don't think [coach] Sean Payton wanted me back. I asked to be released because I felt betrayed by a head coach who wanted to prove he could win without Joe Horn.
What a dumb thing to say.  First of all, you weren't out there for six of the regular season games, you missed 38% of your team's games.  And guess what?  The Saints had their most successful season in franchise history! You know what that means?  Sean Payton already proved he could win without you. 
So now Joe Horn remains in the division, just now he's with the Falcons.  A couple of thoughts on that:
Too bad what seemed like such a good guy left on such poor terms
Horn's old and hasn't been able to stay on the field the last two seasons
His addition to the Falcons won't mean a thing — Vick still stinks, and Horn's too old to make an impact
Horn's addition to the Falcons is a total waste of money — and a lot at that — $7.5 million guaranteed over two years according to Horn.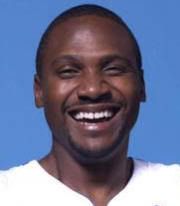 That was the breaking news headline on ESPNEWS a few moments ago…no details just yet, but it's weird. That's such ambiguous news. Rather, the suspension isn't ambiguous, but the reason is.  Lindsey Hunter suspended for 10 games for violating the league's substance abuse policy.
What does that mean?  Was he busted using performance enhancers?  Steroids?  Do they even test for that stuff in the NBA?  Was he caught doing blow, smoking a joint?  What, what, what?  I'm on a need-to-know basis and I don't know!! 
I digress, now at least you know the news.  At the time of this posting, there is no other information available.
UPDATE: Turns out Hunter was suspended 10 games for…taking his wife's diet pills??  That has to be the most bizarre way to get busted.  His quote was my favorite:
"I just hope people don't think I'm out smoking marijuana."
Amen brother.
Alright, this is something I saw last night on both my local FOX affiliate and NESN's Sports Desk. Apparently this event is called "crashed ice downhill skating." It's like luge, skeleton, bobsledding, snowboarding, and rollerball, all rolled into one. It's bad ass. The best part is around the 3 minute mark when the actual race begins, I highly recommend you skip ahead:
Normally I'm a pussy, but I think I would even do that. I want more.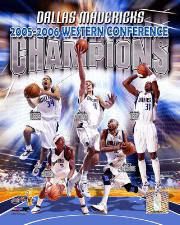 All day Tuesday ESPN was running a stat prior to the Mavericks/Nets game since Dallas was approaching one of the best records in NBA history through 60 games. Here was the graphic of best teams through 60 games:
'95-'96 Bulls 54-6 Won Championship

'96-'97 Bulls 53-7 Won Championship

'66-'67 Sixers 52-8 Won Championship

'82-'83 Sixers 51-9 Won Championship

'71-'72 Lakers 51-9 Won Championship
and now it includes
'06-'07 Mavericks 51-9 ?????????????
While the numbers speak for themselves, it's safe to say that the Mavericks don't come anywhere close to commanding the type of respect those other teams do.  Why is that I wonder?
Probably because after Dirk Nowitzki, the team's owner, Mark Cuban, is the only other recognizable figure of the franchise. 
HOWEVA, despite the fact that Dallas may have to go through the juggernaut Suns, Duncan and the Spurs, Yao's Rockets, or the Jazz, I will go on record now and say that the Mavericks will win the NBA title this year. How can I be so certain you ask (besides the fact that the graphic says so)?
The Mavericks play excellent defense, they have a passing point guard (who is also deadly from long-range), Dirk is a stellar scorer (and yes, a leader too), Dampier and Diop are nails inside, and Josh Howard, Jerry Stackhouse, and Devin Harris are underrated scorers.  Also, Avery Johnson has excellent control of the club, and let's not forget, they were up 2-0 on the Heat in the finals last year.
As another note, the Mavs have won 16 straight and have already clinched a playoff spot (on March 6th!).  I think the clinching certainly is worthy of the Avery Bunch video being relaunched, no?
Former Team USA and Arizona softball stud Jennie Finch was on ESPNEWS making her debut as a fantasy baseball analyst Tuesday. The uber-hottie picked a handful of players she expected to have bounce-back years. Her list included names such as Gary Sheffield, AJ Burnett, Mark Teixeira, and Randy Johnson.
Here was Jennie Finch's analysis on why Randy Johnson will improve in '07, and the name Casey is in reference to her husband, Diamondbacks pitcher Casey Daigle (with audio below):
"Casey's been hanging out with Randy, he's working harder than ever. He's going to have a great season next year. He's moving from the NL to the AL he'll get to face pitchers this year. I'm looking for a good strong year from Randy Johnson."
I'm sure it was just a silly error that happened in the moment, but it's still kinda funny. On the bright side, she's still hot, so all she needs to do now is practice.

MP3 File
Recently at MLB Fanhouse: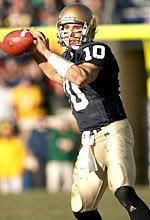 I guess the question kind of answers itself when your options are Charlie Frye and Derek Anderson, but for whatever it's worth, Browns head coach Romeo Crennel seemed especially impressed with Brady Quinn following the quarterback's workout at Notre Dame's pro day.  Crennel told the NFL Network:
The fact that he can make all the throw both right and left.  He's a polished quarterback, he's smart.  When you watch him on tape you see that he knows where to go with the ball and will at times throw it away when he has to.  So we think that he's a good young prospect.
I know all you Ohio natives will be saddened to hear your boy Charlie Frye probably won't have the starting gig next year, but sounds to me like the Browns and Crennel are pretty high on Brady. 
And you know what?  With the signing of Eric Steinbach, a healthy Braylon Edwards (and possibly Kellen Winslow Jr.) I actually think Quinn could fit in there nicely.  Yes, what I'm saying is that the Browns might be a decent place for him to go and succeed.  But then again, they are cursed, so maybe it's a bad idea.
Illinois basketball coach Bruce Weber hasn't had the swellest run of it lately; two of his players were recently involved in a car accident, one of whom, Jamar Smith, is being charged on two felony counts. Prior to that incident, there were a few other problems within the program.
That's probably why a media member brought up the idea of a zero-tolerance policy for the athletic department. Needless to say Weber was not to happy about the suggestion, and in turn, he criticized the media for not doing their jobs. Here's a brief transcript of his rant, which you hear by pressing the play button below.
"There was a kid in a program that got arrested a couple weeks ago and he played on another team. I don't read the paper and I don't turn on the news, nothing against you guys but there's a lot of stuff that doesn't get printed so I don't bother…you're going to hold us to high standards why don't you hold somebody else?"
My quick hit: Cleaning up a program has to start somewhere, and maybe with Weber and Illinois. And in case Weber is wondering why they're getting picked on, which he is, it's because of the car accident and the felony charges on Smith.

MP3 File
While appearing on the Mike North Show Morning Show on WSCR in Chicago, Bears LB Lance Briggs made it abundantly clear that he is not happy with the Bears organization, and that he wants nothing to do with them. His words are very powerful, and you can listen to a snippet of the interview below. But first, the following is a brief transcript of his remarks:
"I'll do everything that's within my power in order to not be with this organization…after this 4th year, I played out a four year deal from a 3rd round pick at league minimum and this is the thanks."
My quick hit on this – I know it sucks if you're out-performing your contract, but sorry, if you willingly signed the deal, then you must live up to it. Lance, think back to the days in your first training camp. Were you just happy to be on the team? If so, then appreciate the fact that they gave you a contract. Just mind your business, play hard, and you'll get a big deal next off-season.
Did you really expected the Bears not to franchise tag you? Also, sorry to say, but EVERYBODY looks better playing alongside Brian Urlacher. Let's see how you do without him around.

MP3 File
Saturday Ohio St. beat Michigan in Ann Arbor 65-61 running their record to 27-3. It was a game that Michigan led for the most part, so no doubt it was a disappointing loss for the Wolverines to their hated rivals. Despite the loss, senior Brent Petway bid his farewell with a memorable hair style – shaving the Wolverines football helmet into his head. While it's not something I would do, it was definitely pretty pimpish. 
DL Alan Branch from the football team said this about Petway and his hair on Fox Sports Radio with Sean Farnham and John Fricke:
"That guy, he's a crazy guy ever since I met him.  He's not going to follow the norm at all.  If he feels something's cool or different he's going to go ahead and do it.  He's a crazy character." 
Continue reading if you want to check out the 360 photo views of Petway's hair. (MGoblog has some good pics too)
Mobiright