With baseball at the All-Star break, we assembled the staff here at LBS to select our mid-season baseball awards. Up first, the AL Awards. Tomorrow, the NL Awards.
AL MVP
Alan Hull says Miguel Cabrera, 1B, Tigers: While Robinson Cano, Justin Morneau and Josh Hamilton are all in the mix, the MVP Award should probably be called the Triple Crown Category Leader on a Winning Team Award. Cabrera isn't very good defensively, doesn't play a difficult position, but with Albert Pujols having a down year, he has sneaked into the conversation for the best hitter in baseball. I could see Cano winding up winning it in the end.
Steve DelVecchio says Robinson Cano, 2B, Yankees: Cano has been the best hitter on the best team in the majors, and on top of that he's only made one fielding error so he has second base locked down defensively. With a line of 16 HR 67 RBI and a .337, he doesn't necessarily have the best stats in the AL, but you have to give weight to the Yankees position and also what he's done on defense.
Larry Brown says Miguel Cabrera: From the beginning of the season all the way to the All-Star break, Miggy has been the most consistent hitter in baseball. He sobered up in the offseason and that seems to have taken his already ridiculous offensive game to an Albert Pujols-level. He's heading for his best season ever.
Jake Walker says Miguel Cabrera: He's leading the AL in batting average, RBIs, and he's second in home runs. He has a legitimate shot at winning the Triple Crown in the AL. How can you not say he's MVP? In another year Cano might get it, but not with the year Cabrera's having.
Bo Jackson was always one of my favorite athletes growing up. I had a pair of his Bo Jackson shoes complete with number 34 on them. I had a prized Bo Jackson card that featured him holding a bat above his head while he had shoulder pads on (pictured above). I was a proud member of "Club Bo" — literally, I have the sticker and shirt to prove it. Between his dominant football and baseball abilities, it was hard not to be in awe of his superior athletic abilities. Even though I was a youngster when Bo retired from sports, it's nice to know I picked a good one as far as favorites go.
Bo has a completely different perspective from most collegiate athletes regarding the role of education in their lives. Reading his comments to the LA Times in a recent interview makes you realize that they don't make em like Bo anymore. Check out what he said:
I guess you could say I was blessed to see what a lot of kids don't. A lot of kids don't realize the gravy train is going to come to an end. They have no formal education, no business sense, no money management skills. They just have to live with that.

I made it a point to learn as much as I could in college, especially because it was free.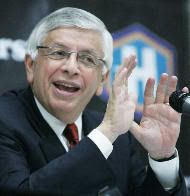 Whether you are among LeBron James' now seemingly loyal few, or air mailing your old "23" jersey to Cleveland to be thrown on the bonfire, there's no doubt that King James has come under some, I'll say, deserved criticisms for the way his free agency culminated. On Monday, James found one carefully phrased criticism pointed in his direction from none other than NBA commisioner David Stern, who was content with LeBron's choice, but called "The Decision" spectacle "ill-conceived." While Stern may think otherwise, he chose wisely to say this:
Our players, having negotiated for the right to be free agents at some point in their career, are totally within their rights to seek employment with any other team. That's something we agreed to. That's something we embrace. That's our system."
Stern also took exception with the now infamous comic sans Dan Gilbert letter lambasting James for his "cowardly" abandonment of Cleveland, which resulted in a $100,000 fine for the franchise. So while it's always interesting to try and guess what David Stern is actually thinking behind his often calculated remarks, there are really no surprises here. It's no good to have your poster child turn heel like a WWE superstar and you can't have owners running around town bashing their former players.
Sources:
Stern says Miami's Big 3 acted within rights [AP/FOX Sports]
Yankee fans should be proud of their skipper. While it could certainly be a coincidence, it's starting to look like Joe Girardi is doing everything in his power to keep Red Sox players out of the 2010 MLB All-Star Game. Does the rivalry have anything to do with it? We'll never know, but let's speculate a little for fun.
During a Monday afternoon press conference, the American League All-Star manager announced that Rangers third baseman Michael Young would replace Red Sox third baseman Adrian Beltre on the AL roster. The only problem with that is Beltre — who tweaked his hamstring in a game against Toronto on Sunday — never said he wasn't going to play. Players are allowed to wait until very close to the actual game to make a decision, which is probably what Beltre plans on doing. Even MLB spokesperson Phyllis Merhige couldn't provide a clear answer as to how Girardi thought Beltre backed out:
Clearly it was a communication misunderstanding. Michael Young is the next guy on the player voting, so if Adrian Beltre can't play it's Michael Young. But Adrian had said all along he was going to make a decision about how he felt. I don't know where Joe got it from. Maybe I miscommunicated it."
It's no long basketball or hockey season. NFL training camp has yet to begin. The World Cup has ended. If you don't get excited for the All-Star break, that three-day span where you have nothing to watch has arrived. What's the best way to make the Home Run Derby somewhat intriguing? Gamble.
I'm not here to encourage people to blow their bank account on a meaningless event. If you're against gambling, that's your prerogative. If you've already watched this week's Entourage and don't feel like watching it On Demand four or five more times, you can always bet on the 2010 Home Run Derby.  Of course it's nearly impossible to predict the winner, but that's part of what makes it so fun to act on. For that reason, the payout for choosing any hitter to win is pretty decent. Here's each hitter's odds of winning the event from one sports betting site:
David Ortiz +250 ………………….. Nick Swisher +500
Miguel Cabrera +250 …………….. Vernon Wells +650
Corey Hart +500 …………………… Chris Young +800
Matt Holliday +500 ……………….. Hanley Ramirez +1000
Any of these eight sluggers — none of which is afraid to mess up his swing — could win the event. Why can't Hanley Ramirez hit the most homers in a glorified batting practice session? Why not take a chance to spice things up a bit? If you ask me it's worth at least $10 to have something exciting to watch, especially when you can potentially turn it into $100.  Sports Interaction also carries odds for each individual round for those of who who'd like to take it one step further. So give it a go. You might even thank me later.
Source:
Sports Interaction
Now that's how you grab the bull by the horns. It's nice to see someone with an entrepreneurial sense who takes advantage of a crappy situation rather than whining about it. A gentleman named Dave has created a website called — pardon my French but this was his choice — KissMyAssLeBron.com. Here's what he told us at Larry Brown Sports about why he began the site:
It has been a whirlwind of a process to say the least. I am a die-hard Clevelander who has been a season ticket holder for all 3 teams in the city. I also am the creator and founder of SteelerHaters.com, MichiganStillSucks.com and many more sites devoted to "spreading the hate" of Cleveland Rivals. And to say that we are pissed is an understatement. It's not about what was decided, because we are above that. It's about how it was decided and how we found out. To get dumped on worldwide TV was the ultimate kick in the junk.
Dave's thoughts are obviously shared by thousands of Clevelanders and other LeBron-haters across the nation, including Dan Gilbert. I don't care how much LeBron James loves himself or thinks he's made of steel, if he starts seeing fans with these shirts on when he's on the road it's going to bother him.  No, I'm not saying he's going to have a 2-for-22 shooting night because he sees an inappropriate shirt about his mom, but it has to irritate him a little.  After all, there are even some who say the Delonte West rumors could have contributed to his less-than-stellar play against the Celtics in the playoffs. We're going to see plenty of this type of merchandise in the near future, so stay tuned.
Sources:
This Is The T-Shirt Every NBA Fan Should Wear When The Miami Heat Come To Your Town [Deadspin]
KissMyAssLeBron.com
Jonathan Stewart teams up with DeAngelo Williams on the Carolina Panthers to form one of the most potent running back tandems in the NFL. Stewart came into the League with a foot injury and has battled achilles injuries each of the past two seasons. The heel problems that resulted in an offseason surgery this year didn't prevent Stewart from scoring 10 touchdowns in each of his first two seasons, and surpassing the 1,000 yard mark this past year. Although Stewart has burst onto the scene as a running back to watch in the NFL, it's his work off of the field that is making the biggest impression.
As Pro Football Talk pointed out over the weekend, Stewart held a football camp for about 180 kids ages 7-14 in his hometown of Lacey, Washington. Best part of all is that Stewart made the camp free for the kids and covered all expenses out of pocket. According to The Oregonian, the camp participants came from the local YMCA, Boys and Girls Club and the New Life Baptist Church that Stewart attended. Additionally, Stewart apparently found camp sponsors on his own and paid his fellow NFL buddies to make appearances, all out of pocket.
So what possessed Stewart to run the free camp? He explained to The Oregonian, "For me, why make somebody pay to get better at something or to be inspired. That's what this is all about. I'm not in it to make any money, especially in my hometown." It's not often we hear great stories like this so it's on us to make sure these wonderful efforts are recognized. As if you didn't already have enough reasons to draft Stewie for your fantasy football team this year, now you have another.
Sources:
Carolina Panthers running back Jonathan Stewart finds his footing on and off the field [The Oregonian]
Football players flock to Washington for free football camp [Pro Football Talk]
It takes one man to casually catch a baseball in his beer cup and then chug the beer. It takes a group effort to make a massive chain out of empty beer cups and keep it together.  Apparently such a group effort is something that CFL fans won't shy away from, as they recently constructed a stack of empty beer cups at a Winnipeg-Montreal game that had to have been 20 feet long. Check out the video of CFL fans stacking beer cups, courtesy of SI Hot Clicks:
I don't know whats more impressive; the amount of beer they went through or the effort it took to hold this thing together. It takes some serious focus to keep something like this from falling apart and it looks like they had everyone on board. I'm hoping this isn't a testament to the lack of excitement a CFL game brings, but either way bravo to them.
Sources:
Sara Carbonero gets on-air kiss from Iker Casillas [SI Hot Clicks]
Video Credit: YouTube user Stegallfan
Cincinnati Bengals wide receiver Chad Ochocinco was (possibly) involved in a scrum early Monday morning in New York which is, of course, well-documented on his Twitter account. Initially, it looked as though Ochocinco was going to find himself in trouble after getting into a fight with a bouncer at a Manhattan night club. Here's his first Tweet when the incident began:
Man this some bull s***, @therealbebe left me outside the club, they won't let me in without my I.D. the bouncer talkin bout JETS JETS JETS
Shortly thereafter it appeared that the reality TV star had been arrested and was in the back of a police car:
Damn I just got in a fight with the bouncer, them damn boxing sessions got me on point, at least the police let me keep tweetin n the car?
That's about the point you'd be thinking, "uh oh," if you're a Bengals fan or if you're Commissioner Roger Goodell. However, it turns out the police agreed the bouncer was the aggressor and arrested him for assaulting Chad. It looks like Ochocinco made a few new friends in the process. He also took a moment to reassure the commish that he need not worry:
Earlier we told you about Chris Fowler's closing comments from the World Cup in South Africa that has creationists outraged. When Fowler and analyst Alexi Lalas were closing things out, they wanted to celebrate in style. Lalas offered his fist to his fellow analysts but Fowler was caught unexpectedly. The result was this hilarious fist bump fail:
No sweat Chris — we've all been there before. Plus, you were busy trying to talk too. Even Phil Jackson feels your pain, so I wouldn't worry about it at all.
Video Credit: YouTube user emantx10