One of the most anticipated matchups of the entire Winter Games in Vancouver turned into a blowout early on. It only took eight minutes for Canada to build a 3-0 lead against Russia in their quarterfinal matchup. The Canadians were up 4-1 after the first period before going on to win it 7-3. It was pretty clear to anyone watching the game that Russia's starting goalie, Evgeni Nabokov, simply didn't have it. I've never been a big Nabokov guy but I can't deny his dominant regular season play, so I'm not complaining that he was their top option. What I don't understand is how they didn't yank him in favor of Ilya Bryzgalov after the first.
The Russians still had a shot at winning the game when they were down by only three. They stuck with Nabokov and he gave up a goal early in the second to Corey Perry where he was pathetically out of position (check out the picture above). Even with your chances dwindling at 5-1, you have to give yourselves the best opportunity to win and make that change. They didn't. Shea Weber slapped one in to make it 6-1 before the Federation decided it was time to finally make the change. Nabokov's final numbers were 17 stops on 23 shots. He left with the score six to freaking one.
Russia added two more goals in the period while Bryzgalov allowed a goal to make the score 7-3. While it may have been hard to come back from down three goals, the Russian coach owed it to his team to give them the best chance to win. Leaving Nabokov in only allowed Canada a chance to waltz into the semis. Despite all the commotion and second-guessing following Team USA's upset win on Sunday, it looks like we're in for a gold medal game rematch of Sunday's contest. The Canadians have been dominating all their games in the shots on goal category and are scary.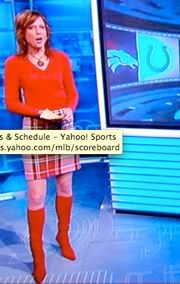 Watching Pardon the Interruption on Monday, I was surprised that Tony Kornheiser was off while Dan LeBatard was in. There were no sports-related activities on Sunday that would have precluded Tony from being on the show so I was could not figure out why he wasn't on. The reason, as The Big Lead tells us, is pretty weak. According to TBL, Kornheiser was suspended for his comments about Hannah Storm's outfit last week on SportsCenter. That is wrong on two different levels.
First, ESPN should have addressed the wardrobe of Hannah Storm a long time ago (her pictured outfit is from last year). Short skirts and long boots have no place on TV where a professional appearance is emphasized. All the male anchors wear suits and ties; the females should be similarly dressed (Erin Andrews should take note). Secondly, ESPN is sending the wrong message to its employees by discouraging them from commenting on their coworkers. They're so large as an entity that they should be challenging each other. While this should be limited to discussing opinions and reports for the most part, I don't see where Kornheiser was wrong to discuss Storm's poor choice of dress considering it's a reflection on his company.
There should have been two outcomes of Kornheiser's comments and a suspension is not one of them. Tony should have apologized to Hannah for invoking her age (whether Storm is young or old has nothing to do with the inappropriateness of her outfit). Tony has already done that. Next, ESPN should have realized they need to tell Storm to dress more professionally. I just want TK back on PTI!
Oregon coach Chip Kelly took the stage on ESPN's Outside the Lines Tuesday to face the firing squad. Reporter Bob Ley offered Kelly the opportunity to discuss the state of his program and pressed Chip with difficult questions. When forced to answer for Oregon's disruptive offseason that includes several arrests, Kelly defended the way he's handled things:
"If people want to pile on me, if people want to hit me, fire away. But I love my players, I'm going to stick by my players. But if they do something wrong, they understand that they will have to pay a price for doing something wrong. Our job will continue to be to educate them every single day about the right things to do and the wrong things to do.
…
I'm embarrassed. Our football team is embarrassed. We represent an outstanding university and that's not how we do things and that has to stop."
Kelly also said that the off-field activities have tarnished the accomplishment of reaching the Rose Bowl which is pretty accurate now that the program has become a punchline. The main question is whether the multitude of arrests and issues indicates a lack of control of the program by Kelly. The other question is if Kelly is properly disciplining his players.
At this point I'd be inclined to say that Kelly does have control over the program but either he or former coach Mike Bellotti recruited some poor character guys who are making them look bad. And as far as disciplining the guys I think Chip is taking the proper approach in viewing things on a case-by-case basis. The only difference is I would take a harsher stance towards my player based on the crime they're accused of — theft is less severe than domestic violence and strangulation so I would suspend accordingly. If this sort of activity persists then the university needs to put its foot down regarding the type of player the school is recruiting. If things turn around then the issues can be attributed to a really bad and embarrassing offseason. Bottom line is Kelly needs to send the message that this sort of behavior won't be tolerated and that's accomplished by kicking players off the team and suspending. He's already done both.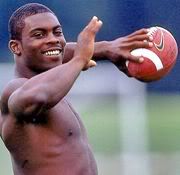 If you asked me about stories I never thought I'd be writing, this would probably rank up there with Tim Tebow impregnating a Filipino woman during one of his missions. A spokesman for Playgirl told Life & Style magazine that they're trying to get Michael Vick to pose in Playgirl. Here's the report via Digital Spy and the LA Times:
"I sent the request to Michael Vick on Wednesday. But we haven't heard back yet. I figured he paid back society for dogfighting, but what about the animals?

"This way he could donate a large sum to PETA and all he'd have to do is pose for the magazine! It's kind of a win-win situation."
Maybe Vick will offer them his upper half and tell Playgirl to photoshop in Greg Oden's bottom half. You know what? This would be for a good cause so maybe Vick could use his celebrity status for the right reason. Tell me chicks wouldn't dig it. Especially if he told them his name was Mike Honcho instead of Ron Mexico. I think this could work.
Every once in a while we come across a video of a player doing something so darn athletic it has to be posted. It's a reminder of how special some of these pro athletes are. For instance, there was Adrian Wilson jumping a five and a half foot high beam and Joey Gathright bounding over cars. Redskins rookie Keith Eloi amazed everyone when he jumped out of a swimming pool backwards. And now we can add South Florida DE Jason Pierre-Paul to the list for something pretty cool. The NFL prospect did 13 backflips in a row following a workout at the International Bowl in Toronto this season. Check it out:
A lot of teams are interested in his skills and it's easy to see why. I'm even guessing the Raiders take a stab at him considering how much they love freaky talent; you don't have to catch or tackle for them so long as you run the 40 in 0.2 seconds faster than is the norm at your position. He should be a lock for them.
Phillies All-Star outfielder Jayson Werth caused a mini-stir by showing up to Spring Training in Clearwater, Florida sporting shaggy hair and a long beard to match. Phillies beat writer Todd Zolecki of Phillies.com shared a few pictures of Werth in his most recent post. Here's the new version of Johnny Damon — Jayson Werth and his beard:
That sure is an impressive beauty and it looks like it took all off-season to grow. What's even more jarring is comparing the bearded Werth picture to one of him when he was drafted by the Orioles. The 700 Level tracked the evolution of Werth's face and it is priceless. Now if you're wondering why Werth has the bearded look, here's his answer: "I think everybody knows the situation. It's no secret." Thanks Jayson, like that helps. If I get any more information I'll be sure to pass it along.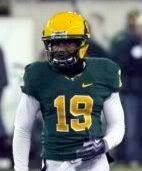 Oregon is having an offseason that might put Urban Meyer's Gators to shame. Since dropping the Rose Bowl, the Ducks have seen over five of their players involved in off-field incidents. In order: running back LaMichael James was arrested for assault, strangulation, and harassment. Kicker Rob Beard was investigated for misdemeanor assault for his role in a street fight that defensive end Matt Simms was investigated for as well. As if that wasn't enough, fellow kicker Mike Bowlin left the team after his alleged involvement in the same incident. Prior to that, quarterback Jeremiah Masoli and wide receiver Garrett Embry were named as suspects in an alleged theft of laptops. Embry was kicked off the team shortly thereafter. That's not all. On Friday night/Saturday morning, linebacker Kiko Alonso was picked up for DUI. Teammate Jamere Holland mistakenly thought that meant Kiko was kicked off the team and he produced this rant on his Facebook profile (warning: extremely graphic language):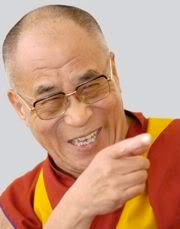 Here I was thinking that Tiger Woods was the biggest story in the entire world. ESPN, ABC, NBC, FOX, and CNN told me so. The Dalai Lama said otherwise. The Buddhist spiritual leader was chilling in Beverly Hills over the weekend getting prepared to make a speech in support of Whole Child International when he was asked about Tiger Woods. The best part is he's probably the first person I know of who wasn't aware of Woods' existence so he had to be briefed on the situation. The worst part is he slammed Tiger for not following his Buddhist faith:
[Dalai Lama said] when it comes to adultery, "all religions have the same idea."

"Whether you call it Buddhism or another religion, self-discipline, that's important," he said. "Self-discipline with awareness of consequences."
Tiger may have been the first public figure in America to invoke Buddhism when lamenting that he strayed from his faith. With that inclusion, he checked almost every aspect of the ideal public apology in the handbook: blame yourself, say you've found religion, remind everyone you're human, conclude that you need help. It really is that simple. As a bonus, Tiger will also receive total consciousness on his deathbed. That has to be reassuring.
You have to love the way MLB came out and patted itself on the back this weekend. I can't be certain that MLB is responsible for the article hitting the Associate Press, but I do know that they took a "preemptive strike" against weapons in clubhouses. From the AP:
Signs have been placed in spring training locker rooms stating "individuals are prohibited from possessing deadly weapons while performing any services for MLB." The rules apply to employees of the commissioner's office, other central baseball businesses and to teams, including players.
Bravo MLB, bravo. Way to respond to the Plaxico Burress and Gilbert Arenas situations responsibly. Actually, this has every bit as much to do with the Players Association as it does the commissioner's office; the MLBPA didn't allow drug testing in the sport until recently but they made concessions here. At least baseball is doing the right thing here so I should not give them too much crap. Still, it's strange that it took 15 years to semi-properly address steroids but it didn't take two months to lay down the law when it comes to guns.
A lot of people who read the site have no idea that I work for Sporting News Radio as a show host and update anchor and that I work on this website on the side. Likewise, many people who listen to the show have no idea that I also have a sports site on the side. So for those who were curious or happened to listen to the Sunday morning show I was hosting during football season, I wanted to apprise you of my new schedule. LBS takes the radio waves by storm on the following nights:

Friday: 11pm-5am PT
Saturday: 8pm-1am PT
Sunday: 8pm-11pm PT
You can listen at sporting news radio's site, on Sirius channel 127, or on your local affiliate. For those who don't care and just want their share of funny videos, scandalous pictures, and inane commentary, sorry to bother you. Please carry on as you were. Thank you for your time.