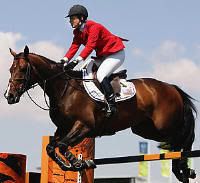 Honestly, horse doping? Are you kidding me? This might be worse than the billiards doping scandal. I'm still uneasy over my conjecture that half the athletes in the games — if not more — are on something illegal. Just read Game of Shadows to answer all your track questions, and take your wildest guess about wrestlers, martial artists, rowers, and basically anything else where additional strength can help you. And as nieve as it sounds, I can't get used to the fact that people would actually be pumping horses with illegal steroids. Gross. But apparently it's happened and caused horses to be kicked out of the games:
Four horses have been banned from competing in Thursday's Olympic Games jumping competition for doping, the International Equestrian Federation (FEI) announced here Thursday. The horses – representing Brazil, Germany, Ireland and Norway – had been suspended after testing positive for a prohibited substance, the FEI, which controls the sport, said in a statement.
…
In its statement, the FEI said the four horses had been "provisionally suspended by the FEI further to doping/medication control tests that indicated the present of capsaicin in each horse".

"Capsaicin is classified as a 'doping' prohibited substance given its hypersensitising properties, and as a 'medication class A' prohibited substance for its pain relieving properties," the statement said.
By the way, these are show horses we're talking about here. Show horses. And who said equestrian was a sport for the classy, the elegant? This is disgusting.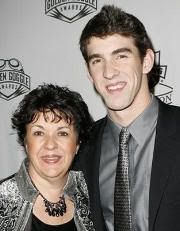 One of the questions I kept hearing during the Olympics — especially last week while Aquaman was dominating in the pool — was "Where's Michael Phelps' father? Does he have a dad?" I was wondering the same thing too, so with a basic search, I came to find out that his parents divorced when he was young. Even that being the case, it was still surprising not to see anything about his dad, especially considering how much coverage his mother received last week. Well MDS at FanHouse shares an interview from the NY Post that somewhat elaborates on the relationship (or lack thereof) between Michael and his father. Apparently Fred Phelps hasn't spoken with his son since the Beijing Olypmics, adding:
"I'm very proud of him and all he's done," Fred said as he aimed to deflect attention away from the severed relationship. "This is not about me, it's about him."

Although he didn't hop a plane for Beijing to see his son compete, the elder Phelps said he "watched [Michael] every night on TV" last week.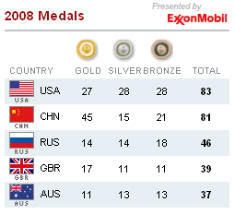 Every day for the past two weeks I've been giving the medal count on-air. Problem is it just never felt right saying it, or just looking at the standings, that the U.S. was first. When China has won almost double as many golds as us while we're just racking up silvers and bronzes, doesn't that mean they're doing better at the Olypmics than us? When Chinese reporters and news outlets give the medal count, do they have themselves as the top country? I wouldn't be surprised if they did — it makes more sense that they should be first. It's just odd that we can spin the medal count to make it look like we're winning the games. Thing is, there's a very simple way to solve this issue — have the IOC create an official Weighted Medal Count.
In order to make the total count seem more reflective of a country's performance, the easiest way to keep score of medals would be a simple 3-2-1 with three points going to the country that won gold etc. But there's even a problem with that; should every gold won in fencing, track, swimming, and shooting count the same as a medal won in a team event that required several wins in pool play a la soccer, basketball, and volleyball? An improved weighted system should assign points to each event — a gold in soccer worth 14, silver 12, bronze 10, and a gold in shooting worth 3, silver 2, bronze 1. Wouldn't that make a lot more sense? They're constantly making tweaks to which sports can or cannot be played in the Olympics, why not come out with an official scoring system? Not as if they don't have four years to figure it out, right?
By popular demand, we have the All-Hottest Olympians Team. Usually they have the all-tournament teams and stuff, but athletic prowess is not exactly what concerns us in this instance. After all, what else are the Summer Games good for? Anyway, Jimmy Traina at SI Extra Mustard gave us plenty of excellent choices and provided some inspiration for this carefully selected group. Same with Brahsome who put together a hottest 11 Olympians list, and FanIQ's Olympians that posed in Playboy.
LERYN FRANCO – Javelin, Paraguay, With Leather favorite

ANA IVANOVIC – Tennis, Serbia, LBS favorite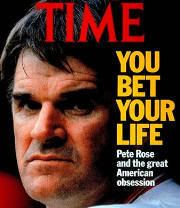 I already told you about the excellent segment on Double X Sports Radio that featured Pete Rose, Tony Gwynn, Randy Jones, and Darren Smith. In another part of the segment, Tony Gwynn was talking about getting his first major league hit — a double against the Phillies. Apparently Rose was playing first base and trailing the play, and bid Gwynn congratulations on the hit after the play. Tony Gwynn then talked about what a fan he was of Rose, and Rose interjected:
"You guys don't understand because I love Tony Gwynn because I won some big bets when he played basketball [everybody laughing] … he can score some points … just kidding."
That line certainly grabbed a ton of laughs, and in case you were unfamiliar, Tony Gwynn was a star point guard at San Diego State. But check out this zinger from Rose: "When I played for [Reds owner] Marge Schott for those five years, she was the only person in the organization with facial hair!" Needless to say, there were some classic lines from Pete Rose. In addition to the jokes, the gang actually talked real baseball where they gave some serious analysis on today's game.
Criticizing the Bengals for their off-field problems? Check. Criticizing Marvin Lewis for having no control of the team? Check. Calling coach Marvin Lewis and Owner Mike Brown for going back on their words and being full of crap? Here to come. In April the Bengals released Chris Henry, deciding they had enough of his shenanigans. Last month Marvin Lewis reinforced this notion to the media even after Chris Henry was re-instated by commissioner Roger Goodell:
"I'm not interested. I don't think it would be productive for our football team. You have to be a productive part to be an NFL player, and there's responsibilities to being an NFL player. It's a privilege, it's not a right. There's a lot that comes with being an NFL football player."
If you thought that was persuasive, wait til you hear what Mike Brown had to say:
First Barry Bonds shows interest in managing minor leaguers, now Tony Gwynn? I was on my way to Dodger Stadium early last Friday to get some interviews, listening to Double X Sports 1090 — the Padres' station. They were running the Padres BP show (you can listen here), and they had quite the star-studded cast: hit king Pete Rose, Hall of Famer Tony Gwynn, Cy Younger Randy Jones, and host Darren Smith. Despite being a BP show which would seem boring, it was easily some of the most enjoyable radio I've ever heard — just like listening to a bunch of baseball greats sitting around talking at a bar. At one point Tony was asked by Rose if his ambition is to be a big league manager. Tony's response was clear: "No." Rose followed up, "You mean if they offer you the job next month you'd turn it down?" Gwynn responded, "I didn't say that [laughing loudly]." Now that wouldn't be much of a stretch considering Gwynn already manages San Diego State's baseball team. Check this though — attention MLB GMs: Tony Gwynn might be lookin for something new:
"I've [managed San Diego State] for six years, I'd like to continue to do it for a while, but I can't lie to you — one day you'd like to move from that to something else. To me, the minor leagues seem more intriguing than the big leagues. I feel like you can make the biggest difference teaching guys how to do things right."
Hmm, why does that sound so familiar? Gwynn also added that he was criticized throughout his career for remaining on the Padres even with their losing teams, but he said he did things that made him comfortable and even sacrificed money to be comfortable because that was important to him, much like coaching at San Diego State. He also said that he'd like some of the college rules to change, such as allowing players to have more than two hours to practice a day in the off-season. Gwynn said it's hard to get better playing college baseball with the restrictions they place on kids. Perhaps that's a motivating factor in Tony having interest in moving on somewhere else.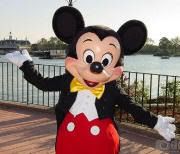 This is easily one of my favorite stories of the year. Normally I take a pretty harsh stance on DUIs, but I think I can overlook Kevin Grady's drunk driving charge in the interest of impregnable humor. Deadspin shared Grady's comedic story, and boy, is this a good one:
Grady was given a breathalyzer test, which showed a blood-alcohol level of 0.281 — more than three times Michigan's standard for drunken driving.
…
The officer also wrote that Grady was off-balance and unable to recite the alphabet, with Thompson quoting Grady as saying "O, R, S, J, L, P." Thompson said he asked for a number between 12 and 14, and Grady answered "15." And when asked whether Mickey Mouse is a dog or a cat, he answered "dog."
Now aside from it being ridiculously funny, you might be asking yourself what it has to do with sports. Well apparently Grady's Rich Rodriguez's responsibility as a football player at Michigan — not that it really matters. Asked if Mickey Mouse was a dog or a cat he answered dog? I thought the answer was built into the question? Easily the best story of the year. Easily.

Honestly, admit you thought this was something straight out of Dean Wermer's book. Not so. It's been a while since we had any new introductions to the elite LBS Golden Sombrero Club. Aaron Rowand, don't think I didn't notice yours a few weeks back. I let you off easy on. Anyway, LBS reader Adam is a Cubs fan and made sure I didn't miss the fact that the Marlins 4-5 combination of Mike Jacobs and Dan Uggla committed the double-sombrero on Sunday in a 9-2 loss against Chicago. Now in case you were asking whether or not this was the first of its kind, my homey Elias works for some Sports Bureau and confirmed that this is indeed a first. I mean last time I was so elated to have Andruw Jones go where no position player had gone before — Platinum. But a double-sombrero? That's unprecedented. That's ground breaking.
Clean up hitter Mike Jacobs punched out three times against Ryan Dempster and then once against Neal Cotts. Uggla was rung up three times by Dempster as well and took the gas pipe in his final AB against Jeff Samardzija. Jacobs has 25 dongs on the season, but has a .241 average to go with it. Uggla's got 26 bombs and his average is a less-ugly .260. With power numbers like those, we're assured to see better days from both. Alas, they're both welcome additions to the club. We're working on quite the star-studded roster now.
I love Ocho Cinco. He's my favorite player in the NFL. But he definitely is a whack job, and he did hurt his shoulder on Sunday. And in other news, Ocho Cinco was creating some odd headlines last week. Here are some stories I didn't get a chance to touch on because of the server-attack but still wanted to share with you. Chad Johnson said he legally wanted to change his name to Ocho Cinco. Wow. As if that wasn't enough, he also said that he could beat Michael Phelps in the pool. I understand his point — there could be some dude chilling in Zimbabwe who can throw 98mph but we just wouldn't know about it. Still, saying he could beat Phelps is quite a stretch.
I've already expressed to you my affection for gymnast Alicia Sacramone, so needless to say I was pretty defensive when Andrea Joyce verbally berated her with incessant questioning following Sacramone's screw-ups in the team event. Joyce's line of questioning showed how heartless, senseless, and ill-prepared she was for the interview. Does Joyce take pride in trying to make a 20-year-old amateur gymnast cry? Sure seems like it to me. NBC should be ashamed of that callous display.
A few months ago I passed on news that the longest running sports talk show — Mike and the Mad Dog — could be done at WFAN in New York. That day came last week. Evan Cohen is a host at ESPN 760 in Palm Beach and a die-hard Mike and the Mad Dog fan. I had the pleasure of working with Evan when he hosted at Fox Sports Radio and was touched when reading his reflections on his favorite show ending. It's one of the best tributes I've read and can really give you an idea of how influential Mike and the Mad Dog were.